More Information:
CUSTOMIZED ITINERARIES
We tailor your adventure to fit your travel style, time frame, budget, and interests! From different styles of lodging to your favorite adventure activities, we will create the best synergistic itinerary for you. If your goal is to see as many elephants as possible, swim with sea lions, hike to Kilimanjaro's summit off the beaten path, or watch the sunrise at Angkor Wat in Cambodia, we make your dream a reality… adventure travel your way!
PRIVATE TRIPS
All our trips are offered on a private basis — just your travel companions on the trip. Some tours and treks can also be done in a group if you want to meet other people or control the cost, but you will not be with the same group of people from beginning to end. You can start your trips on any day of the year. Our goal is to offer unforgettable flexible and affordable adventures for the independent traveler.
EXPERT ADVICE
Meet the AWR staff >>>
With 20 years of experience, we know our destinations and share our travel experiences and passion with you. We'll advise you on the best times to travel, what to expect on the trip, and how to get to your destination. Whether it's what type of camera to bring on safari or gear for hiking the Inca Trail, we've got the answers.
GREAT VALUE
We offer the very best value and quality on our many tours. We aren't the cheapest company out there, but we never sacrifice quality or our ecological and sustainable standards. Whether you are looking for a great value trek, a high quality mid-range tour, or an amazing luxury safari, we offer the best bang for your buck. Let us know your budget, and we'll help you choose and plan the right trip for you.
AUTHENTIC ADVENTURES
Wherever we take you, you'll experience authentic adventures that focus on or combine four elements: landscape, wildlife, physical challenge, and distant cultures. Imagine watching the sun set over Patagonia's granite towers, snorkeling with sea lions in the Galapagos, trekking to Everest Base Camp in Nepal, or dancing with a Maasai tribe in Tanzania!
COMMITMENT TO SUSTAINABLE TRAVEL
Part of an authentic adventure are the people you meet along the way. We work with qualified, experienced, English-speaking local guides. Our guides guarantee you the best exposure to your destination. In addition, you'll know your trip helps the local economy. We also support volunteer initiatives, humanitarian development and eco-tourism.
Awards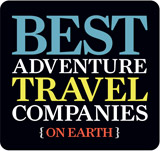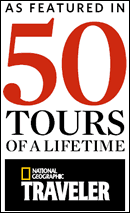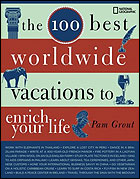 Memberships