International flights to Ecuador arrive in Quito or Guayaquil. The Galapagos Islands are located on the equator some 600 miles from the coast of Ecuador in South America. Visitors fly to the Galapagos from the international airports in Quito or Guayaquil.
Where should I arrive in Ecuador?
Arrive in and depart from Guayaquil if you only wish to see the Galapagos in Ecuador or if you are combining the Galapagos with Peru.
Arrive in and depart from Quito if you wish to see the Galapagos and other highlights of mainland Ecuador including its beautiful volcanic mountain ranges and the Amazon.
You may wish to arrive in one city and depart from the other. Contact us for advice!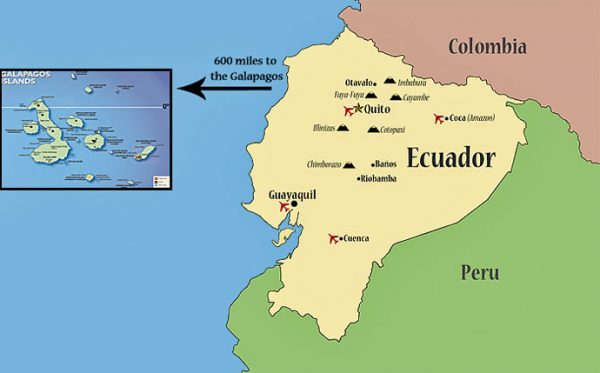 Flight Information FOR THE GALAPAGOS
The flights to the Galapagos depart from Quito with a stop-over in Guayaquil en-route before heading to Galapagos' airport where passengers meet their guides and head off on their cruise of the islands. The flight from Guayaquil to Galapagos lasts approximately two hours. From Quito, travel time is approximately three and a half hours. It is recommended to check in two hours prior departure.
* Luggage: Only one checked bag (maximum 20 kg / 44 lbs) and one carry-on are allowed per passenger. Checked luggage should be soft-sided (i.e., no hard-sided suitcases).
* NOTE: Each cruise will handle flights to ensure that you arrive and depart from the correct airport at the appropriate times. Cruises will also ensure that your luggage is transferred to and from the vessel. It is mandatory that all passengers use vessel flights to guarantee passenger dingy ride and luggage transfer from airport to port and to ship. Do not book Galapagos flights on your own or you may not be able to join your cruise with those flights!
Who will meet you at the Airport in Galapagos?
Upon the arrival to the Baltra Airport or San Cristobal Airport, a representative from your cruise ship will be waiting for you with a sign with the name of your cruise ship. The representative will make sure you get to your cruise. The cruise ship will transport you between the airport and the cruise ship via private vehicle.
Luggage restrictions
Passengers are restricted to one piece of checked luggage (20 kg) and one carry-on bag (7 kg). You should check with your specific airline for its requirements.