About the size of the U.S. state of Virginia, Costa Rica offers a vast array of tour options for travelers. It can be daunting to decide what to do and where.  Among the choices for activities include wildlife viewing (especially for monkeys and sloths), bird-watching, tours and unique enclosures that focus on orchids, frogs, reptiles, and/or insects; botanical tours, adventure photography, scuba diving and snorkeling, dolphin watching tours, whale watching, zip lines, para-sailing, agricultural tourism, sea kayaking, mountain biking, horse rides, ATV tours, canopy tours using hanging bridges, white water rafting, easy wildlife float trips, surf lessons, jet ski tours, canyoning, hiking, and more.
On This Page: Beaches | Whales | Sea Turtles | Dolphins | Diving | Snorkeling | Sea Kayaking | Hiking | Zip Lines | Canyoning | Rafting | Horse Riding | Birds and Wildlife | Surfing | Photography | Fishing | More Activities
Beaches of Costa Rica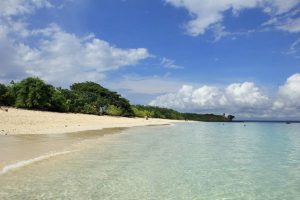 Costa Rica has 2 coasts: the Caribbean and Pacific. The Caribbean coast is 132 miles long while the Pacific coast is 635 miles long. With all that length, it's hard not to find a beach nearby. However some beach areas are better than others, depending on your needs and interests.
Pacific beaches near Manuel Antonio, Samara and Tamarindo are among our traveler's favorites.
Tiny but growing Santa Teresa / Mal Pais, which is a little remote, being 5 hours driving from Liberia, is considered one of the most beautiful beaches not just in Costa Rica, but all of Central America. This is also very popular with surfers and romantics.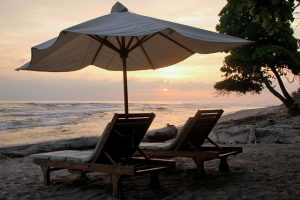 If some wild nightlife and a quick getaway from San Jose is what you seek, Jaco makes an ideal spot.
In Guanacaste, on the Peninsula de Nicoya, Playa Cochal (just a short walk from more accessible Playa Brasilito) is a pristine, fine sand beach with remarkably clear waters.
On the Caribbean side, tranquil Playa Manzanillo – approximately 20-30 minutes by road from Puerto Viejo (a bustling music and party town) – is arguably the finest beach on that side while Cahuita may be the most popular beach area.
See also:
Whale Watching in Costa Rica
Whale watching in Costa Rica can be very rewarding especially around the central Pacific coast (on day trips from Qeupos / Manuel Antonio  and Domincal) and the south Pacific coast, along the Osa Peninsula (and not far from the Drake Bay and Puerto Jimenez, specifically). Whale watching trips are generally half-day excursions.  The best time to see whales is December to March and again from July to September. Sometimes people get lucky and see them in October and November as well. The main species to see are the beautiful, acrobatic humpbacks that migrate through on a north-south journey along the Pacific coast line of the Americas. Other rarer species you could see include pilot whales, Bryde's whales, and orcas. Dolphins frequently skim the waves of these whale watching boats making these trips a nice 2 for 1 activity.
Sea Turtle Viewing in Costa Rica
There are two main sea turtle nesting seasons in Costa Rica. On the Caribbean coast, around Tortuguero National Park, green sea turtles come ashore from July to October, with a peak time in August. On the Pacific side, the other sea turtle nesting extravaganza occurs on the beaches accessible from Tamarindo, such as in nearby Las Baulas National Marine Park, where beautiful leatherback turtles nest largely from October/November to March. With leatherbacks, there is also a short nesting season in April along the Caribbean coast at Tortuguero.  This guided activity is always done at night, when the sea turtles haul themselves up onto the beach.
Dolphin Watching in Costa Rica
Four species of dolphins live in Costa Rica waters, these being spotted, spinner, bottlenose, and the common Pacific dolphin. Dolphins occur along the Pacific coast year-round so 1/2 day dolphin watching trips, some which include snorkeling like in Manuel Antonio, are an option nearly every day especially in travel hubs like Tamarindo.
Diving in Costa Rica
For serious but not too serious divers, you would be hard pressed to beat the opportunities if you base yourself on the Pacific side's Playa del Coco. Based there, you can take day trips for diving out to places like Pelonas Islands, the Catalinas and Bat Islands. Arguably the best time to scuba there is from December through March when the water temperatures have dropped. This is the most reliable period of time to see some of the more magnificent species like manta rays, humpbacks, pilot whales, and whale sharks. Year round you'll find various species of sharks, eels, sea turtles, and rays plus a plethora of fish species. Coming during the week is best to avoid weekend crowds. It's easy for us to add 3 or 4 nights here to any land itinerary. For truly serious divers, you already know where to go: Cocos Island, which is 500 kilometers off the coast so we tend to suggest that as a specific trip.
If you find yourself on the Caribbean coast, Puerto Viejo has a number of dive outfitters than can take you out to Costa Rica's last remaining live coral reef on the Carib side and just about 20 sites all told.
Snorkeling in Costa Rica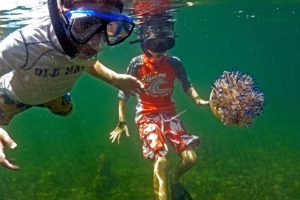 While Costa Rica is never going to be confused as a great place for snorkeling (don't go just for the snorkeling!), there are a number of locations where it is worthwhile and fun, especially for young adults and children, new people to the sport, and anyone with a laid-back, fun loving attitude. Playa del Cocos, just south of Liberia's airport (about 40 minutes away) and north of Tamarindo has a few operators, and snorkeling near Manuel Antonio, in the Bay of Biesanz, is a fun thing to do (many of the bbq lunch and dinner catamaran cruises stop there for a dip and include the gear). Isla Chora – reached by sea kayak – from Samara is a good time and a number of spots along Malpais / Santa Teresa shoreline are truly enchanting, especially in some of the pristine tide pool areas. Another spot is along Playa Bellena, between the seaside villages of Dominical and Uvita. Further south, Isla Cano is a popular snorkel destination for day trippers from Corcovado lodges. The best time for snorkeling on the Pacific side is during the dry season, especially December through March, when the run-off does not cloud the waters quite as much, however it's worth a try if you have the time anytime of year!
On the Caribbean side, the calm shallow waters of the Gandoca Manzanillo Wildlife Refuge can be a nice snorkeling experience. Here you'd base yourself in a small village, like Punta Uva, Punta Mona, Home Creek or Manzanillo, which are all technically located within the refuge.  The best time to visit this refuge is between March and April and from September to October, which are usually drier months than the rest of the year.
Sea Kayaking in Costa Rica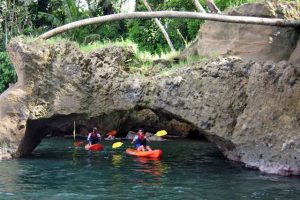 The sea kayaking in Costa Rica can be loads of fun. Imagine easy paddling along the shores of the coast and rocky islets, past palm fringed white sand beaches, above calm clear blue seas and emerald surfaces, with frigate birds soaring above and brown pelicans skimming by. Sea kayaking is a surprisingly easy sport that is infectious – once you've tried it, you'll want to do it again. It's a peaceful and intimate way to explore the environment around you. Many of our travelers choose a simple 1/2 day or full day ocean kayak trip based on whatever beach destination they find themselves at. For example, in Tamarindo, you might paddle through a nearby mangrove in search of wildlife; in Samara, you might want to paddle to lovely Isla Chora, with its white sand beach and fine snorkeling; in Manuel Antonio or the South Osa Peninsula, perhaps you'd kayak to and around one of rocky islets. These day trips are usually easy to arrange either before you go or while you're at a destination, especially if you have 3 nights or more on the beach. We can help with ideas and bookings upon request.
Hiking in Costa Rica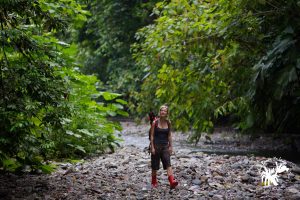 Costa Rica is full of extraordinary walks, some difficult and that require careful planning (think Corcovado overnights at La Sirena Ranger Station or ascending Chirripo, the highest peak in Costa Rica) but many, many others that are easy to include in nearly any itinerary.
Some popular walks of ours include various hikes around Arenal, plus guided walks in Manuel Antonio, Monteverde, Sarapiqui, among other destinations. Carara is a wonderful park to hike with a trained guide, as are the various cloud forest reserves on or around Cerro de la Muerte ("the mountain of death", just 90 minutes outside of San Jose).
Guided walks in particular are special, as guides have the trained eye to spot unique sights in the dense, dark jungles and educate the traveler on the beauty and complexities of the forest and its inhabitants. Guides will point out the various animals, like sloths and monkeys, you encounter in addition to various birds, amphibians, reptiles, insects (like blue morpho butterflies), flowers, and trees along the way. Almost all of our custom itineraries feature a guided walk or two. It's an important way to see more of the magic of Costa Rica.
Night hikes are also catching on in a number of areas in Costa Rica, with the best around Sarapiqui, Monteverde, and Arenal. These guided naturalist walks are a fantastic way to see more of Costa Rica's nocturnal wildlife, especially small mammals, owls, nightjars, snakes, frogs, tarantulas, exotic rain forest moths, and more.
Hanging Bridges of Costa Rica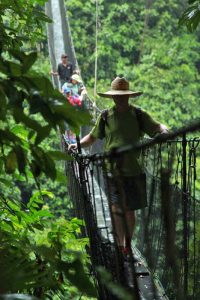 A fun activity suitable for nature enthusiasts of all ages is to enjoy a hanging bridges hike. These hikes consist of a mix of regular trails and suspended bridges that get you close to the unique world of the canopy ecosystem – poison arrow dart frogs, red-eyed tree frogs, butterflies, birds, orchids, epiphytes, ants, monkeys, and more can be encountered. Many of these species are otherwise very hard to see since the forest canopy is so dense and high up.
Places like Rainmaker Aerial Walkway outside of Manuel Antonio, Selvatura and Sky Walk in Monteverde, and Arenal Hanging Bridges are among the larger, more established projects. This activity is usually just a half-day excursion, and all of them feature daily guided tours at set times or you can visit with one of our guides on a private tour. The trails tend to be very well maintained, clearly marked, with relatively mild grades, and nominal distances (2 KM – 4 km – 6 km; you can make your own distances through loop options).
Zip Lines in Costa Rica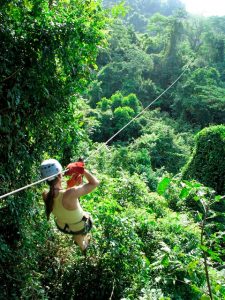 The zip lines in Costa Rica are justifiably famous: they can be incredibly fun and scenic (plus many come with opportunities for wildlife and bird watching) and there an impressive number of safe operations throughout the country.
The best may be in the Arenal area (Sky Trek, Ecoglide, among others), but Monteverde (Sky Trek, etc.) and Manuel Antonio (for example, MidWorld) are also popular locations for the sport.
One thing we sometimes do for our travelers in Arenal is combine a half-day canyoning excursion with a half-day zip line.
Canyoning and Rappelling in Costa Rica
This high-adrenaline experience – which will take you down scenic cliff faces and even through waterfalls in remote rainforest canyons – is being offered more and more by backcountry lodges (along with zip lines) right in their own backyards on hotel property or private reserves nearby. However for the best experiences, we generally recommend a local specialist operator like Pure Trek based out of Arenal. We usually book the 1/2 day canyoning adventure as part of a full tour to 2 or 3 destinations within Costa Rica, such as the beach or Tortuguero.
Rafting in Costa Rica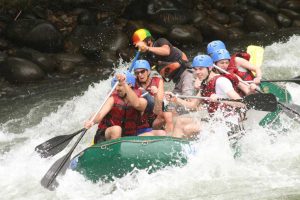 Because of all the rainfall in this tropical country, rafting is absolutely wonderful especially as part of a larger tour. Most of our travelers choose a 1/2 day or full day trip, often out of Arenal (La Fortuna), however trips are easy to arrange out of Tamarindo and Manuel Antonio too, especially during the better rainy season months. Often only a minimum of 2 people are required to run a rafting trip. While most travelers love the day trips, there are overnight options available, especially on the Pacuare River, one of the top 10 rafting rivers in Latin America.
For travelers not sure of what water class levels on rafting trips are right for them, here's a quick review to help:
Class I
Gentle, relaxing waters that do all the work but you have almost no chance of waves or getting wet unless you choose to hop out of the boat.  The Pena Blancas safari float is a good example of this level – very nice for photography and wildlife viewing.
Class II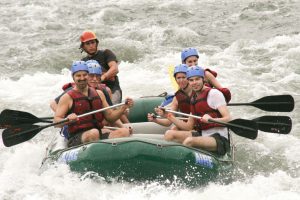 Easy, regular rapids on this level, with waves rising to 3 feet or so, with a lot of steady water and the occasional splash. Obstacles are very easy for your guide to see.  A great option for rafters who are a little uncertain about their swimming ability or about rafting in general and simply want a wonderful way to "get outdoors" and relax and especially in Costa Rica, likely see some interesting wildlife and fantastic scenery along the way. The Balsa River and Coribici River are very good examples (the Coribici is almost Class I, especially in low water times).
Class III
This is perhaps our favorite level, balancing fun and safety, and providing an unforgettable experience for all levels of experience. You can be a beginner on Class III waters – it's a great type of river to get excited about the sport. Significant rapids, large waves, and easily navigable holes are found in these levels.  Small drops (think tiny waterfalls) may be present. Having a fun, light hearted attitude and a willingness to listen carefully to your raft guide is important, along with basic swimming ability.  Parts of the Balsa River, the Sarapiqui River, plus much of the Reventazon River and Tenorio River and others fit this category.
Class IV
Big waterholes and waves characterize these stretches, or challenging obstacles like narrow shorelines, huge downed trees, and big boulders.  Plan to get very wet. This level comes with a somewhat higher risk of injury if you fall out of the boat, so being a good swimmer and having a great "can-do", teamwork oriented attitude is important for all the paddlers in the raft. Parts of the Reventazon River along Pascua section, the Toro River out of La Fortuna, and parts of the Rio Tenorio and Pacuare all fit the bill.
Class V
This is the peak, the most exciting, and the most challenging. High adrenaline, and at times, a little scary for people not used to rafting, so we tend to recommend those with little or no rafting experience enjoy a few tamer rivers first before hitting the big waters of Class V. Guides on these rivers are usually experts in navigation, rescue, and wilderness medicine. Parts of the Pacure River fit the Class V profile the best.
Class VI
Think Victoria Falls. More or less un-navigable waters. We don't offer any rafting trips in these types of conditions!
Horseback Riding in Costa Rica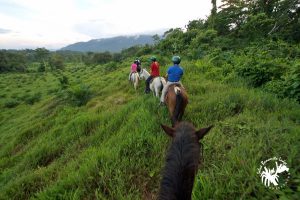 Costa Rica has a long and proud tradition with horses given its rich agricultural history. Opportunities are found throughout the country, however some of the more popular rides are found at the more popular beach destinations (beach rides or rainforest rides in and around nearby jungles) like Manuel Antonio, Tamarindo, Jaco, Santa Teresa / Mal Pais, and Samara. Unique rides are also found in the interior, especially the horse ride to San Luis waterfall in Monteverde and in Arenal, to the La Fortuna waterfall.
All of these rides tend to be half-day excursions, between 2.5 and 5 hours in length, and perfect for the beginner rider while rewarding for the more experienced, especially along the beach.
Bird Watching in Costa Rica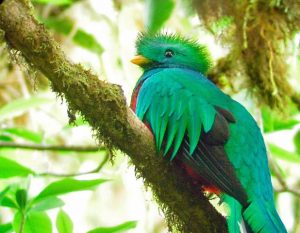 To say that Costa Rica is a bird watcher's paradise is no exaggeration with over 850 species recorded here, an area the size of Virginia or Wales. Each side of the divide has its own unique habitats and each of these particular zones (differentiated by flora, altitude, precipitation levels, landscape type, and more) has its own compelling blend of species. Among the more sought after species include the scarlet macaw, toucans, three-wattled bellbird, great tinamou, toucanets, rufous mot-mot, slaty-backed forest falcon, coppery-headed emerald hummingbird, mangrove hummingbird, Jabiru stork, ocellated ant-bird, the various lovely trogons and the Resplendent Quetzal – a special trogon endemic to Central America, considered sacred by the ancient Mayan civilization.  Some birders and wildlife enthusiasts come to Costa Rica only the see that one species! Let us know your interests and we can help craft a focused tour to maximize your chances of seeing these and other species affordably and tailored to your travel needs.
Wildlife Viewing in Costa Rica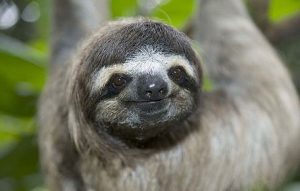 Almost all of our itineraries include time in a prime wildlife area like Tortuguero, Manuel Antonio, the Arenal area, a Sarapiqui reserve, or a cloud forest area like Monteverde. Since this is a tropical country, the wildlife has evolved in wonderfully unique ways. Hopefully you will join a guide at least once or twice through your trip to see and better understand some of the amazing wildlife in Costa Rica.
Among the most popular animals for our travelers are the monkeys and sloths. Sometimes these can be found as close as your hotel verandah! In Costa Rica, there are four species of monkeys (white-faced capuchin, mantled howler, squirrel monkeys, and spider monkeys) and two species of sloths (the two-toed and three-toed sloth). Commonly seen is the white-nosed coatimundi, a raccoon like animl that seems to know no fear.  In riparian areas like Sarapiqui, Tortugeuro, and Corcovado, you can sometimes find the mink / weasel- like Tayra. Armadillos, anteaters (3 species: lesser anteater, the silky anteater) and the giant anteater, agoutis, tapir, the nocturnal kinkajous and hard to see cats (jaguars, ocelots, jaguarundis) are also around. You can also see peccaries, crab-eating raccoons, porcupines, opossums, coyotes and red foxes. 135 snake species (though only 18 are in any way venomous) make another interesting quarry for the animal enthusiast in Costa Rica, including impressive boas and fantastically colored coral snakes. Caimans and crocodiles are popular finds at places like Tortuguero and Carara National Parks.  Tree-loving iguanas and a range of fascinating lizards like the Jesus Christ lizard (so named for its uncanny ability to run across the water, using its wide feet) are favorites as well. Many species of bats are found here, including the strange fishing bat, the bulldog bat, which can be easily seen in Tortuguero, along with large fruit bats and the vaunted vampire bat. Part of the fun in looking for the larger animals is the discovery of some of the smaller, beautiful forms of life in the forest like colorful beetles, blue morpho butterflies, long chains of bustling leaf cutter ants, brilliant poison arrow dart frogs, geckos, and more.
In July through October, sea turtles haul themselves up on the beach at Tortuguero to nest – it's quite an amazing sight to see these large, graceful underwater creatures brave the challenges of land. Tours are done at night. Several sites along the Pacific coast also present the same opportunity (though without the same number of animals) at different times of year, place like Ostional Wildlife Refuge (best July to December), which can be reached from Samara. Las Baulas National Marine Park (Parque Marino las Baulas) near Tamarindo is another site, with a nesting between approximately November through April.
Butterfly, Frog, Insect, and Other Unique Gardens in Costa Rica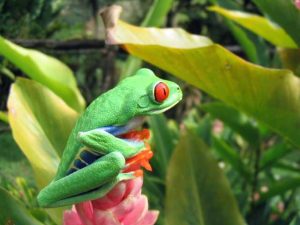 While hiking on the trail or floating in your raft, you will see some amazing life forms, however throughout Costa Rica, you will find a number of very unique enclosures or "gardens" for bird's eye views of a wide variety of Costa Rica's native biology. These natural history parks offer more close-up experiences in a controlled environment, allowing for better photography, better views of the specially adapted flora and fauna, and a fantastic opportunity for education on the species.
Many of these projects are run by small non-profits who are actively engaged in wildlife conservation and species reintroduction efforts, so your entrance fees can directly support their missions. In Monteverde alone, you can find unique, different enclosures for the following life: frogs; snakes, lizards, and turtles; orchids; butterflies; insects; and bats. Other notable enclosures can be found in and around Arenal Volcano, on the way to Arenal at La Paz Peace Gardens (which has a unique bird enclosure for wonderful photo opps for toucans and other birds), Fincas Naturales in the Quepos area (which also has a crocodile exhibit), and Mawamba Lodge, in Tortuguero.
Surfing in Costa Rica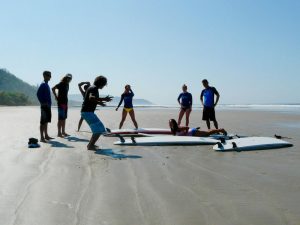 Surfing is one of the most popular sports on the Pacific coast in Costa Rica. You can find trainers at every major and many minor beach areas.
Travelers with a casual interest in the sport are well taken care of at any of the beach areas where we send clients – Samara, Tamarindo, Punta Islita, Manuel Antonio, etc. all have fun surfable waves. Dedicated surfers will want to seek out beach areas with a greater body of waves to work with – more challenging waters are found off Montezuema and Santa Teresa / Mal Pais, and further down the Pacific coast, fun beach towns like Jaco, Playa Hermosa, and Dominical.
Photography in Costa Rica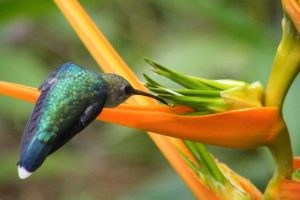 Photography in the rainforest can be tricky – low light, humid and rainy conditions, and elusive wildlife can make for a challenging shoot. For keen amateur or professional photographers, we generally recommend having one of our specialist guides join your party to help both your technique and chances of overall success finding the subjects and positioning yourself best. We can help with a pre-trip list of dos, don'ts, special gear you might want to bring, and specific equipment care ideas to all the participants on your photography tour to insure a rewarding trip.
For most of us however, bringing a simple digital camera and recording the special moments and experiences along the way is rewarding enough. There is no shortage of subjects, from sunsets and beach landscapes to misty forest and explosively colored poison arrow dart frogs. To provide a sense of what awaits you:
210 species of bromeliada
1,000 forms of ferns
Over 13,000 species of vascular plants
220 species of reptiles
182 amphibian species
1,400 orchid species
111 palm species
42 cacti species
243 types of mammals
857 bird species
Fishing in Costa Rica
All the major beach towns (Samara, Manuel Antonio, Mal Pais, Tamarindo, and the rest) will have local boat operators that can take you out deep sea and inshore fishing – billfish, tuna, wahoo, snapper, snook, and dorado being the main quarry. Inland, Lake Arenal has great freshwater fishing for guapote or machaca and rivers in the mountains can be fly-fished. Local guide services can take you out and help get the line busy.
ATV Tours
For motorized travel in Costa Rica's backcountry, travelers can join a half or full day ATV tour, which are perhaps most popular out of Monteverde and Tamarindo but are offered in many adventure hubs throughout Costa Rica. They typically motor through ranch lands into mixed jungle habitats often with a waterfall as a destination.
Golfing in Costa Rica
Golf is an increasingly popular sport in Costa Rica, with a number of fine golf courses around San Jose and a growing number on the Pacific coast, including for example, the course at Punta Islita, which is near Hotel Punta Islita, one of the properties in our 8-day Luxury Costa Rica program. Tamarindo and Playa Herradura are also home to golf courses.
Windsurfing in costa Rica
The best place for wind surfing far and away is Lake Arenal, which is widely respected as one of the top wind surfing places in the world. There are a number of local outfitters on Lake Arenal that help with equipment and excursions.
Parasailing in Costa Rica
Fun parasail trips can be booked on the spot while you are in the Manuel Antonio area – the hotel front desk can help arrange an excursion, though try to plan at least a day in advance.