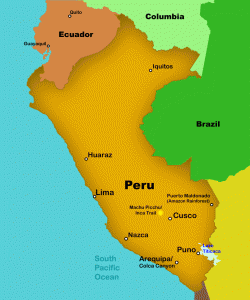 AWR offers customized private trips in Peru starting any day of the year at reasonable prices. We also have a number of group tours with our most popular itineraries that you can join.
Lima
Most travelers initially arrive in Lima, the bustling capital city of Peru. You may want to spend a day or two here, either at the beginning of your travel or at the end. Lima has many beautiful museums, churches and other historic sites. A city tour will give you a good introduction to historic and modern Peru. A visit to one of the museums will especially appeal to a history and artifacts buff.
Cusco, Inca trail and Machu Picchu
Many people head immediately for Cusco, to get acclimated to high altitudes! If you are trekking the Inca Trail, or simply taking the train to Machu Picchu, you will want to have a few days in this city and the Sacred Valley to explore the historic sites of the churches, ruins and old city buildings. Additional side trips into the Sacred Valley are well worth the time and energy!
Nazca, Paracas, and Ballestas
The mystery of the Nazca Lines is a popular side trip from Lima. They are best seen by a flight in a small plane. While in the area of Pisco, be sure to visit the Paracas National Preserve and the Ballestas Isle (by boat).
Arequipa and Colca Canyon
Arequipa's south Peru location is best visited by taking a flight from Lima. You may spend a day in the city and then an overnight tour into the Colca Canyon, the world's second deepest canyon and home for the impressive condors. The chance to view condors in flight is worth an early morning rise!
Puno, Lake Titicaca and Floating Isles
Also in south Peru is the world's highest inland lake–Titicaca. Many people arrive by car from Arequipa or bus from Cusco, but a flight to Juliaca from Lima is also common. The city of Puno has many interesting sights, although you won't want to miss a boat ride out to the floating islands of Taquile, Uros and Amantani. An overnight on one of the islands makes this trip a true cultural experience!
Puerto Maldonado and the Amazon Rainforest
A popular tourist experience is the visit to the Amazon rainforest, starting with a flight to Puerto Maldonado from Lima or Cusco. You will enjoy a variety of rainforest walks and lectures, wildlife viewing, and canoe/boat rides while staying overnight in a rainforest lodge.
Huaraz and Cordillera Blanca
Here, in the Cordillera Blanca, are the high snow-covered peaks of the Andes, waiting for hikers and travelers to take in their beauty! A trip to Huaraz by car (7 hours) or air (1 hour) is well worth the time! Very few tourists get to this part of Peru, so you will find it less crowded than the Cusco area. If you are looking for an alternative to the Inca Trail (or just something different), head to the Cordillera Blanca and its neighbor, the Cordillera Huayhuash!
Cruise Ship Day Tours
When your cruise ship docks in Callao (Lima vicinity) or Puerto General San Martin (Paracas), we can pick you up at your dock, provide a day trip or tour, and return you at the end of the day, prior to your sailing !