4-Day Hidden Pools and Dunes of Lencois Maranhenses
The name of this park makes reference to the immense dunes that look like a bed sheet (lencois) spread across the land. Near Sao Luis, this park is divided into Grandes Lencois and Pequenos Lencois, separated by Rio Preguicas. The zone contains beaches, mangrove swamps, lagoons and dunes, and it was declared a National Park in 1981. This experience takes us across the shifting dunes of fine white sand and crystal clear blue lagoons that seem to glow under the sunshine or the moonlight; a true spectacle for our eyes.
--This trip can be made throughout the year. Between January and April the weather is unstable, from May to September is the period when lagoons are fuller, and from October to December is the dry season when it's windier and there is less tourism.
--The period of June and July are the celebrations of Sao Joao in the region, there is less accommodation availability, but there are many folk festivals on the weekends.
Full Itinerary
DETAILED ITINERARY >>
ITINERARY IN BRIEF >>
Day 1: Sao Luis de Maranhao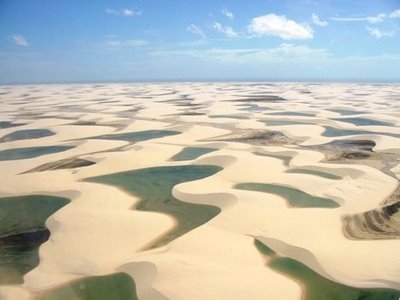 Airport arrival at Sao Luis de Maranhao, the capital of the state of Maranhao, and transfer to the pousada. After check in we will go on a city tour in Sao Luis historical center, important architectural complex of the 18th and 19th centuries, home to near 3,500 houses protected as World Heritage Sites since 1997. We'll visit the Church of Sel; Squares Benedito Leite and Dom Pedro II; Fonte do Ribeirao, Arthur Azevedo Theater, Palace of the Lions, Street Portugal (especially the Portuguese tiles) and Giz Street; Beco Catarina Mina and Quebra Bundas, among other sites.
Accommodations: Pousada Casa Lavinia



Meals included: n/a
Mid-Range Accommodations: Casa Levinia
Day 2: Lencois Maranheses National Park (B)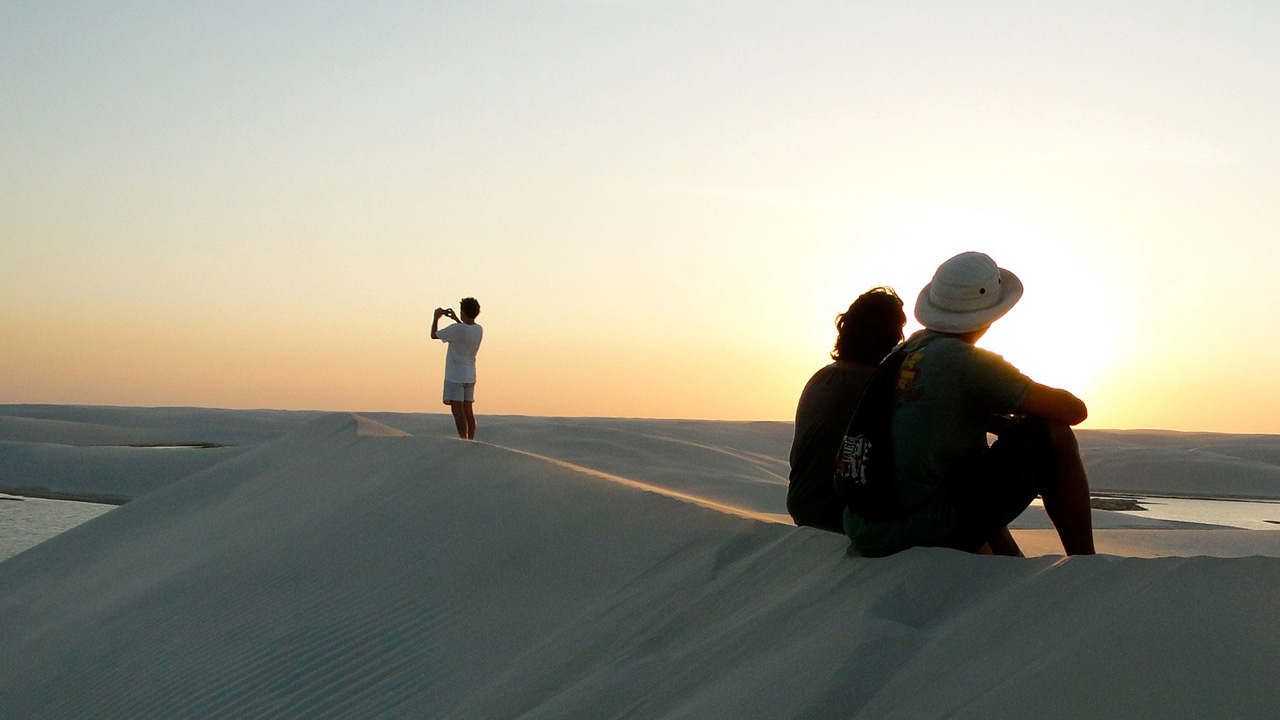 Morning departure to Barreirinhas, with a stop for breakfast, where a four-wheel vehicle takes us to the entrance of Lencois Maranhenses National Park. Lunch time. Then we will go out to see the amazing Lencois Maranhenses National Park; this route is done in 4WD (off road), crossing loose sandy trails amid the vegetation, through small rivers, giving us the feeling of being inside a 'car-boat'. Arriving at our destination, we take a short walk over the dunes of Lencois, vehicles not being allowed within the park. Time available to swim and refresh in the crystal clear lagoons to finally return after sunset.


Meals included: Breakfast
Mid-Range Accommodations: Pousada do Riacho
Day 3: Barreirinhas (B)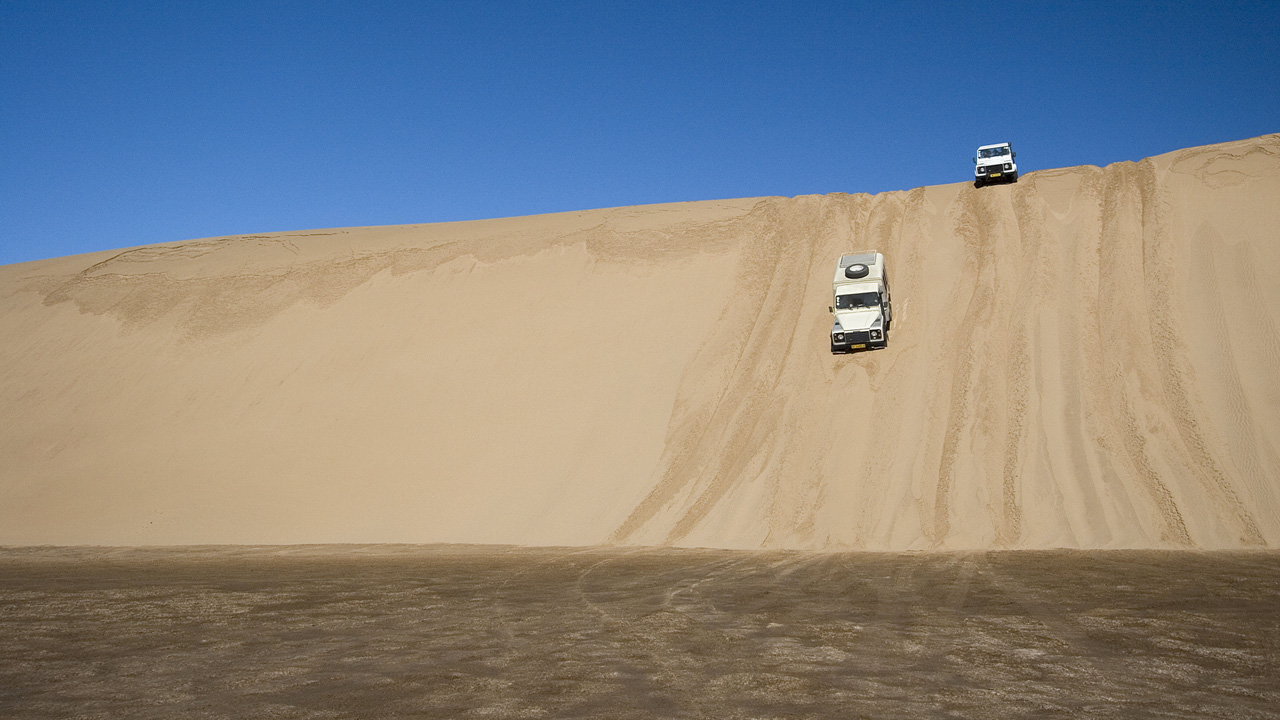 After breakfast, we leave in land vehicle to the embarkation place where we will take a speedboat ride on the Preguicas River. On our way we'll see palm trees as Buriti, Jucara (acai berry) or Carnauba as well as high and leafy Mangrove vegetation, which create a very diverse landscape. We'll visit the communities that are in the EPA (Environmental Protection Area) of Pequenos Lencois: Vassouras, with are large amount of capuchin monkeys; Mandacaru, where we'll visit the Preguicas Lighthouse, 35m high, providing great view of the Grandes Lencois; the mouth of the Preguicas River and Pequenos Lencois. The next stop is Cabure, a nice place located on a peninsula between the Atlantic Ocean and the Preguicas River, pleasant corner to rest and a take a good swim in the sea or river. The site has good restaurants that are recommended for lunch (not included). At 14h return to Barreirinhas.
Meals included: Breakfast
Mid-Range Accommodations: Pousada do Riacho
Day 4: Departure (B)
Transfer to the Sao Luis de Maranhao airport for departure to the next destination.
Meals included: Breakfast
Pricing
4-Day Hidden Pools and Dunes of Lencois Maranhenses
from $545 USD

*** Contact Us for other itinerary and lodging options! ***
NOTE: Prices are per person in U.S. dollars based on double/triple occupancy. All quotations are based on the current rates of park fees, VAT, other government taxes, and current exchange rates. Should any of these be increased or a new tax introduced, these increases will be added on even if your trip has already been paid for.
INCLUDES:

All accommodations per itinerary
All meals per itinerary (B=Breakfast, L=Lunch, D=Dinner)
All tours and entrance fees per itinerary (unless listed as excluded)
All transportation and transfers per itinerary

EXCLUDES:

International and domestic flights
Meals not listed
Beverages and alcohol
Tips for guides, drivers, hotel staff
Optional tours
Single room supplement
Personal expenses (visas, airport taxes, Internet, etc.)