4-Day River Snorkel and Waterfall Walks
Bonito is a town in the state of Mato Grosso do Sul, world famous for its ecotourism. The main attractions are its magnificent natural landscapes, especially the water attractions; crystalline rivers with great variety of wildlife where you can go floating or scuba diving. Besides the beauty of its rivers there are also totally or partially flooded caverns, formed thousands of years ago in the stone. It's an ideal place to do nature activities like snorkeling down the river, visit caverns and enjoy hiking around.
Full Itinerary
DETAILED ITINERARY >>
ITINERARY IN BRIEF >>
Day 1: Arrival in Campo Grande and transfer to Bonito
Airport arrival at Campo Grande, from where we'll transfer to Bonito, a small village in the state of Mato Grosso do Sul surrounded by extraordinary nature.
Meals included: n/a
Budget Accommodations: Pousada Pira Miuna
Day 2: River Snorkeling at Rio da Prata + Taboa Cachaca Visit (B)
In the morning we leave the hotel bound for a fascinating tour that takes place amid various schools of fish in the Recanto Ecologico do Rio da Prata. When we get there we will receive guidance and equipment (mask, snorkel, life jacket, neoprene clothing and rubber sneaker - included). We will be surrounded by piraputangas, dourados, curimbatas, piaus, matogrossinhos and other fish in the area. On the way we will stop at Vulcao Olho d'agua, a place where we can snorkel to feel the water that flows from the bottom of the river until we meet with the Rio da Prata and follow the last stretch floating in water or on a support boat. On the way back we'll participate in two workshops, including an experience with clay and a work with cattail straw, understanding the manufacture of coated bottles and other handicrafts. There is also a passage through the garden, where we'll get to see over 50 different herbs. The tour ends tasting twenty varieties of Taboa cachaca and a visit to the store where we can purchase unique bottles of Taboa with sizes (50ml to 700ml) and varied prices, plus unique handicrafts made at the factory. We return to Bonito.


Meals included: Breakfast
Budget Accommodations: Pousada Pira Miuna
Day 3: Waterfalls at Fazenda Ceita Core (BL)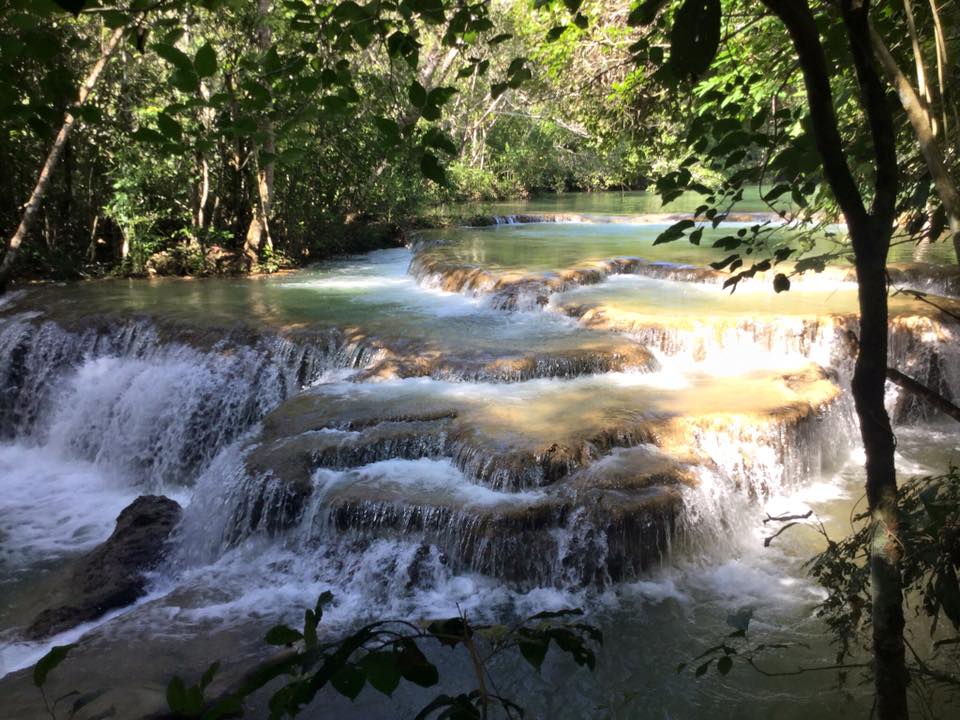 In the morning we visit the fazenda Ceita Core, in Tupi-Guarani language 'Land of my children.' The farm has one of the most beautiful and traditional headquarters of the region, with a house on the edge of a crystal clear lake, where visitors can take a boat trip to see where River Chapena is born. A trail of approx. 1800m in the riparian forest of Rio Chapeninha will lead us to six waterfalls formed by calcareous tufa, small caves and natural pools. The typical farm lunch is served at the farmhouse which has a bar and restaurant, toilets, sand volleyball court, pool, game table, hammocks and gift shop. A tour full of enchantment and fun for the whole day.
Meals included: Breakfast, Lunch
Budget Accommodations: Pousada Pira Miuna
Day 4: Departure (B)
Transfer to Campo Grande airport for departure to your next destination.
Meals included: Breakfast
Pricing
4-Day River Snorkel and Waterfall Walks
from $645 USD

*** Contact Us for other itinerary and lodging options! ***
NOTE: Prices are per person in U.S. dollars based on double/triple occupancy. All quotations are based on the current rates of park fees, VAT, other government taxes, and current exchange rates. Should any of these be increased or a new tax introduced, these increases will be added on even if your trip has already been paid for.
INCLUDES:

All accommodations per itinerary
All meals per itinerary (B=Breakfast, L=Lunch, D=Dinner)
All tours and entrance fees per itinerary (unless listed as excluded)
All transportation and transfers per itinerary

EXCLUDES:

International and domestic flights
Meals not listed
Beverages and alcohol
Tips for guides, drivers, hotel staff
Optional tours
Single room supplement
Personal expenses (visas, airport taxes, Internet, etc.)