8-Day Galapagos Island Hopping
Full Itinerary
DETAILED ITINERARY >>
ITINERARY IN BRIEF >>
Day 1: 8-DAY GALAPAGOS ISLAND HOPPING / Arrive Galapagos (San Cristobal Airport), Interpretation Center, Tijeretas Bay, Carola Beach (Hiking, Snorkeling) (L)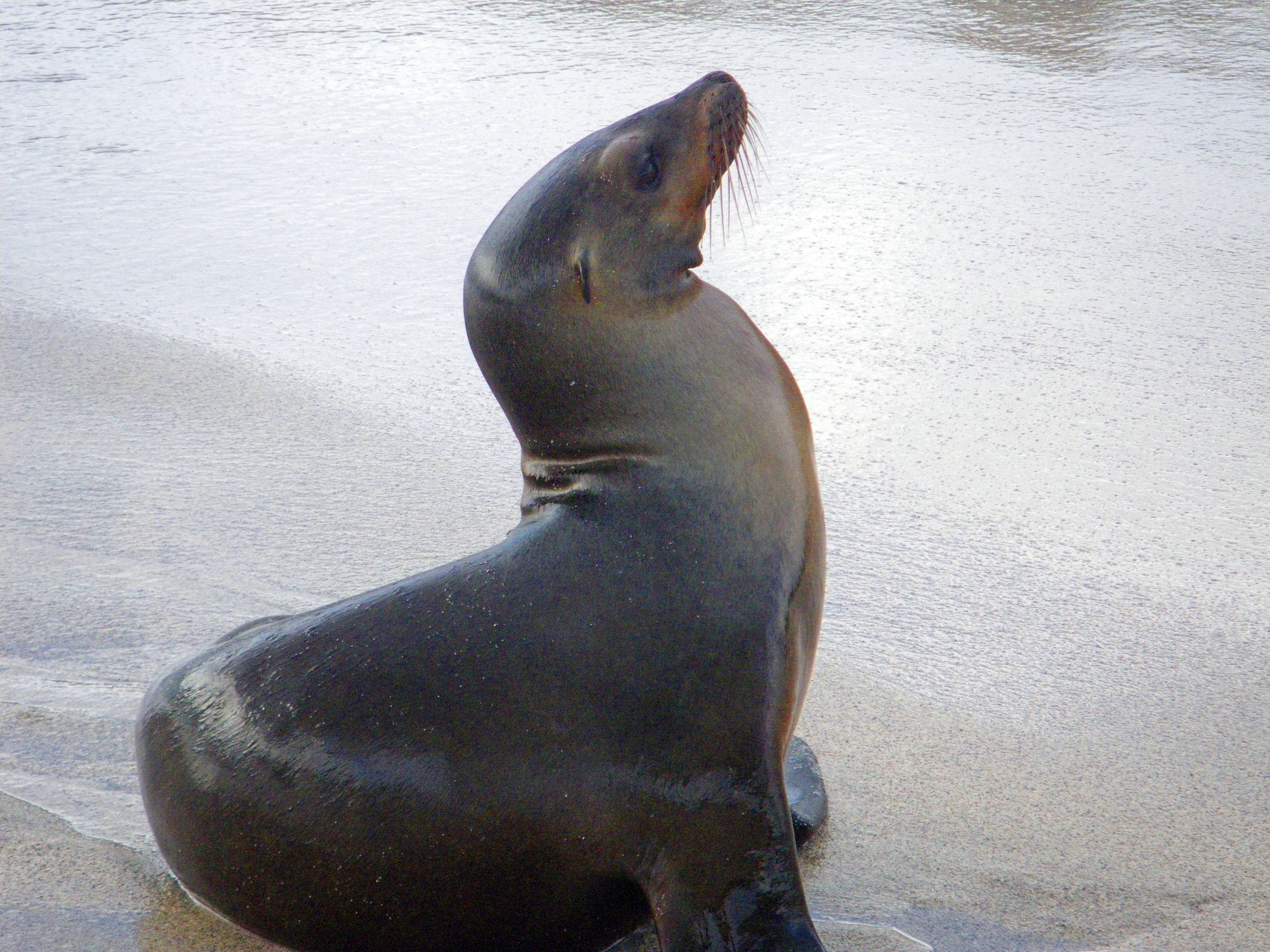 You will be picked-up at the San Cristobal Airport by your private certified guide, who will take you to the hotel. After you collect your luggage, look for someone with a sign with your name on it. It is a 5 minute drive to the town of Puerto Baquerizo Moreno.

After your lunch with the guide, you will visit the Interpretation Center, where the guide will talk you about the formation, colonization, and future of the islands. Then, you will follow the trail to Frigate Bird Hill, a viewpoint from which you can admire beautiful view over the island. You will be able to snorkel in the shallow waters of Tijeretas Bay, where you can see sea lions, various tropical fish, and turtles. Your hike will finish at Carola beach from where you will walk back to the hotel.

Dinner is not included, but you have several options in town: from BBQ at the Bambu restaurant or typical Ecuadorian food at Mockingbird as well as delicious sea food at the El Descanso Marinero. For pizzas and sandwiches, we recommend Calypso.

NOTE: Private Tour
Meals included: Lunch
Budget Accommodations: Hosteria Pimampiro
Mid-Range Accommodations: Casa Playa Mann
Luxury Accommodations: Golden Bay Hotel & Spa
Day 2: San Cristobal: Kicker Rock (Snorkeling, Beach) (BL)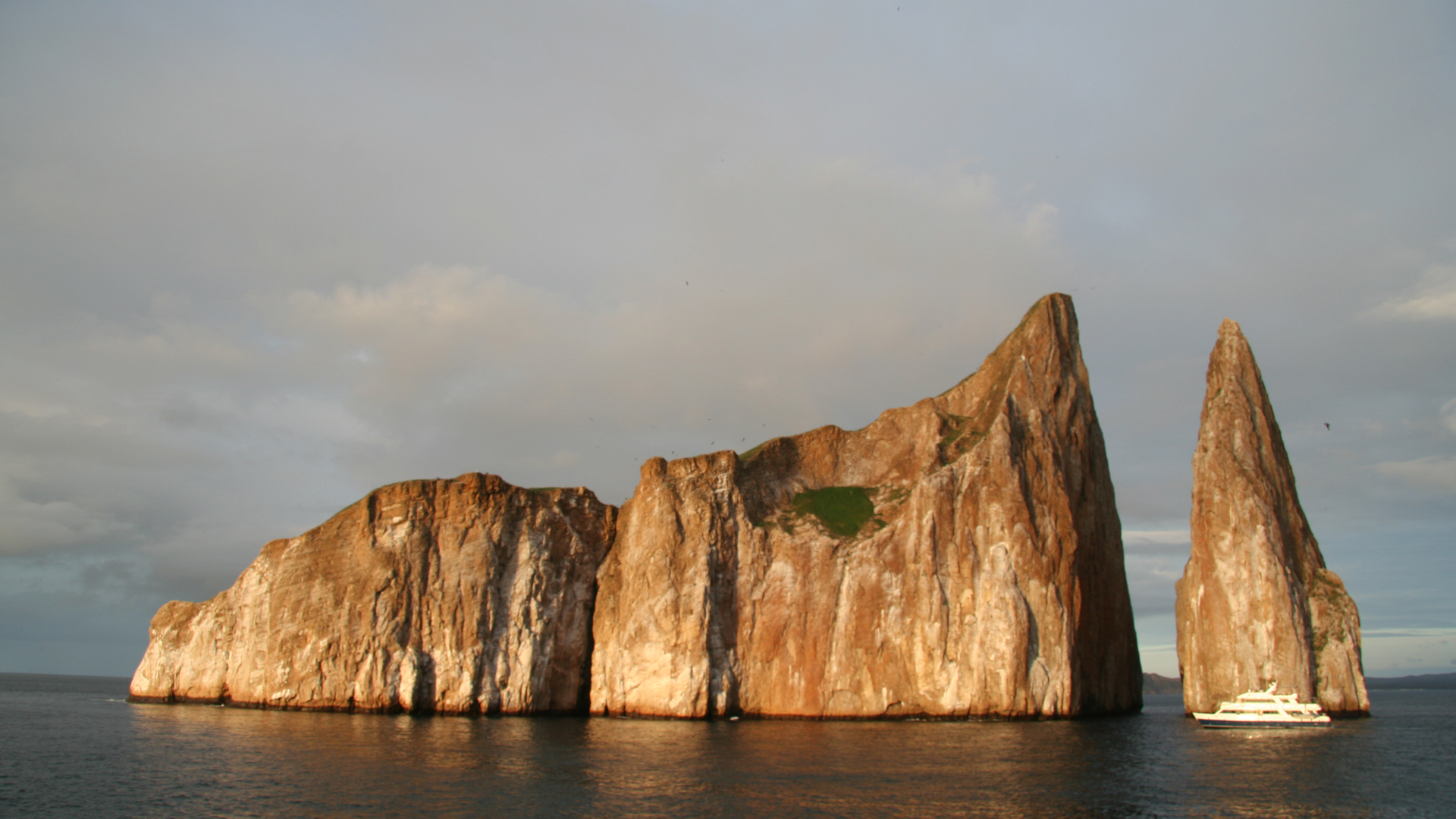 After breakfast (7.30 am), you will do a bay tour to visit the famous Kicker Rock (Leon Dormido – sleeping lion) and Isla Lobos, a volcanic formation amid the ocean. There you will be able to snorkel with sharks, rays, turtles and with luck also with hammerhead sharks. After lunch on the boa,t you will go to a beautiful, pristine beach at Manglesito, where you will have time to relax. Around 3pm, you will be back at the port.

The rest of the day is free at your leisure. You can watch the sunset on Playa Mann, or you can go to Loberia (about $4 each way by taxi). This is a coral beach with a sea lion colony. You will walk along the beach and Barranco cliff trail to see the sea lions, frigates, marine iguanas, and mangroves.

NOTE: Shared Tour with maximum 12 people/boat
Meals included: Breakfast, Lunch
Budget Accommodations: Hosteria Pimampiro
Mid-Range Accommodations: Casa Playa Mann
Luxury Accommodations: Golden Bay Hotel & Spa
Day 3: Fly to Isabela Island: Tintoreras Island (Hiking, Snorkeling) (BL)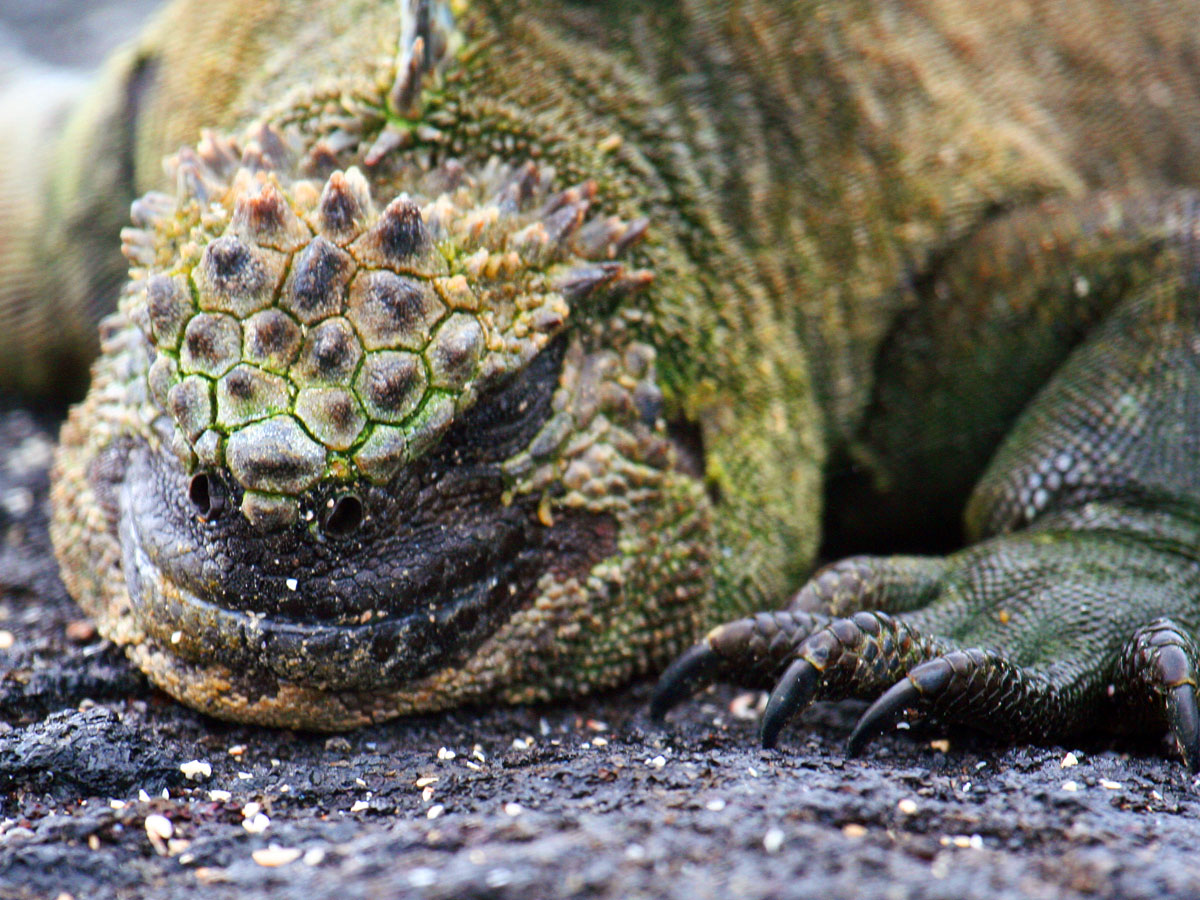 In the morning we will pick you up at the hotel and accompany you to the airport, where you will do your check-in for the flight to Isabela (ETD 7:15am, ETA 8:00am, estimated flight time: 45 minutes). NOTE: There is a luggage weight limit on this flight of 25 pounds including hand luggage, so let us know if you have overweight luggage so that we can make arrangements.

Our staff will welcome you on Isabela and accompanies you to your hotel for check-in. You are free until lunch. We recommend a visit of the Flamingo Lagoon or Galapaguera, a breeding center for the Galapagos Tortoises. Flamingo Lagoon ("Poza de los Flamingo") is a principal breeding ground for the Flamingos. This is a 10-minute walk from town.

After lunch you will take a local boat to nearby Tintoreras Islet for a short hike and snorkeling. You can discover penguins, marine iguanas, sea lions, and sharks ("tintoreras"), which are resting there in the lava channel. Snorkel then in turquoise water and spot different fishes, sea turtles, rays, and penguins.

Your evening is free. For dinner, we recommend Isabela Grill for the meat lovers, Iguana Point which is along the beach, or El Faro restaurant in the center.

NOTE: Shared Tour with maximum 16 people/boat
Meals included: Breakfast, Lunch
Budget Accommodations: Gran Tortuga
Mid-Range Accommodations: Isabela Beach House
Luxury Accommodations: Iguana Crossing
Day 4: Isabela Island: Sierra Negra Volcano (Hiking) (BL)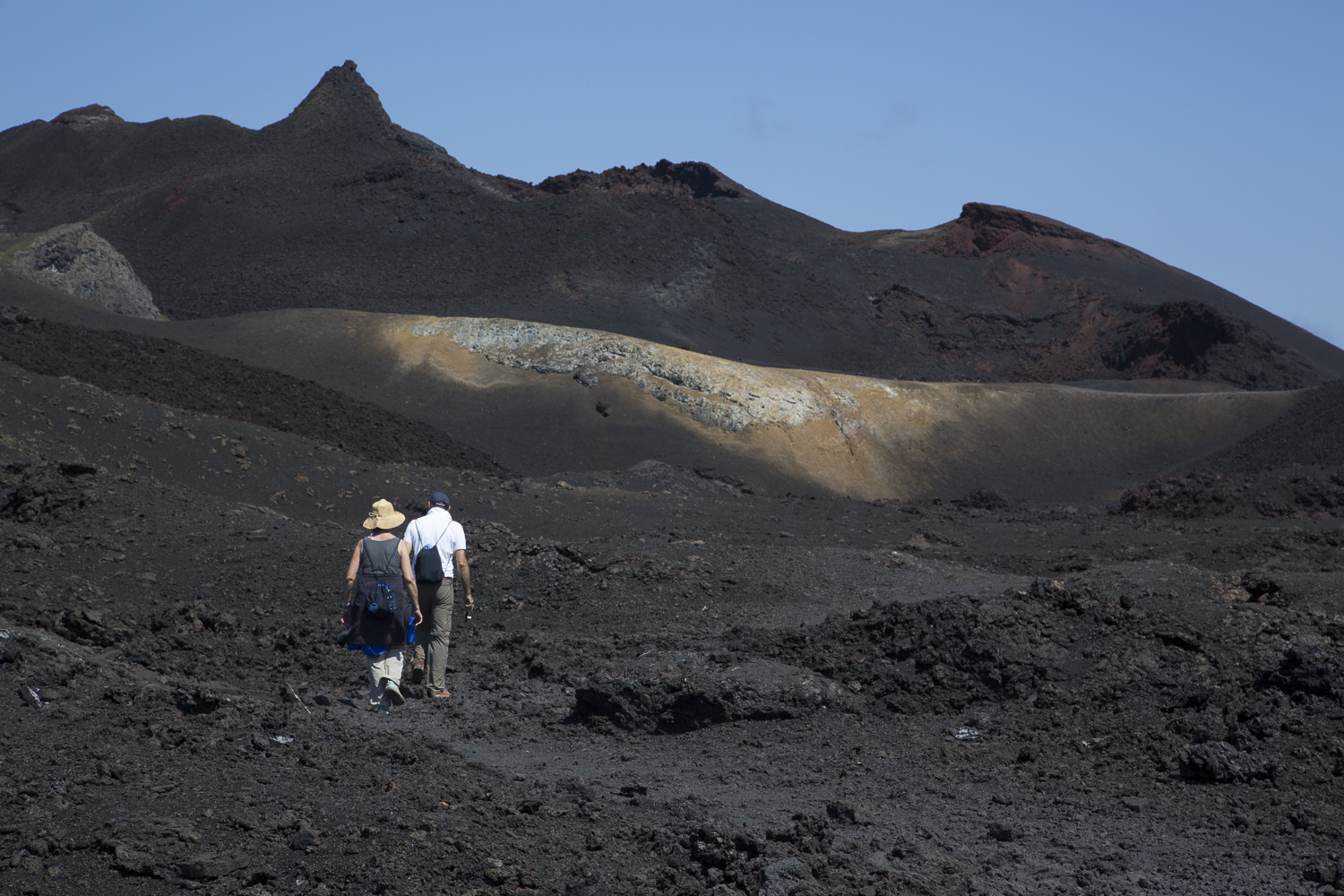 Today the Sierra Negra Volcano is on the agenda. This is the 2nd largest and most active volcano in the world (last eruption on October 22, 2005). You will also see steam rising from nearby Volcan Chico. You walk through spectacular lava landscapes and have views of the northern volcanoes of Isabela and Fernandina. The hike to the Sierra Negra Volcano and the Chico Volcano is about 16km long (2-3 hour hike up), but worth the effort. You see the second largest volcanic crater in the world and discover different vegetation zones. You get a lunchbox for the hike. It is a 40-minute drive to the base of the volcano hike. You can also rent a horse ($10) if you prefer not to hike.

The rest of the day is at leisure. You can enjoy the beautiful beach in Isabela or you can snorkel in the Concha de Perla lagoon (snorkel equipment is not included in the free time, but can be hired locally).

NOTE: Shared Tour with maximum 16 people
Meals included: Breakfast, Lunch
Budget Accommodations: Gran Tortuga
Mid-Range Accommodations: Isabela Beach House
Luxury Accommodations: Iguana Crossing
Day 5: Isabela: Los Tuneles/Cabo Rosa (Snorkeling) (BL)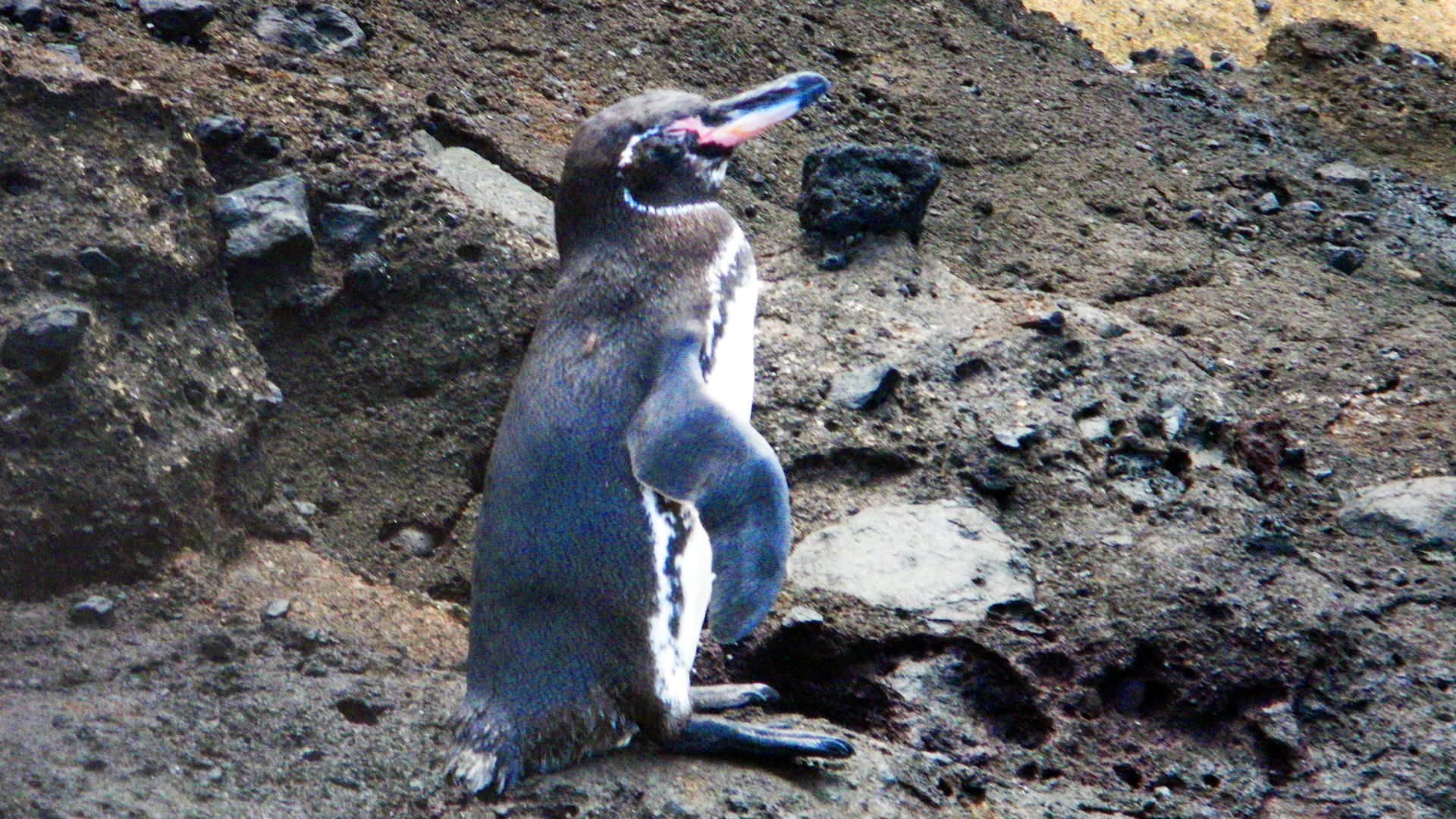 After breakfast at your hotel, you will leave at 7:30am with your guide to go by boat to Los Tuneles/Cabo Rosa (45 minutes) where lava has flowed into the ocean and formed beautiful lava tubes. There you may see penguins, blue-footed boobies and sea turtles. However, the highlight is snorkeling. You have the chance to see white-tip sharks which rest daily on the bottom, sea turtles, sea lions, rays, seahorses, and many tropical fish. The tour takes about 5 hours.

The rest of the day is free time. You can do a bike ride to the Wall of Tears (bikes are not included, but can be hired locally).

NOTE: Shared Tour with maximum 16 people
Meals included: Breakfast, Lunch
Budget Accommodations: Gran Tortuga
Mid-Range Accommodations: Isabela Beach House
Luxury Accommodations: Iguana Crossing
Day 6: Boat transfer to Santa Cruz: Giant Tortoises in Highlands, Garrapatero Beach (Hiking, Snorkeling) (BL)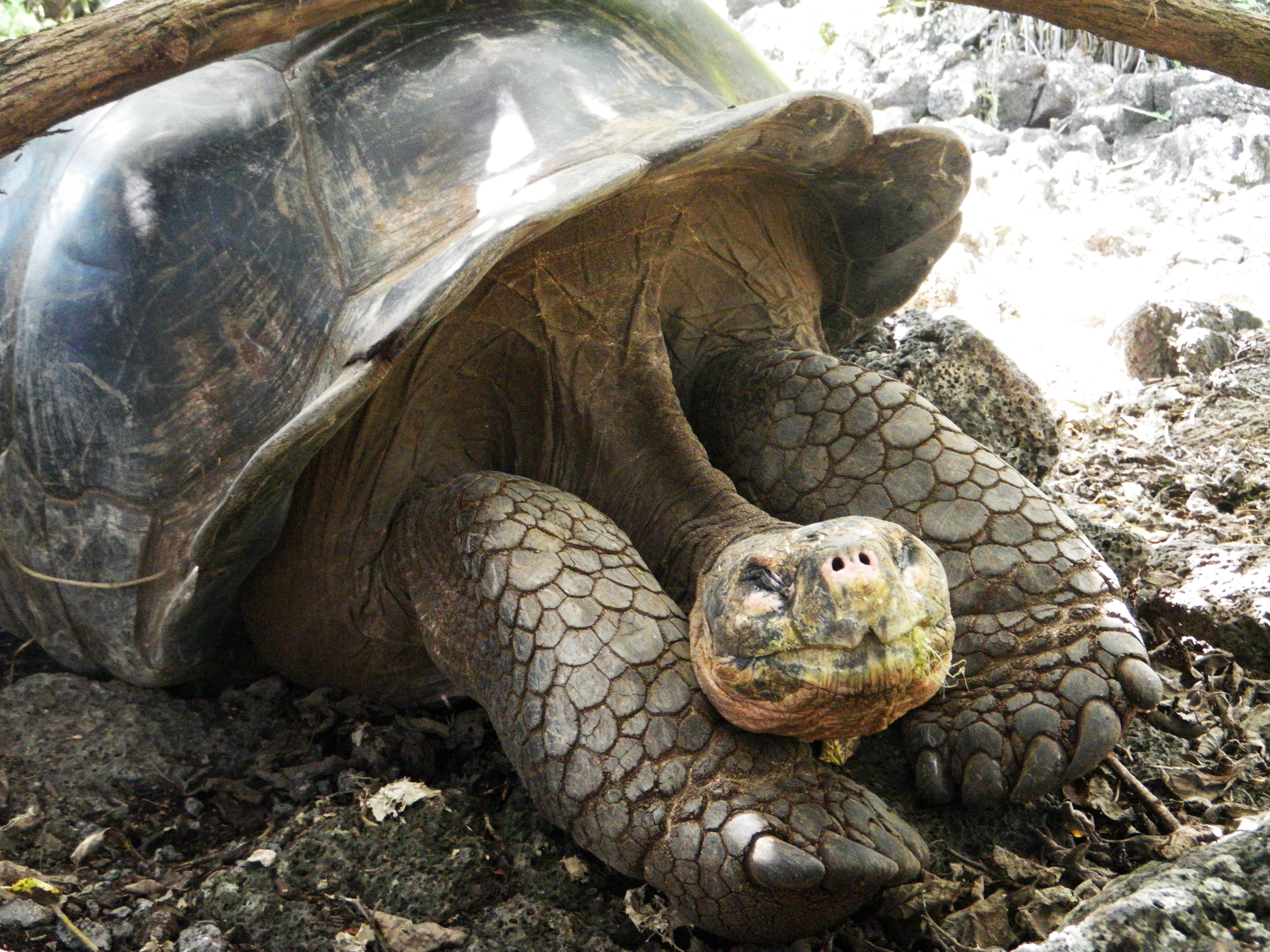 At 5:30am, your guide will pick you up at the hotel and accompany you to the harbor, where you will take the 6:00am speed boat to Santa Cruz (2.5-3.5 hours).

At the pier, our staff welcomes you and accompanies you for breakfast. Afterwards you will go to the hotel for check-in and to meet your private local guide.

Your guide will drive you to a ranch in the Santa Cruz Highlands to see the giant tortoises in their native environment. After lunch, you will stop at Cerro Mesa Reserve where you can see a huge crater, a remnant of the time when Santa Cruz was still a volcanic active island. Then you will continue to Garrapatero Beach where you will have time to swim.

The evening is at your leisure. You can choose among a lot of restaurants in town for dinner. The "Kiosks" are a great option -- every night one street in the center of Puerto Ayora is closed to traffic and restaurants put tables and chairs in the street where you can enjoy a typical meal among locals.

NOTE: Private Tour
Meals included: Breakfast, Lunch
Budget Accommodations: Hotel Deja Vu
Mid-Range Accommodations: Villa Laguna
Luxury Accommodations: Angermeyer Waterfront Inn
Day 7: Day trip to an uninhabited island: Seymour, Santa Fe, Plazas, or Bartolome (Hiking) (BL)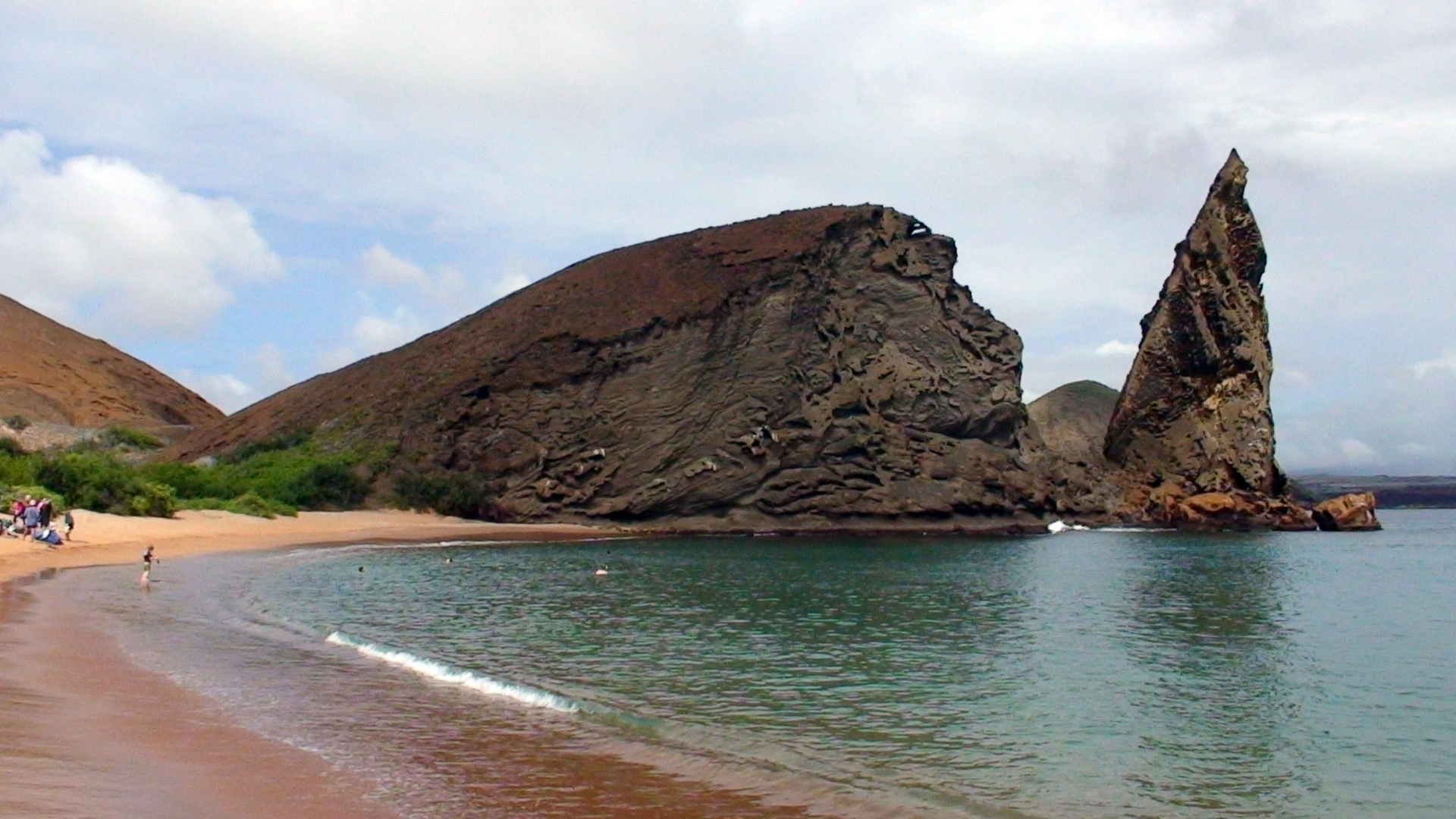 Today you will participate in a boat tour to an uninhabited island. That will be either Seymour, Santa Fe, Plazas, or Bartolome. The destination will depend on availability, day of the week, and program of the National Park. We will let you know immediately at booking which island is available.

On Santa Fe and Plazas, you can spot endemic land iguanas. Bartolome is known for beautiful lava scenery. On Seymour, you can see frigate birds, land iguanas, and blue footed boobies.

The evening in Puerto Ayora on Santa Cruz Island is free time.

NOTE: Shared Tour with maximum 20 people/boat
Meals included: Breakfast, Lunch
Budget Accommodations: Hotel Deja Vu
Mid-Range Accommodations: Villa Laguna
Luxury Accommodations: Angermeyer Waterfront Inn
Day 8: Transfer to Baltra Airport for flight to Quito or Guayaquil (B)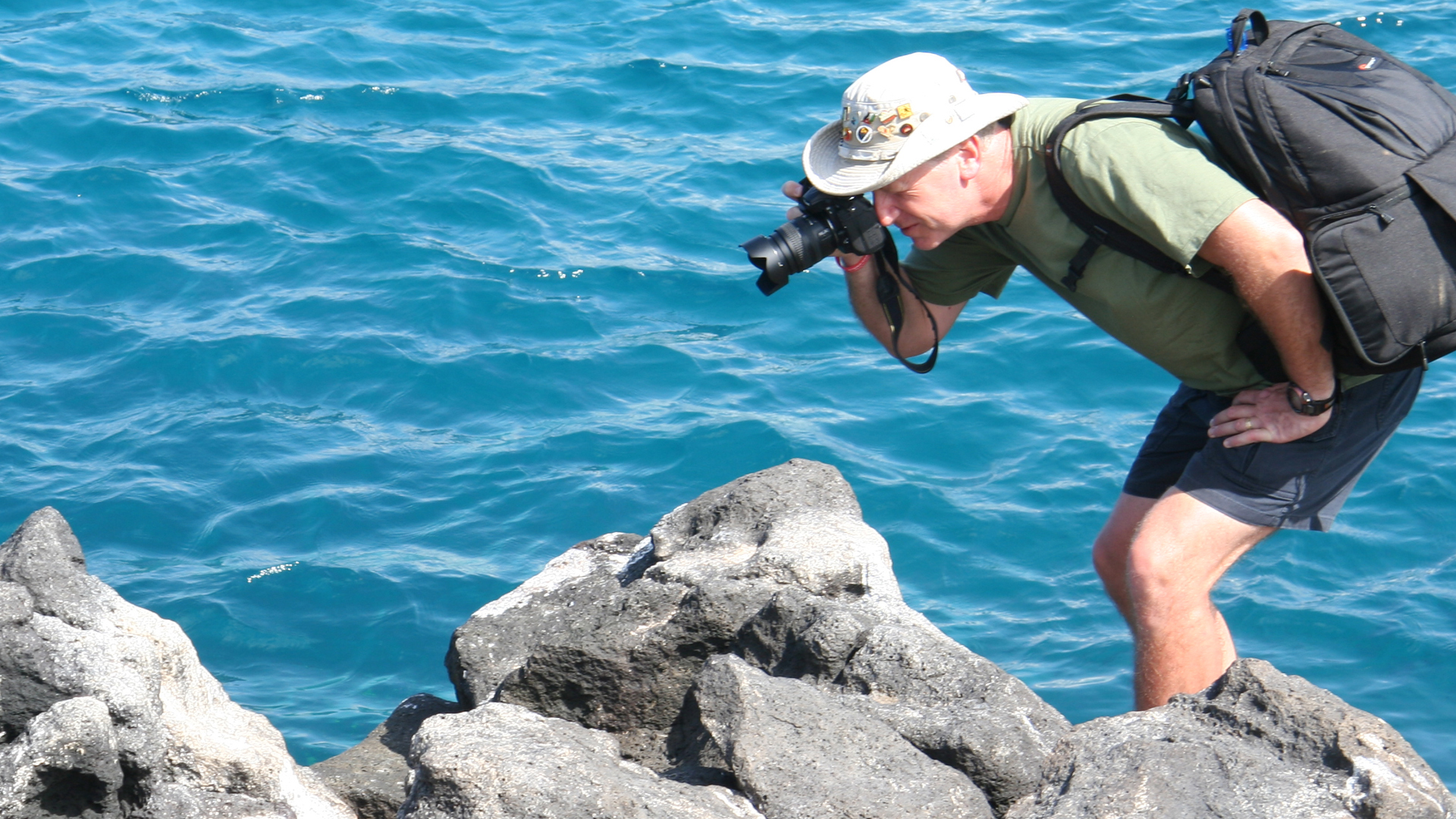 The time until the airport transport is at your leisure. You can visit the Charles Darwin Station (free entrance) or do some souvenir shopping.

Your driver will accompany you for the transfer to the Baltra Airport. The transfer includes private vehicle across the island to the dock for Baltra Island (40-60 minutes), taking a boat across the Itabaca Channel, and the public bus to the Baltra airport (5 minutes). Your driver will accompany you until the check-in where your program ends with your return flight to the mainland.
Meals included: Breakfast
Pricing
8-Day Galapagos Island Hopping

Prices are Per Person and Valid for Trips through December 31, 2022
| | | | |
| --- | --- | --- | --- |
| # People in Group: | 2 | 3-4 | 5+ |
| Budget Lodging: | $2445 | $2345 | $2245 |
| Mid-Range Lodging: | $2995 | $2895 | $2795 |
| 4-Star Luxury Lodging: | $4245 | $4145 | $4045 |
*** Contact Us for other itinerary and lodging options! ***
NOTE: Prices are per person in U.S. dollars based on double/triple occupancy. All quotations are based on the current rates of park fees, VAT, other government taxes, and current exchange rates. Should any of these be increased or a new tax introduced, these increases will be added on even if your trip has already been paid for.
INCLUDES:

All accommodations per itinerary
All meals per itinerary (B=Breakfast, L=Lunch, D=Dinner)
All tours and entrance fees per itinerary (unless listed as excluded)
All transportation and transfers per itinerary

Boat transfers
Bi-lingual Galapagos naturalist guide
Isabela tax
Snorkel equipment and wetsuit (short 2.5mm) during excursions

EXCLUDES:

International and domestic flights
Meals not listed
Beverages and alcohol
Tips for guides, drivers, hotel staff
Optional tours
Single room supplement
Personal expenses (visas, airport taxes, Internet, etc.)

Tips for guides ($5-10/person/day)
Flights to the Galapagos ($500-600/person round-trip estimate)
Entrance fee to the Galapagos National Park ($100/person)
INGALA Migration card ($20/person)
Alcoholic Beverages
20% discount for children 11 years old and under
Single room surcharge (30% for budget and mid-range accommodations, 40% for luxury, estimate)
Christmas/New Years holiday supplement 20% (estimate)
NOTE: There is a luggage weight limit on the internal flight of 10 kg (25 lbs). If you have overweight luggage for the internal flight, we can transport extra luggage to Santa Cruz. This means you need one bag with everything you need for Isabela Island, and then a second bag with extra items, which you will get on Santa Cruz. It may be possible to pay for extra weight ($2/lb), but this may not be allowed if the airplane is full.