The information above is for informational purposes only. All travelers should check to see if entry requirements and fees have changed.
How to get a visa?
As of January 1, 2021, all travelers will be required to acquire a Kenyan visa by applying online from the electronic visa (e-visa) webpage in advance before leaving their home country or boarding an aircraft. The electronic visa (eVisa) for Kenya is mandatory for all visitors traveling to Kenya from countries that require visas to enter Kenya. No visas shall be issued on arrival in Kenya.
You should apply for the e-Visa no less than 48 hours in advance of the date you plan to enter Kenya.
Go to the the eVisa Visitors Create an Account button at http://evisa.go.ke/evisa.html
You will be asked to upload a digital passport photograph (maximum size 500 pixels by 500 pixels).
Print a copy of your visa to present to the immigration officer at your point of entry into Kenya.
Visa Fees (Visa and Mastercard accepted):
Single entry Visa $51
Transit Visa $21
Children 15 and younger $0
More Information:
Kenya, Rwanda, and Uganda: The East Africa Tourist Visa allows travel between these three countries using the same multiple entry visa. This multi-country 90-day visa is available to tourists with a valid passport (valid for not less than 6 months from the time of visa application). You should apply for the visa from the first country you plan to visit. The East Africa Tourist Visa costs $100. More Information >>
Who needs a visa?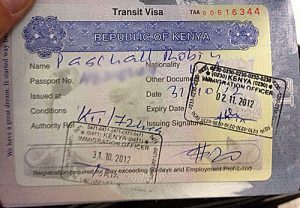 The "visa" is just a big stamp in your passport. Everyone needs a visa for Kenya except citizens of:
Barbados, Belize, Botswana, Brunei Darussalam, Cyprus, Dominica, Fiji Island, Ghana, Grenada, Jamaica, Kiribati, Lesotho, Malawi, Malaysia (for less than 30 days stay), Maldives, Mauritius, Namibia, Nauru, Papua New Guinea, Rwanda, Samoa, St. Kitts and Navis, Sierra Leona, Singapore, Solomon Islands, South Africa (for less than 30 days stay), St. Lucia, Swaziland, Seychelles, The Gambia, Tanzania, The Bahamas, Tonga, Trinidad & Tobago, Tuvalu, Uganda, Vanatu, Zambia, Zimbabwe, and St. Vincent and the Grenadines.
NOTE: This is subject to change, please contact your nearest Kenyan diplomatic office to get the most up-to-date information.
Yellow Fever Vaccination Certificate
A yellow fever vaccination certificate is required for travelers over 1 year of age arriving from countries with risk of yellow fever transmission. This includes Uganda and Rwanda. See the World Health Organization International travel and health website for disease distribution maps listing countries with risk of yellow fever transmission.
Need Help with your Passport and Visa?
To obtain the most current entry requirements for your upcoming trip, please contact CIBTvisas or call CIBT at 800-577-2428.  Be sure to reference CIBT Account 55520 for reduced CIBT service fees.