From: Zanzibar | Arusha | Nairobi | Safari/Serengeti | Rwanda | Dar Es Salaam | Selous
Before booking your flights
Ideally, you want to fly into the Kilimanjaro Airport (JRO), which is the closest airport to Moshi, where you will be based for your trek and safari.
Choosing an Airline
The airlines that fly into the Kilimanjaro Airport are Delta/KLM, Ethiopian Airlines, Air Kenya, Turkish Air, and Precision Air. Delta/KLM has a non-stop from Amsterdam to Kilimanjaro and is the most popular airline into Kilimanjaro. Kenya Air partners with United, British Airways, and Virgin Atlantic and go through Nairobi from various cities in Europe.
KLM and Zanzibar
If you are flying Delta/KLM into the Kilimanjaro Airport, these flights go Amsterdam->Kilimanjaro->Dar es Salaam->Amsterdam.  Therefore, you want your international flights to be INTO Kilimanjaro and BACK from Dar es Salaam (to catch the KLM flight back to Amsterdam).  The local flights JRO-ZNZ-DAR can be purchased separately with a local airlines.
Arrival to Moshi
When you are booking your flight to coincide with your trek or safari start date, be sure to check the arrival time at Kilimanjaro Airport. Some flights arrive late in the evening. We suggest that you then plan a rest day before starting your trek. This eases any jet lag, acclimates you to Africa, and gives time for any lost luggage to arrive.
Your Kilimanjaro guide will meet with your group the evening before the trek. This is not possible when you arrive late, so there is a bit of a rush the next morning, if you are starting your trek the next day. The rest day allows time for this meeting, time to get your rental equipment if you need any and time to explore the Moshi area.
If you arrive early in the morning to Kilimanjaro Airport, there should be enough time in that same day to acclimatize and get ready for your trek or safari, which can start the next day. On the other end, you may want to consider a rest day after your trek or safari before heading home. Based on feedback from other trekkers, you get back from the trek mid to late afternoon and are exhausted! If your schedule allows, this rest day is recommended.
We provide transportation between the Kilimanjaro Airport and your hotel in Moshi for $100/group one-way for up to 6 people.
YELLOW FEVER VACCINATION CERTIFICATE
If you are traveling through Kenya, Rwanda, Uganda, or Ethiopia en route to Tanzania, you will need a Yellow Fever Card upon arrival in Tanzania.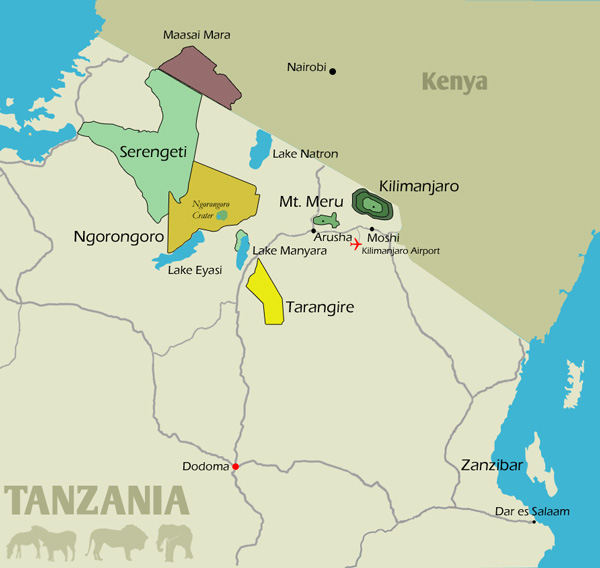 From/To Zanzibar
Many of our guests go on to Zanzibar after their trek or safari. There are flights from the Kilimanjaro Airport, Arusha Airport, and from the Serengeti.
The flights between Kilimanjaro and Zanzibar are $180+/person one-way. Flights between Zanzibar and Dar es Salaam are $80+/person one-way. Flights from Zanzibar to Nairobi are around $250/person one-way. Flights from the Serengeti to Zanzibar are around $500/person one-way, and with great views!
Precision Air has the most flights to Zanzibar:
Flightlink has a 1-hour flight from Kilimanjaro to Zanzibar:
Mango has flights from Johannesburg to Zanzibar:
FastJet offers cheap flights between Dar es Salaam and Johannesburg:
Fly540 has the flights between Zanzibar and Nairobi/Mombasa:
ZanAir is another option out of Arusha:
Luggage Limits
Precision Air allows 23kgs (50 lbs) as checked luggage and 10kgs (22 lbs) as hand luggage. They charge TZS 5000 per Kilogram extra/overweight luggage.
NOTE FOR DELTA/KLM
If you are flying Delta/KLM into the Kilimanjaro Airport, these flights go Amsterdam->Kilimanjaro->Dar es Salaam->Amsterdam.  Therefore, you want your international flights to be INTO Kilimanjaro and BACK from Dar es Salaam (to catch the KLM flight back to Amsterdam).  The local flights JRO-ZNZ-DAR can be purchased separately with a local airlines.
NOTE FOR NAIROBI
If you are flying into Nairobi at the beginning, then going to Zanzibar after your trek/safari, be sure to get a flight from Zanzibar back to Nairobi, not back to Kilimanjaro. Some flights into Nairobi go through Dar es Salaam on the way back. Again, you can book your return flight from Dar instead of Nairobi to save time and money.
From/To Arusha
The Riverside Shuttle (see below) goes between Arusha and Moshi once a day for $20/person one-way. AWR can arrange for a private car for $180 one-way for the car.
We can pick you up from the Namanga border and transfer to Arusha for $200/car one-way (up to 6 people).
Arusha Airport have recently installed a second security screening point. The first one is now between the carpark and the Check-in area. The second one is from the Check-in area to the airside apron area. This has meant that now extra time is required to make sure you do not miss your flight. The Arusha minimum Check-in Time is now extended to 60 minutes, as a result.
From/To Nairobi
The first option is to take a shuttle bus that leaves every morning around 8am from Nairobi, Kenya. It costs $35-45 per person one way and takes approximately six hours. You can also fly to the Kilimanjaro International Airport, which is located halfway between Moshi and Arusha. This costs around $200 per person one way from Nairobi, Kenya. The third option is to take a private car from Nairobi to Moshi. The car fits 7-8 people and costs $700 total each way, or a mini-bus for $900 total each way (20-25 people). You determine time and place of pick-up.
Shuttle Buses
This is not the most comfortable route (bumpy and dusty), but it is a quintessential African experience.
The shuttle stops at the Tanzanian border where all passengers must disembark and go through immigration. A visa is required to enter Tanzania. Luggage may also be removed and randomly inspected by customs agents.
There is one bathroom stop on the Kenya side of the border where you can also purchase refreshments. There is also a stop in Arusha to switch vehicles. You may want to bring your own snacks and drinks for the trip.
The shuttles pick up at various hotels in the Nairobi city center. Arrive at the shuttle 1/2 hour early to get your luggage loaded. Travel times vary greatly, but allow at least 6 hours. The shuttle operates every day of the year, including holidays.
If you take the afternoon shuttle, it only goes as far as Arusha. We can arrange for a private car to drive from Arusha to Moshi for $190 one-way for the car.
For more information and to pre-book:
Flights
Flights between Nairobi and Kilimanjaro cost around $200/person one-way. You may be able to book flights directly:
From/To Safari/Serengeti
There are a number of small airlines that offer service between the Kilimanjaro Airport and Arusha Airport to various places on safari.
Sample prices:
Serengeti-Arusha: $400/person one-way
Serengeti-Zanzibar: $500/person one-way
Luggage restrictions:
"ON ALL SERVICES THE LUGGAGE ALLOWANCE IS 15 KILOS IN SOFT BAGS. THESE ALLOWANCES SHALL INCLUDE ALL HAND BAGGAGE. THE CARRIAGE OF EXCESS BAGGAGE IS AT THE SOLE DISCRETION OF THE COMPANY AFTER TAKING INTO CONSIDERATION THE AIRCRAFT BEING USED AND THE NUMBER OF PASSENGERS BOOKED. WHEN EXCESS BAGGAGE IS CARRIED IT WILL BE CHARGED AT THE PREVAILING FREIGHT CHARGES."
Bags that do not meet these requirements will be left behind.
From/To Kigali, Rwanda
Flights Kigali-Serengeti are operated daily 06:00am-10:25am (a stop at Mwanza for immigration) with a minimum of 2 people for $600/person one-way plus 4% tax plus $37/person departure tax payable at the Kigali Airport with U.S. dollars. It also runs Serengeti-Kigali 14:25pm-17:30pm for the same price.
From/To Dar es Salaam
Arriving on Precision Air, collect luggage at one of the domestic baggage claims. Follow signs for transit flights (narrow walkway). Go through x-ray with all luggage to get to airline counters.
Check in for flights starts 3 hours ahead of the fight. If you arrive earlier than that, there is a small sitting area in the lobby, and there is some food, exchange bureaus, etc. outside the airport.
For SwissAir, there is a passport check counter first. Then check in luggage (only 1 free per person).
Then go towards security and fill out a customs form – 1 per person. Then go to immigration/passport control – take photo and fingerprints. Go through security, laptops out, most shoes okay.
There is a sitting area in the departure lounge. Or, visit the Tanzanite Lounge for $30/person.
Flightlink has flights between Dar es Salaam and Zanzibar and Kilimanjaro:
To/From Selous
These airlines fly between Dar es Salaam and Selous:
Coastal

Aviation, Safari Airlink, Flightlink, and Zanair
Coastal Flight Route