The information above is for informational purposes only. All travelers should check to see if entry requirements and fees have changed.
Who needs a visa?
The "visa" is just a big stamp in your passport. Everyone needs a visa for Tanzania except
"NATIONALS OF THE FOLLOWING COUNTRIES DO NOT REQUIRE VISAS WHEN INTENDED STAY DOES NOT EXCEED THREE MONTHS: NAMIBIA, ROMANIA, RWANDA, HONG KONG AND COMMONWEALTH MEMBER STATES EXCEPT UNITED KINGDOM, CANADA, NIGERIA, INDIA AND SOUTH AFRICA ."
How to get a visa?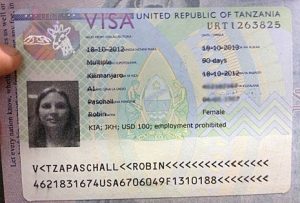 YOUR PASSPORT MUST BE VALID FOR AT LEAST 6 MONTHS AFTER YOUR ARRIVAL DATE IN TANZANIA! Otherwise, they may not even let you on the airplane!
Online Electronic Visa
We HIGHLY recommend getting the Tanzania e-visa prior to arrival.  E-visas can take 10 days to be issued, so you will want to fill this out about 1 month before your trip. You can fill it out online here:
How to Apply for a Visa Online
Fill all required details in the form (see "Information for your Visa Application" below).

Proof of sufficient funds while in Tanzania: Copy of your reservation confirmation (okay if not paid in full yet)
The Contact Information will be in your Reservation Confirmation.

Upload and attach the applicant's scanned relevant documents for the Visa (Passport Photo).
Then, the applicant will receive an e-mail message containing User Identification Number (that may be used to track the application online).
After completion of filling an online visa application form, the applicant will have to pay for a for respective visa fee (Visa/Mastercard) (US$100 cash if you are a U.S. citizen or US$50 cash for all other nationals).
Upon successful payment, the applicant will submit his application.
Lastly, the applicant will receive an email of confirmation of his application being received.
Most people just need an ordinary single entry Tourist Visa.
MORE E-VISA ADVICE
Save the Application ID right away when you first click new application (so you are sure to have it).
Have your scanned passport and passport photo ready to upload beforehand.
Sometimes it doesn't save for you to continue later, so try to finish it all at one time.
The application confirmation emails come about 10 days later.
Visa upon Arrival
It is possible to get your visa at the border going into Tanzania or at the Kilimanjaro or Dar es Salaam airports when you arrive. This is now a very slow process, so allow extra time for this process. You will need US$100 cash if you are a U.S. citizen or US$50 cash for all other nationals.
Visa from Embassy
At this time, you CANNOT get your visa through an embassy.
Tanzania Embassy in the U.S.:
Or call them in Washington D.C. at 202-939-6125, and ask for a visa application.
Other nationalities, find the nearest embassy:
Each traveler will need to send
Completed visa application
Valid passport (at least 6 months before expiration)
Two passport-size photos
$100/person for U.S. passports or $50/person for other nationalities
Prepaid return envelope addressed to yourself (multiple applications can be sent together)
Proof of travel plans (our Reservation Confirmation is sufficient)
Payment can be made by money order, credit card ($2 processing fee), personal check (include a copy of your drivers license and add a $2 processing fee).
Allow at least 30 days for processing. You might want to consider sending it certified mail or Federal Express both directions to ensure the safety of your passport.
Vaccination Certificate
A yellow fever vaccination certificate is required for travelers over 1 year of age arriving from countries with risk of yellow fever transmission and for travelers having transited more than 12 hours through the airport of a country with risk of yellow fever transmission. See World Health Organization International travel and health webpage for disease distribution maps listing countries with risk of yellow fever transmission.  If you are traveling through Kenya, Rwanda, Uganda, or Ethiopia en route to Tanzania, you will need a Yellow Fever Card upon arrival in Tanzania.
Need Help with your Passport and Visa?
To obtain the most current entry requirements for your upcoming trip, please contact CIBTvisas or call CIBT at 800-577-2428.  Be sure to reference CIBT Account 55520 for reduced CIBT service fees.
Kenya
If you are going through Kenya, you will need a separate Kenya visa. You can get your Kenya visa at the Nairobi Airport or at the border crossing from Tanzania.