5-Day Inca Trail to Machu Picchu
The legendary Inca Trail takes you through the diverse wilderness of the Machu Picchu Historical Sanctuary, passing numerous Inca ruins on the magnificent stone highway before descending to the famed citadel of Machu Picchu. It starts from Cusco or Ollantaytambo, hiking from km 82 into Machu Picchu, and returns to Cusco with an overnight at a hotel in Aguas Calientes.
Set departures are on Sundays and Wednesdays.
Minimum two people.
Groups are limited to 12 people, but most groups are smaller than that.

Season: All year, except February, when the Inca Trail is closed; best season for trekking is April through October. Note that you may start your trek on any day of the week for a private trek. Check with us for availability! Now is the time to book your trek for 2021! Permits for 2021 go on sale in October 2020. There are still permits available for later 2020, as well.
Groups to Join
If you are a single traveler or a small group that wants to join others, we have a number of groups that you can join. Permits may be sold out for some of departures so it is best to contact us for availability. We can help with an alternative trek, that is just as challenging as the Inca Trail and gets you to Machu Picchu!
Full Itinerary
DETAILED ITINERARY >>
ITINERARY IN BRIEF >>
Day 1: 5-DAY INCA TRAIL TREK / Cusco to km 82 by vehicle; hike to Llaqtapata Camp; camp overnight (LD)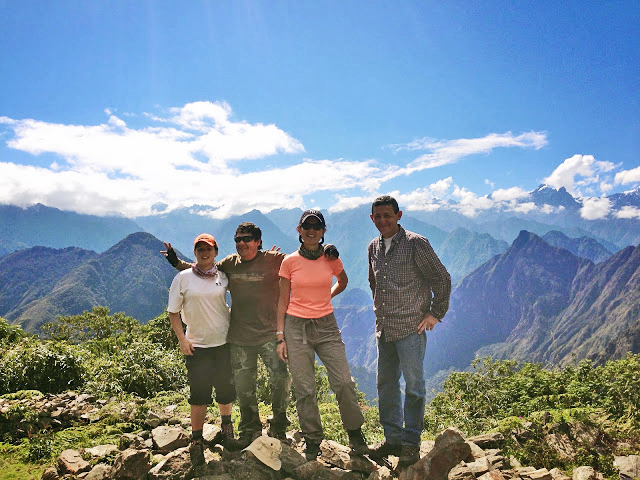 Note: You will have a briefing with the guide before your trek.
With your guide, you will take a private car to Km 82 on the railway to Machu Picchu. From here, you hike along the Urubamba River stopping at Q'oriwayrakina for lunch. At Km 88, cross the small bridge at Q'ente and hike to the Llaqtapata campsite. If there is time you may take a side trip to visit the archaeological remains of Qente and Machu Qente and the Llaqtapata ruins, the camp is located amidst Inca terracing. (Hiking time: 5-6 hours; Distance: 11 kms). Camp overnight.
Meals included: Lunch, Dinner
Budget Accommodations: Camping on Trek
Day 2: Hike Llaqtapata to Llulluchapampa Camp; camp overnight (BLD)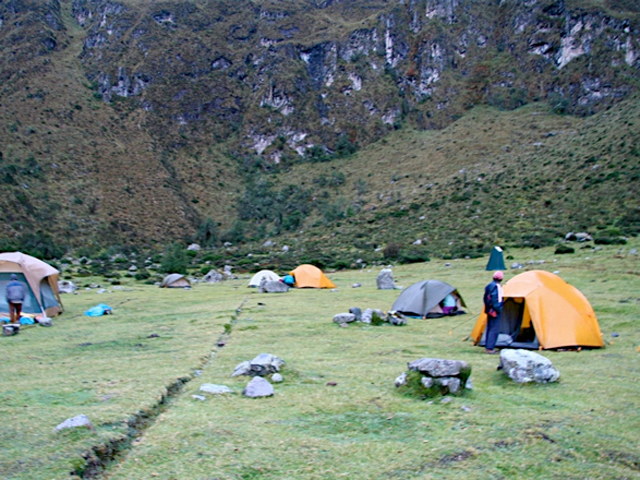 The Inca Trail winds slowly up the Cusicacha Valley passing houses of settlers to finally reach the Andean community of Huayllabamba. From here the Trail ascends steeply to a large pampa (meadow) below the first pass. At this campsite there is a breathtaking view of Mt. Huayanay. Along the Trail up this narrow hanging valley is a rare Andean cloud forest that harbors the Que'ua tree. (Hiking time: 6 hours; Distance: 9 kms). Camp overnight.
Meals included: Breakfast, Lunch, Dinner
Budget Accommodations: Camping on Trek
Day 3: Hike Llulluchapampa to Phuyupatamarca Camp; camp overnight (BLD)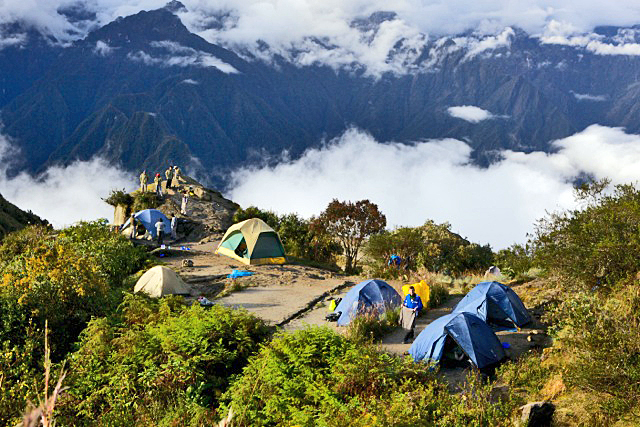 The Trail ascends at 30 degrees as it leaves Llulluchapampa campsite and beyond the treeline arrives at Warmiwanusca Pass (4,200m/13,280ft). The Inca Trail descends to the Pacaymayo River and then climbs slowly past Runkuraqay ruins. Over a low pass to Sayacmarca ("the waiting village") the Inca Trail crosses a causeway on a now-dry lake past a cave and continues along a ridge to Phuyupatamarca ("village on the edge of the clouds"). (Hiking time: 7-8 hrs; Distance: 14 kms). Camp overnight.
Meals included: Breakfast, Lunch, Dinner
Budget Accommodations: Camping on Trek
Day 4: Hike Phuyupatamarca to Machu Picchu via Winay Wayna and Intipunku; shuttle to Aguas Calientes; overnight hotel in Aguas Calientes (BL)
After continuing along a buttress and passing the Phuyupatamarca ruins, the flagstone trail winds sharply down into the cloud forest to the ruins of Winay Wayna. The recently restored Inca ruins are located below the ridge on the same water course as the previous site. After a two hour walk through a cloud forest the Inca Trail arrives Intipunku ("door of the sun"), where you view Machu Picchu for the first time. Continue hiking to the ruins. Walk past the famous citadel, catch the shuttle to Aguas Calientes, and walk to your hotel. Overnight in Aguas Calientes (hiking: about 9 km)
Meals included: Breakfast, Lunch
Budget/Mid-Range Accommodations: Inti Punku
Day 5: Guided tour of Machu Picchu; afternoon return to Cusco; transfer (BL)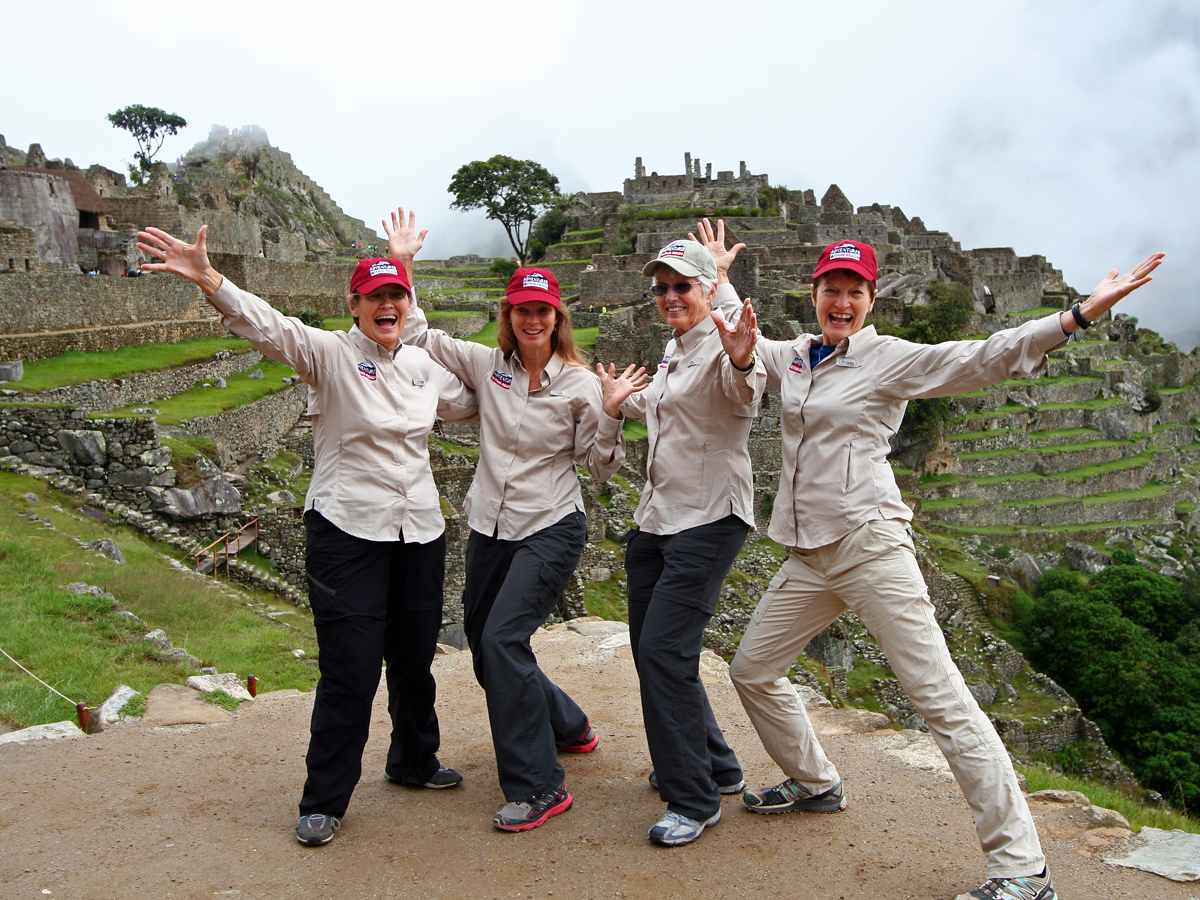 The day is dedicated to exploring Machu Picchu's extraordinary Inca remains with your guide, including an optional climb up Huayna Picchu (not included in the trek price), the hill overlooking the site. Time is at 10 a.m. (your tour is before the climb; you must order the Huayna Picchu tickets at least 90 days in advance of your travel). Lunch included. At mid-afternoon, you will return by Expedition train to Cusco, arriving evening; transfer to your hotel.
Note that the hotel this evening is not included in the price.
Meals included: Breakfast, Lunch
Pricing
5-Day Inca Trail to Machu Picchu

Prices are Per Person and Valid for Trips January 1, 2024 through December 31, 2023
| | | | | | |
| --- | --- | --- | --- | --- | --- |
| # People in Group: | 2 | 3 | 4 | 5 | 6+ |
| Group Set Departure: | $1495 | $1495 | $1495 | $1495 | $1495 |
| Private Trip: | $2635 | $2195 | $1970 | $1765 | $1695 |
*** Contact Us for other itinerary and lodging options! ***
NOTE: Prices are per person in U.S. dollars based on double/triple occupancy. All quotations are based on the current rates of park fees, VAT, other government taxes, and current exchange rates. Should any of these be increased or a new tax introduced, these increases will be added on even if your trip has already been paid for.
INCLUDES:

All accommodations per itinerary
All meals per itinerary (B=Breakfast, L=Lunch, D=Dinner)
All tours and entrance fees per itinerary (unless listed as excluded)
All transportation and transfers per itinerary

Pre-trek briefing with the guide
Transportation by vehicle to start of the trek at km 82
Bilingual guide, who has the first aid kit and oxygen
Porters for group equipment and for your personal gear
Cook and kitchen crew
Commissary gear and dining tent
Meals indicated in the itinerary (B=breakfast; L=lunch; D=dinner)
Large two-person tents
Thermarest sleeping pad
Portable toilet
Inca Trail permits
Shuttle, entrance and guided tour of Machu Picchu
Overnight accommodation in Aguas Calientes (budget 3-star hotel for groups)
Transportation by Expedition train from Aguas Calientes back to Cusco
Upgrades in accommodations and train available upon request
Minimum 2 people for set departure; solo travelers contact us for groups to join

EXCLUDES:

International and domestic flights
Meals not listed
Beverages and alcohol
Tips for guides, drivers, hotel staff
Optional tours
Single room supplement
Personal expenses (visas, airport taxes, Internet, etc.)

NOTE: Beginning January 1, 2023, there is a surcharge of US$490 per person, for the trek, to cover the costs for new regulations per the "Porter's Law". Trek outfitters are now required to hire porters as employees, rather than contract workers. This entails added benefits, e.g., health insurance, sick leave, vacation, and higher wages. We appreciate your understanding for these new policies and accompanying costs.
Tips for your guide, porters, cook and crew, driver
Meals in the cities (lunches and dinners)
Hotel accommodation before and upon return to Cusco
Ticket to climb Huayna Picchu (add US$95 per person for the combo ticket); you must order this at least 90 days in advance of your trek
Personal gear (sleeping bag, duffel, day pack, hiking boots, etc)
Personal expenses, e.g., travel insurance, airport taxes; laundry; internet
Excludes single supplement (tent and hotel)