6-Day Dolomites Alta Via 1 / Part 1 Trek
Truly a hiker's paradise, thousands of trails wind their way between the fantastic pinnacles of the jagged Dolomite Mountains, and the Alta Via represent the "best of the best." These routes are multi-day, hut-to-hut alpine tours, and offer some the most breathtaking, challenging, multi-day trails available in this mountainous wonderland.

The Alta Via 1 is a fantastic trek, highlighted by breathtaking views, rustic and lively mountain refuges, a sense of excitement of what lies around the next bend or the next pass and the satisfaction of traveling by foot through this beautiful and remote area. On this quick getaway, we've shortened the classic trek from 11 days to 6, but retained all the highlights and excitement of traveling across the Dolomites! Our linear trip travels north to south through the Italian Alps, covering the first portion of the AV1; beginning in the Italian Südtirol, moving south through the Pragser and Tofana mountain groups, visiting the Fanes area, and concluding at Mount Lagazuoi.

The impressiveness of the scenery and the variety of terrain on this route is matched only by the warmth and hospitality offered by the mountain huts. The unusual contrasts in landscapes, changing colours and textures of the mountains and curious mix of Italian and Austrian influences means fantastic hiking, stunning scenery, and plenty of pasta!
Available early June through end of September.
Accommodations are just examples -- actual accommodation will depend on availability. Rifugios are shared dormitories unless requested and available.
It is easiest to access the trek from Venice.
Full Itinerary
DETAILED ITINERARY >>
ITINERARY IN BRIEF >>
Day 1: 6-DAY ALTA VIA TREK / Arrive in Cortina d'Ampezzo, Dolomites
Arrive in Cortina d'Ampezzo (1,224m / 4,016') on your own and check into your hotel (private transfer available on request). Cortina d'Ampezzo is a charming alpine resort town surrounded by stunning peaks. Host to the 1956 Winter Olympics, Cortina enjoys a reputation for great skiing in winter, and in the summer attracts hikers and climbers who challenge the rocky faces of the nearby mountains. This chic Venetian town also caters to the high society crowd, offering many year-round social activities, shopping, and fine dining.

Depending on when you arrive, you may have time for a hike or to explore Cortina d'Ampezzo's pedestrian walkway, the Corso Italia, lined with restaurants and cafes, antique shops, art galleries, and boutiques.

If you are doing this trip as a self-guided adventure, you will meet with a local representative who will provide a trip briefing and orientation, as well as maps, and everything necessary for your self-guided adventure, typically around 6-7pm. Guided treks have their briefing tomorrow.
Meals included: n/a
Mid-Range Accommodations: Hotel Beppe Sello (Cortina)
Day 2: Hike in the Sennes Nature Reserve (BD)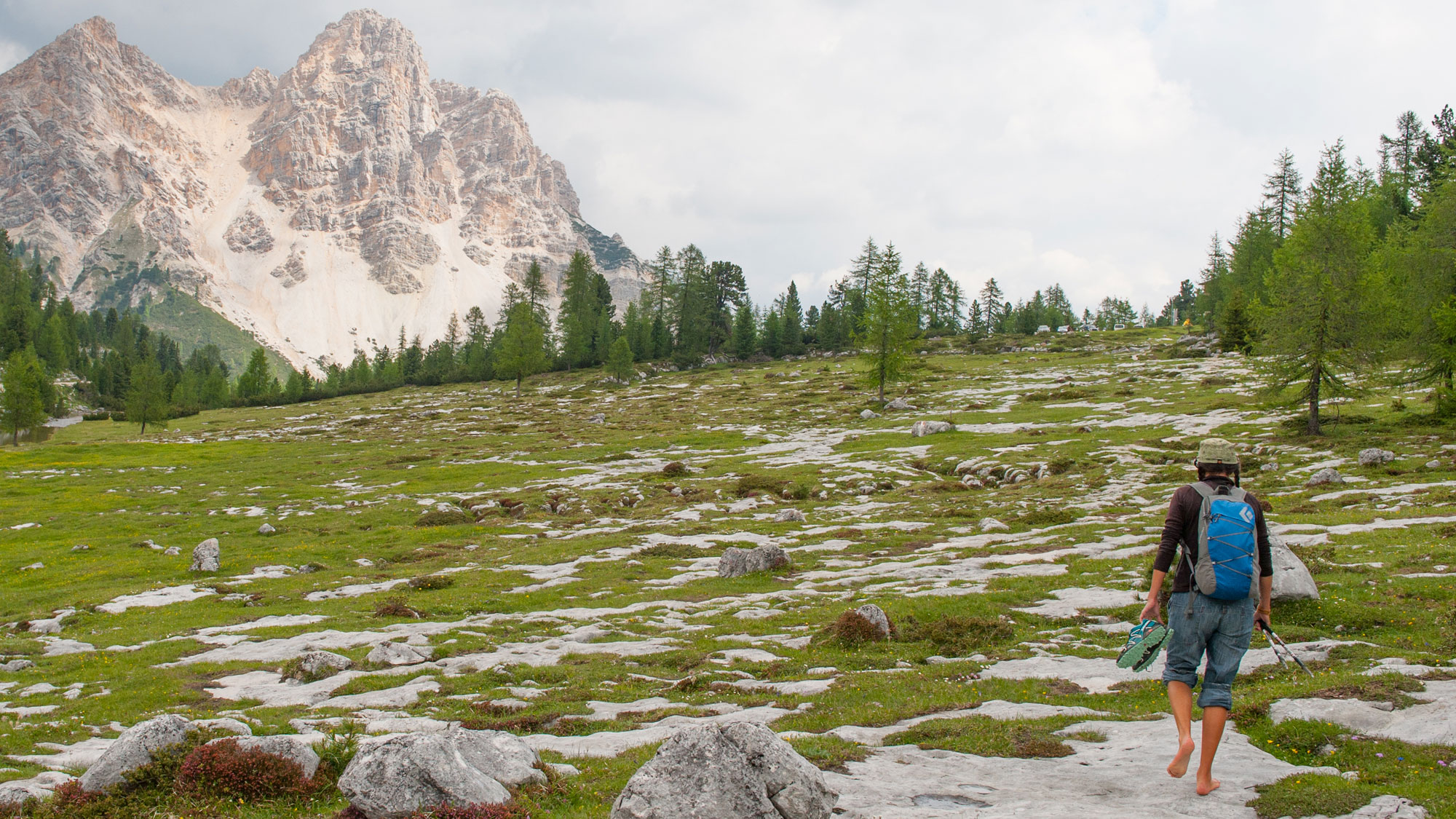 In the morning, take a private transfer to Malga Ra Stua (1,688m / 5,538'), a cozy hut-cum-dairy farm set in a valley lying between the Croda Rossa (northeast) and Lavinores (west) Dolomite groups, at the entrance of the Fanes-Sennes-Braies Nature Reserve.

The Fanes-Senes-Braies Nature Reserve comprises an area of approximately 25,453 hectares (62,069 acres). Clusters of old log-built farmsteads adorn the mountainsides called Viles and are a typical feature of the Ladin-speaking valleys. These tiny communities were once self-sustaining, with outbuildings, baking ovens shared communally. The Fanes high plateau is a popular walking and hiking area with a typical karstic limestone landscape, characterized by caves, fissures, underground streams and small lakes. Rugged rocks eroded by the action of wind and weather rise in all directions. Today you will hike in the Sennes section of the Nature Reserve, along the Alta Via 1.

(~5 hours hiking 12km / 7.4 miles, 920m / 3,018' ascent, 630m /2,067' descent.)
Meals included: Breakfast, Dinner
Mid-Range Accommodations: Rifugio Fodara Vedla
Day 3: Hike Altopiano di Fanes (BD)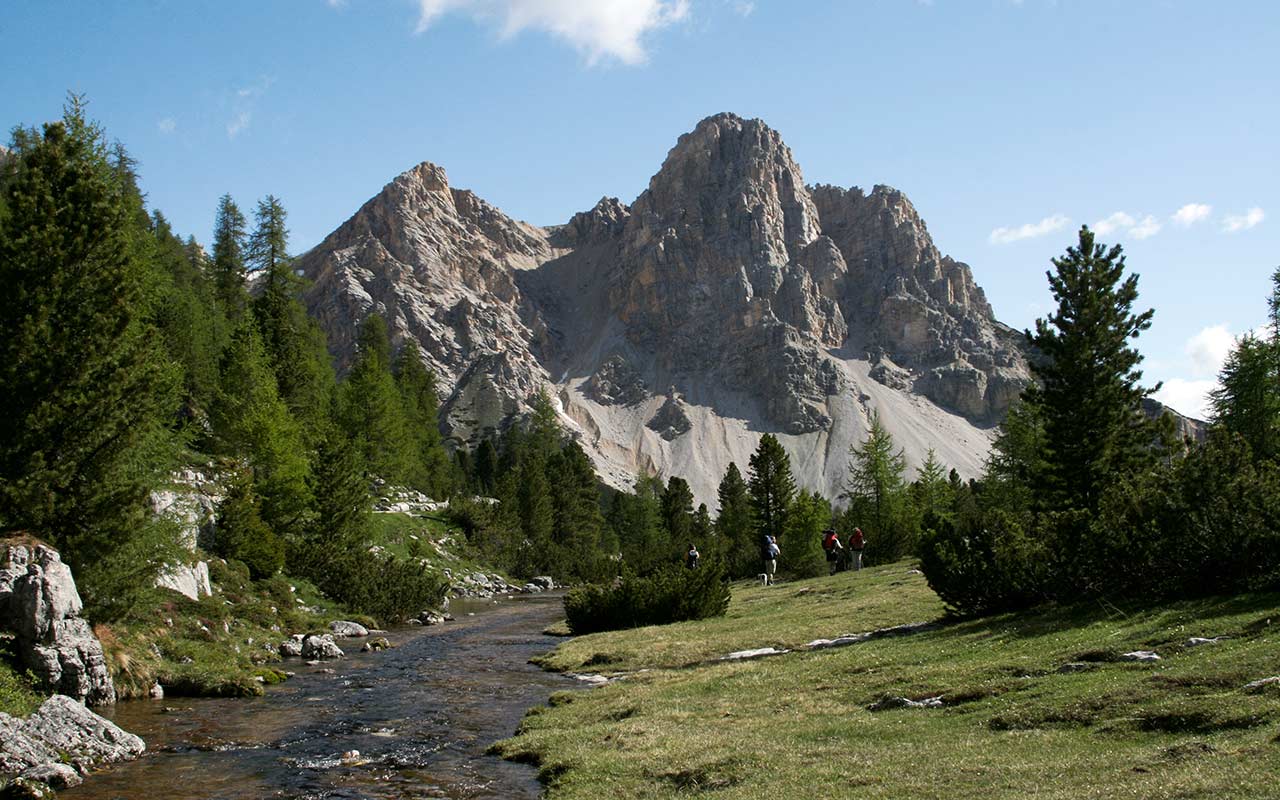 Departing your rifugio this morning, you'll hike downhill towards Rifugio Pederù (1,548m / 5,079'). The trail travels on a steep dirt road for 40 minutes (the last part of the road approaching the rifugio is a 20% slope). From Rifugio Pederu, hike uphill in the direction of Lago di Limo. When you reach Lake Le Piciodel you'll hike through a charming landscape studded with little lakes and rounded mountaintops along the Ru d'Al Plan River. At the fork, continue toward your rifugio for tonight. Located just beneath the Limo Pass, you will have a splendid view of the Tofane Mountains.

(~4 hours hiking 7,4km / 4,6 miles, 700m / 2,298' ascent, 599m / 1,966' descent.)
Meals included: Breakfast, Dinner
Mid-Range Accommodations: Rifugio Fanes
Day 4: Hike Cime di Fanis & Lagazuoi Massif (BD)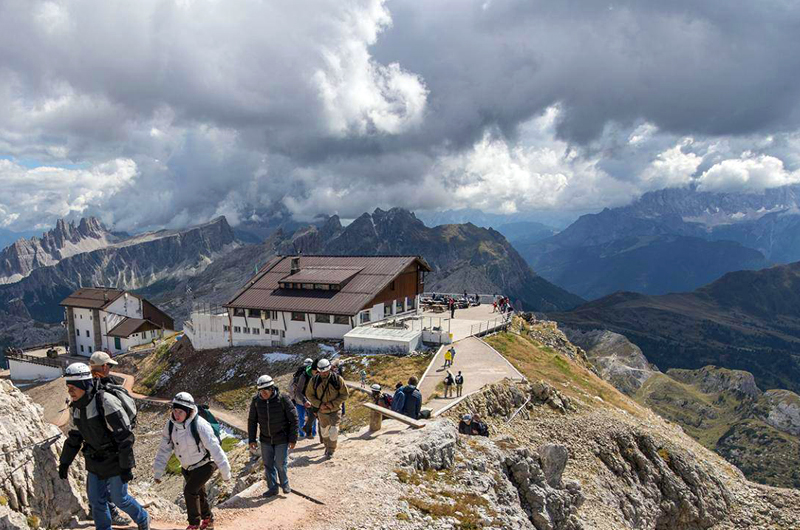 Today is a lovely hike through the Altopiano di Fanes to the Lagazuoi Massif. You will enjoy beautiful panoramas of the Western Dolomites and the Marmolada Massif, the "Queen of the Dolomites."

From your rifugio, Alta Via N.1 continues through the beautiful high meadow and karst formations, climbing to the Forcella del Lago, a narrow and dramatic gap in the mountain with a trail descent through steep talus on the south side. At the base of the slope is the lake called Lago di Lagazuoi whose green waters are framed by pines with a backdrop of the sheer walls of the Cima del Lago and the Cima Scotoni. From the lake, the path begins the long, steady climb to your rifugio. Entering open, rocky terrain, you'll come across ruins from the First World War en route to your rifugio, one of the highest in all the Dolomites (2,752m / 9,029'), with incredible 360-degree vistas.

(~6 hours hiking 11,5km / 7,2 miles, 1,121m / 3,679' ascent, 515m / 1,690' descent.)
Meals included: Breakfast, Dinner
Mid-Range Accommodations: Rifugio Lagazuoi
Day 5: Hiking Cinque Torri (Rifugio Lagazuio to Passo Giau) (B)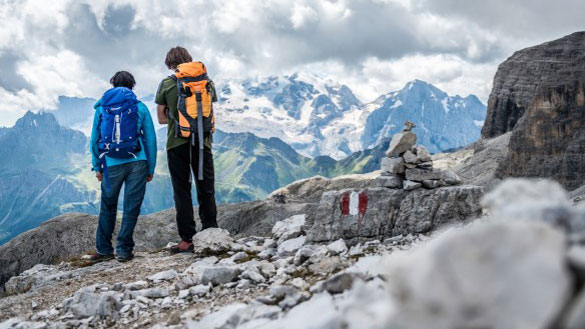 This stage is of great interest for both the spectacular mountains around and the abundance of reminders of the terrible years of WWI, due to the vicinity of the former border between the long-dismantled Hapsburg Empire and Italy.

From Rifugio Lagazuoi, descend to the main road either by cable-car (not included) or on foot. Hike a memorable traverse below the awesome Tofana di Rozes, ascending Forcella Lagazuoi (2,573m / 8,442'), Forcella Travenanzes (2,507m / 8,225') and Forcella Col dei Bos (2,331m / 7,648') and gradually descend along the line of trenches. Reach the main road that goes from Cortina to Passo Falzarego, cross it and climb through forests to the fascinating, renowned Cinque Torri area (option to ascend by chairlift, not included) and stop at Rifugio Scoiattoli for lunch, with incredible vistas around.

After lunch, you may wish to circumnavigate the Cinque Torri. This area saw heavy fighting during WWI, trenches and Italian army shelters have been restored creating the Grande Guerra open air museum of WWI, offering insights into the war and fighting through interpretive panels. Here you have the opportunity to walk through the open air museum, through trenches and visiting military installments. After the "museum," you will hike through the middle of the rock towers, where you will likely see climbers high up on the walls, finally arriving at Passo Giau from where you will have a transfer back to Cortina.

You may also choose to skip the museum and interior of the towers, and follow path 443 directly to Passo Giau.

(~5-6 hours hiking 11.6km / 7 miles, 582m / 1,908' ascent, 1,040m / 3,412' descent).
Meals included: Breakfast
Mid-Range Accommodations: Hotel Beppe Sello (Cortina)
Day 6: Depart Cortina (B)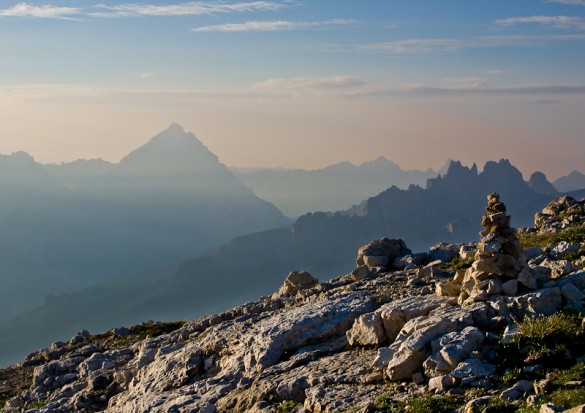 Breakfast and departure on your own (private transfer on request).
Meals included: Breakfast
Pricing
6-Day Dolomites Alta Via 1 / Part 1 Trek

Prices are Per Person and Valid for Trips through December 31, 2023
| | | |
| --- | --- | --- |
| # People in Group: | 2-3 | 4+ |
| Group Departure: | $2095 | $2095 |
| Guided: | $2795 | $2095 |
| Self-Guided: | $1295 | $1195 |
*** Contact Us for other itinerary and lodging options! ***
NOTE: Prices are per person in U.S. dollars based on double/triple occupancy. All quotations are based on the current rates of park fees, VAT, other government taxes, and current exchange rates. Should any of these be increased or a new tax introduced, these increases will be added on even if your trip has already been paid for.
INCLUDES:

All accommodations per itinerary
All meals per itinerary (B=Breakfast, L=Lunch, D=Dinner)
All tours and entrance fees per itinerary (unless listed as excluded)
All transportation and transfers per itinerary

GUIDED:

Trip briefing
Logistics and map of the area
2 night accommodation in 3-star B&B in Cortina D'Ampezzo
3 night accommodation in charming rifugios (shared dormitories HB)
Transfers in the area on days 2 and 8 (these services may be shared with other guests)

Local English speaking professional hiking guide

EXCLUDES:

International and domestic flights
Meals not listed
Beverages and alcohol
Tips for guides, drivers, hotel staff
Optional tours
Single room supplement
Personal expenses (visas, airport taxes, Internet, etc.)

High season supplement -- July 20th to August 31st: 5% surcharge
Luggage Transfer to Rifugio (available at extra cost)
Private room in Rifugio ($40/person/night double/triple occupancy)
Single room in Cortina ($75/person/night)
Local bus, cable car, and chairlift transfers
Airport transfers available on request
Upgraded accommodations