7-Day Dolomites Alta Via 1 / Part 2 Trek
Trek part of the Alta Via N.1 - the classic high route of the Dolomites! You'll revel in 5 days of hiking through some of the most breathtaking scenery in these incredible Italian Alps. This is the perfect quick trip for those looking for a classic trek but who are short on time!
Truly a hiker's paradise, thousands of trails wind their way between the fantastic pinnacles of the jagged Dolomite Mountains, and the Alta Via represent the "best of the best." These routes are multi-day, hut-to-hut alpine tours, and offer some the most breathtaking, challenging, multi-day trails available in this mountainous wonderland.

The Alta Via 1 is a fantastic trek, highlighted by breathtaking views, rustic and lively mountain refuges, a sense of excitement of what lies around the next bend or the next pass and the satisfaction of traveling by foot through this beautiful and remote area. On this quick getaway, we've shortened the classic trek, but retained all the highlights and excitement of traveling across the Dolomites! Our linear trip travels north to south through the Italian Alps, covering the second portion of the AV1.

The impressiveness of the scenery and the variety of terrain on this route is matched only by the warmth and hospitality offered by the mountain huts. The unusual contrasts in landscapes, changing colours and textures of the mountains and curious mix of Italian and Austrian influences means fantastic hiking, stunning scenery, and plenty of pasta!
Available June through mid-September.
Accommodations are just examples -- actual accommodation will depend on availability. Rifugios are shared dormitories unless requested and available. The fourth rifugio only has group dormitory accommodations (no private rooms).
It is easiest to access the trek from Venice.
Full Itinerary
DETAILED ITINERARY >>
ITINERARY IN BRIEF >>
Day 1: 7-DAY ALTA VIA 1 / PART 2 TREK / Arrive in Cortina D'Ampezzo, Dolomites
Arrive in Cortina d'Ampezzo (1,224m / 4,016') on your own and check into your hotel (private transfer available on request).

Cortina d'Ampezzo is a charming alpine resort town surrounded by stunning peaks. Host to the 1956 Winter Olympics, Cortina enjoys a reputation for great skiing in winter, and in the summer attracts hikers and climbers who challenge the rocky faces of the nearby mountains. This chic Venetian town also caters to the high society crowd, offering many year-round social activities, shopping, and fine dining.

Depending on when you arrive, you may have time for a hike or to explore Cortina d'Ampezzo's pedestrian walkway, the Corso Italia, lined with restaurants and cafes, antique shops, art galleries, and boutiques. Your luggage will stay in Cortina until the last day of your trip.

If you are doing this trip as a self-guided adventure, you will meet with a local representative who will provide a trip briefing and orientation, as well as maps, and everything necessary for your self-guided adventure, typically around 6-7pm. Guided treks have their briefing tomorrow.
Meals included: n/a
Mid-Range Accommodations: Hotel Beppe Sello (Cortina)
Day 2: Hike Lagazuoi Massif (BD)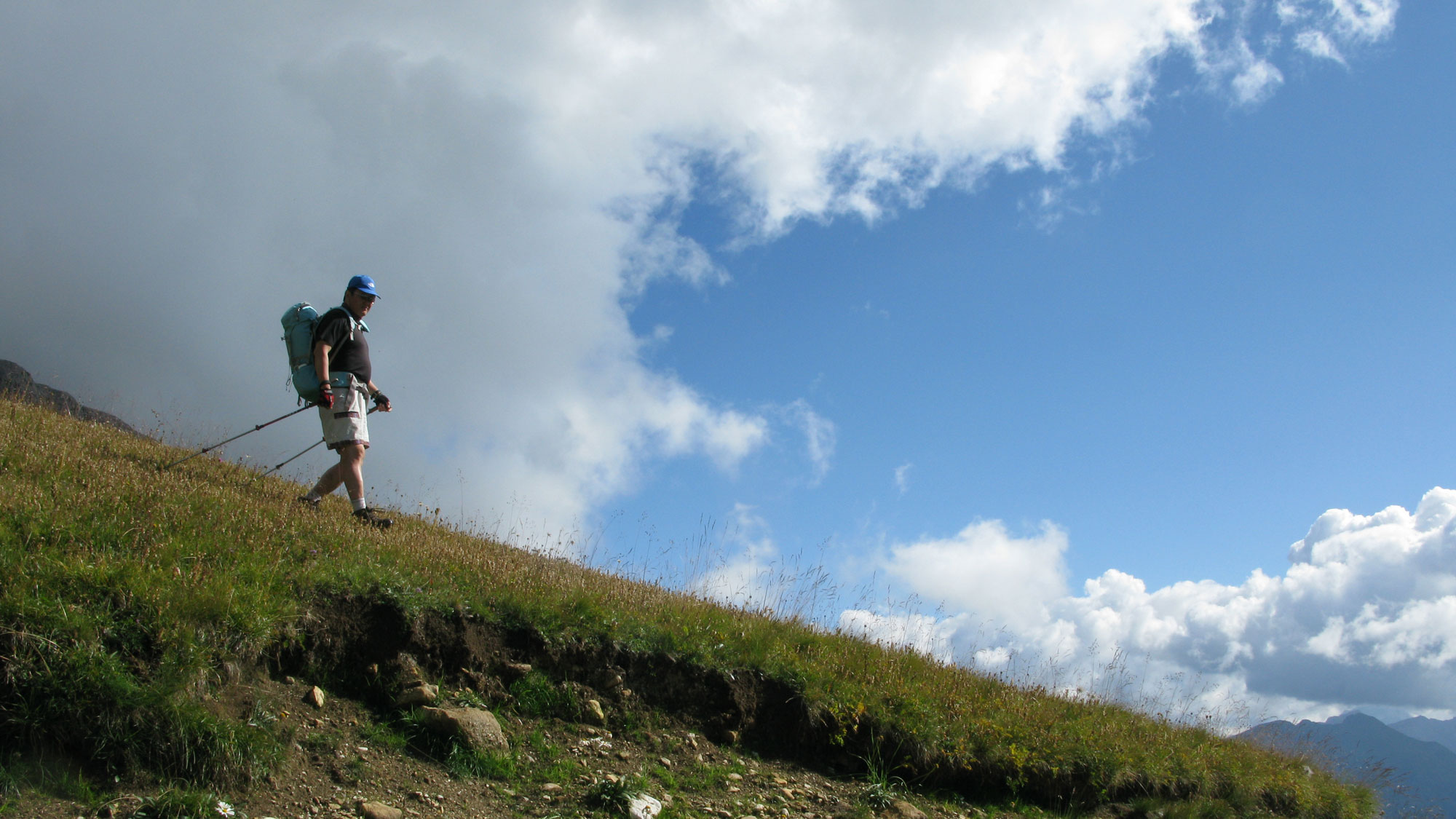 For guided treks, you will meet with your guide who will provide a full trip briefing and orientation at 8:30am. Self-guided treks have a briefing the night before.

Take a short transfer to Capanna Alpina (1,726m / 5,663'), a restaurant built at the edge of the Natural Park, in an incredible setting. Start hiking uphill on path n.20 to Rifugio Scotoni (1,985m / 6,512'), a perfect spot for a break.
Continue uphill to a lake called Lago di Lagazuoi, whose green waters are framed by pines with a backdrop of the sheer walls of the Cima del Lago and the Cima Scotoni. From the lake, the path continues the long, steady climb to the Rifugio Lagazuoi, entering open, rocky terrain where you'll come across ruins from the First World War. You'll arrive at the Forcella Lagazuoi, a pass that separates Lagazuoi Piccolo from Lagazuoi Grande after which you can take a short detour through WWI tunnels and fortifications, to reach a cozy rifugio, your home for tonight.

(~3-4 hours hiking 5.6km / 3.4 miles, 1,090m / 3,570' ascent, 63m / 207' descent.)
Meals included: Breakfast, Dinner
Mid-Range Accommodations: Rifugio Lagazuoi
Day 3: Hike Cinque Torri (BD)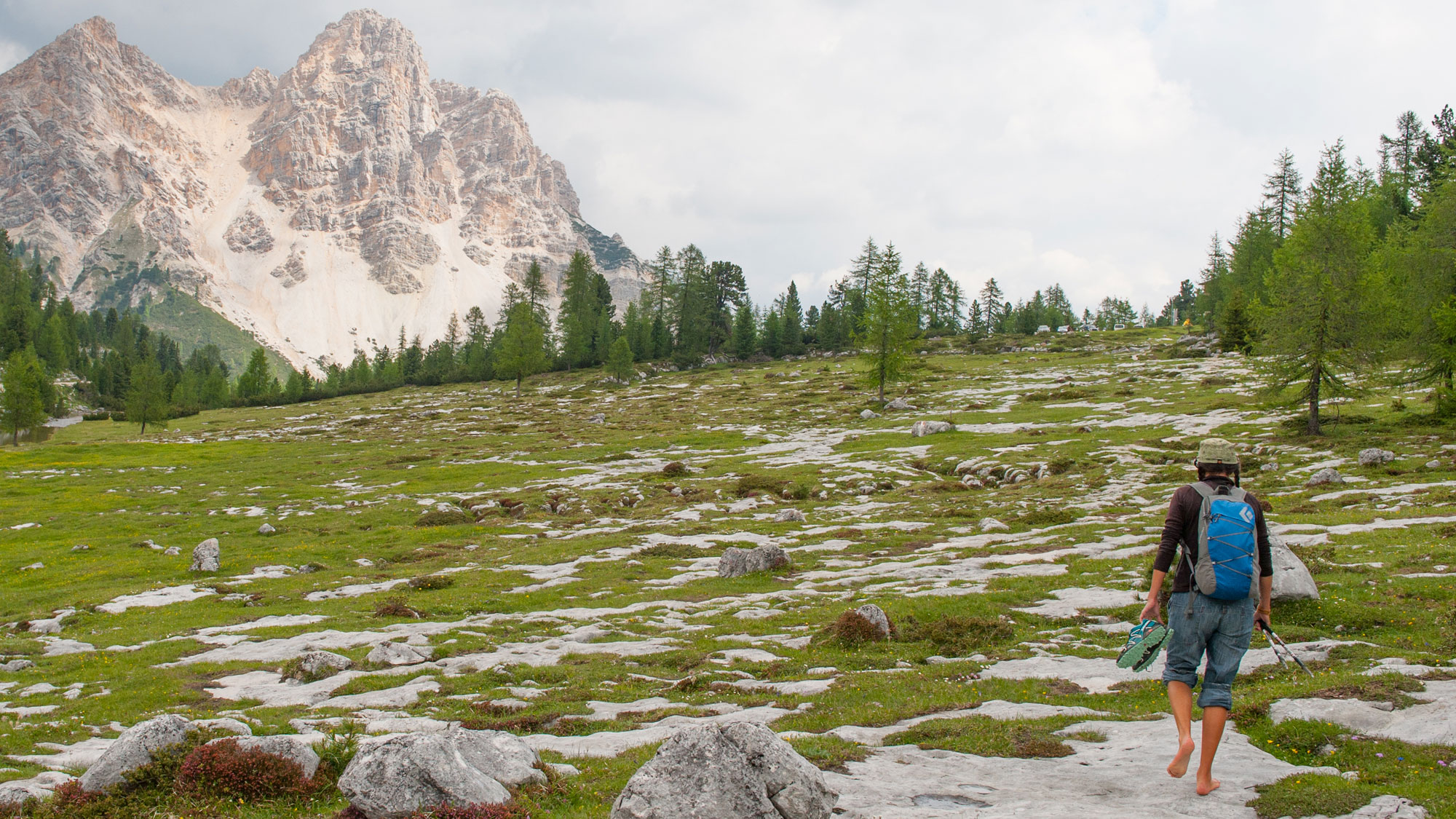 This stage is of great interest for both the spectacular mountains around and the abundance of reminders of the terrible years of WWI, due to the vicinity of the former border between the long-dismantled Hapsburg Empire and Italy. Hike a memorable traverse below the awesome Tofana di Rozes, ascending Forcella Lagazuoi (2,573m / 8,442'), Forcella Travenanzes (2,507m / 8,225') and Forcella Col dei Bos (2,331m / 7,648') and gradually descend along the line of trenches.

Reach the main road that goes from Cortina to Passo Falzarego, cross it and climb through forests to the fascinating, renowned Cinque Torri area and its rifugios. From here the incredible vistas around, including the Pale di San Martino, Civetta, Monti del Sole and the Marmolada with its shrinking glacier. Take some time to relax, and in the afternoon descend to the south to Passo Giau and reach your rifugio for the night (2,236m / 7,336').

(~6-7 hours hiking 17.7km / 10.9 miles, 1,103m / 3,621' ascent, 1,541m / 5,058' descent. Option for a shorter hike, using the Lagazuoi cable car, not included.)
Meals included: Breakfast, Dinner
Mid-Range Accommodations: Rifugio Gaiu
Day 4: Hike Pelmo and Civetta Massifs (BD)
After breakfast, from your rifugio, pass a chapel, and begin to hike uphill to the rear of grassy Col Piombin, that takes its name from a past mining activity. The trail leads over the Forcella Giau (2,360m / 7,742') with plenty of ups and downs; here the views of the Tofana and Monte Cavallo are inspiring, not to mention the mountains on display to the south: Monte Fromin, Cernera, Pelmo and the upswept flank of Monte Mondeval.

Along the hike you'll have great views of the majestic Sorapiss, the unmistakable pyramid of Antelao and far off the Cadore Dolomites. Suddenly, the Pelmo (3,168m / 10,394') will be incredibly close, and at this range it's easy to understand why it was dubbed 'Throne of the Gods'. The last part of the day leads below Pelmo's north face, (which is 1,006m / 3,300' straight up to the top) to your comfortable mountain Rifugio at Passo Staulanza (1,783m / 5,850'), your home for tonight.

(~5 hours hiking 12,5km / 7,8 miles, 487m / 1,597' ascent, 946m / 3,105' descent.)
Meals included: Breakfast, Dinner
Mid-Range Accommodations: Rifugio Staulanza
Day 5: Hike Civetta & Moiazza (BD)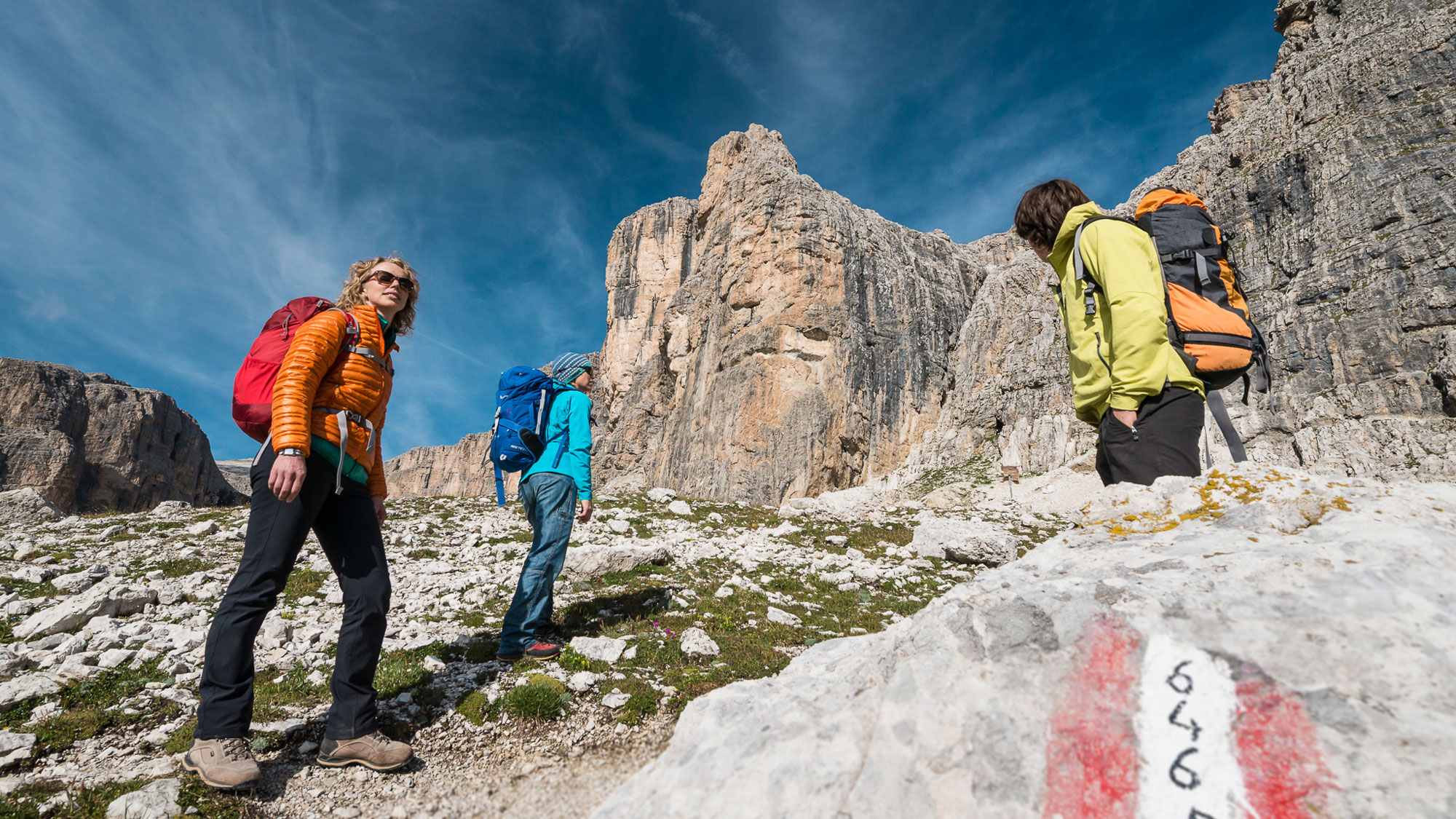 From Passo Staulanza, you hike by several farms, join a popular trail and climb to the shoulder of Monte Coldai. Shaped like an enormous trident and likened to a set of organ pipes, it rises majestically between the deep-cut Cordevole river valley and the smiling pasture of Val Zoldana.

After stopping for lunch at Rifugio Coldai (2,132 m / 6,995') near the beautiful Lago Coldai, you continue on to the Col Negro di Coldai that looks over at the towering west face of Monte Civetta. This "wall of walls" extends for over 6km / 4 miles! About midway past this wall, you climb steeply to your rifugio for tonight (2,250m / 7,382'). This overnight stop is memorable.

(~5.5 hours hiking 10.8km / 6.7 miles, 1,130m / 3,707' ascent, 644m / 2,113' descent.)
Meals included: Breakfast, Dinner
Mid-Range Accommodations: Rifugio Tissi
Day 6: Hike Passo Duran (B)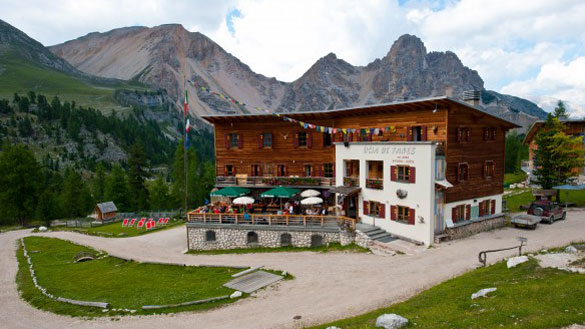 From the rifugio, descend to the Val Civetta over the Col Rean, through beautiful, open, green meadows to the narrow valley of Val Corpassa. The route takes you right below the sheer rock faces of the Torre Venezia (2,337m / 7,667') and the Torre Trieste (2,458m / 8,064'), both rising some 600 meters (2,000') vertically from the valley floor. You may even get to see some climbers ascending these impressive towers!
Pass by the Rifugio Vazzoler and ascend steeply through a dense forest to Forcella de l'Orso and alongside Monte Moiazza's southern flank to Rifugio Bruto Cartestiato. Continue to Rifugio San Sebastiano, following a clear white gravel lane across pasture clearings and light wood (~40-minute hike).

From Rifugio San Sebastiano you'll have your private transfer back to Cortina d'Ampezzo. Celebrate the conclusion of your trek along the Alta Via 1. Though a strenuous day over rugged terrain, this may be one of the prettiest and most varied hikes of your trip.

(~7 hours hiking 15.6km / 8.4 miles, 983m /3,225' ascent, 1,649m / 5,410' descent.)
Meals included: Breakfast
Mid-Range Accommodations: Hotel Beppe Sello (Cortina)
Day 7: Depart Cortina (B)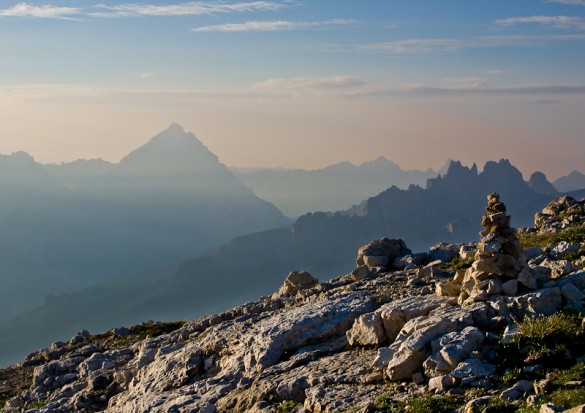 Breakfast and departure on your own (private transfer on request).
Meals included: Breakfast
Pricing
7-Day Dolomites Alta Via 1 / Part 2 Trek
from $1495 USD

*** Contact Us for other itinerary and lodging options! ***
NOTE: Prices are per person in U.S. dollars based on double/triple occupancy. All quotations are based on the current rates of park fees, VAT, other government taxes, and current exchange rates. Should any of these be increased or a new tax introduced, these increases will be added on even if your trip has already been paid for.
INCLUDES:

All accommodations per itinerary
All meals per itinerary (B=Breakfast, L=Lunch, D=Dinner)
All tours and entrance fees per itinerary (unless listed as excluded)
All transportation and transfers per itinerary

Trip briefing
Logistics and map of the area
2 nights accommodation in 3-star B&B in Cortina d'Ampezzo
4 night accommodation in charming rifugios (shared dormitories)
Transfers on days 2 and 6, these services may be shared with other guests

GUIDED:

Local English speaking professional hiking guide

EXCLUDES:

International and domestic flights
Meals not listed
Beverages and alcohol
Tips for guides, drivers, hotel staff
Optional tours
Single room supplement
Personal expenses (visas, airport taxes, Internet, etc.)

High season supplement -- July 1st to August 31st: 5% surcharge
Luggage Transfer to Rifugio (available at extra cost)
Private room in Rifugio ($40/person/night double/triple occupancy)
Single room in Cortina ($75/person/night)
Local bus, cable car, and chairlift transfers
Airport transfers available on request
Upgraded accommodations