8-Day Camino de Santiago (Portuguese Coastal Route) Luxury
Experience the Camino with a little bit of luxury! On this hike, you stay in the very nicest 4-star hotels along the route. This is an amazingly special experience!
This trek has 6 days of hiking. However, we can add up to 4 more days on the trek to break up the longer days. If you have the time, you may also want to consider adding extra relaxing/sightseeing days to the trip. The towns of Baiona, Pontevedra, and Santiago are especially nice and worth exploring for a longer time.
The Portuguese Coastal Way is another very popular Camino route and is and excellent alternative to the French Way. This stunning walk weaves along the coastline of Spain, taking in some beautiful fishing towns and scenery. The seafood along the route is gorgeous with fresh produce served in most restaurants. Longer treks can start in Portugal.
Spend time on the white sandy beaches of Northern Portugal and Southern Galicia and soak in the laid back atmosphere of maritime culture on this peaceful Camino way.
Meet fellow pilgrims, discover local traditions and get your pilgrim passport stamped as you walk through woodlands, farmland and rustic hamlets. Once in Santiago, get your "Compostela" certificate and explore the magic of the Old Town, a UNESCO World Heritage Site.
This will be a self-guided hike. It can be customized (itinerary and accommodations), and we can arrange a private guide for you. The hike can be stretched to 9 days.
All treks include luggage transfer, so you just carry a day pack with the things you need for the day.
NOTE: The accommodations listed are sample accommodations. Exact lodging will depend on availability. Most of the luxury accommodations are off the Camino route and require a vehicle transfer from the route to the hotel and back (included).
ACCOMMODATIONS:
Full Itinerary
DETAILED ITINERARY >>
ITINERARY IN BRIEF >>
Day 1: Arrive Baiona
Your tour begins in Baiona. We can help with transfers from the Santiago or Vigo Airports. You will be given a full Trip Pack with maps and descriptions of the route.

In your free time this evening, take a stroll around this beautiful town and sleep well tonight as your walking adventure begins tomorrow after breakfast. There are plenty of artistic, cultural and historical sights to see in Baiona, so make sure to try some before you leave on your Galician adventure.

The elegant seaside town of Baiona, in the heart of the Rias Baixas, famous for its Albarino white wine and delicious shellfish. This is a superb coastal Camino route, ideal for the summer months. Visit the Monte Real castle, stroll along the port and go for a swim in the bay before you start your journey to Santiago. From Baiona, you will follow the coast towards Vigo, enjoying the views of the magnificent Illas Cies and Vigo Bay.
Meals included: n/a
Luxury Accommodations: Parador Conde de Gondomar (Baiona)
Day 2: Hike Baiona to Vigo (28km) (B)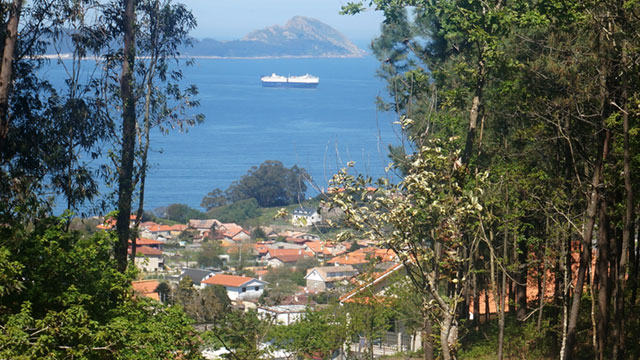 Today you will follow the coast from Baiona to Nigran and finally to the city of Vigo. You will enjoy fantastic views of the Bay of Vigo, with the magnificent Illas Cies and its Natural Park in the horizon. On a hot day, stop at the blue flag beach Praia America in Nigran for a quick swim.
Meals included: Breakfast
Mid-Range Accommodations: Hotel Maroa (Vigo)
Day 3: Hike Vigo to Redondela (15km) (BD)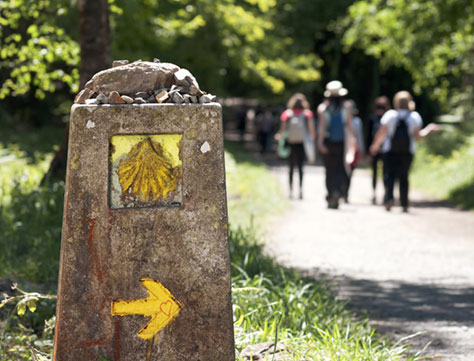 From the city of Vigo, you will continue on your coastal Camino with the Bay of Vigo to your left. Today is quite a short day so you can enjoy a more relaxed pace. Your stop for the night is the town of Redondela where you will join the original Portuguese Camino.
Meals included: Breakfast, Dinner
Mid-Range Accommodations: Pazo Torres de Agrelo Guest House (Redondela)
Day 4: Hike Redondela to Pontevedra (20km) (B)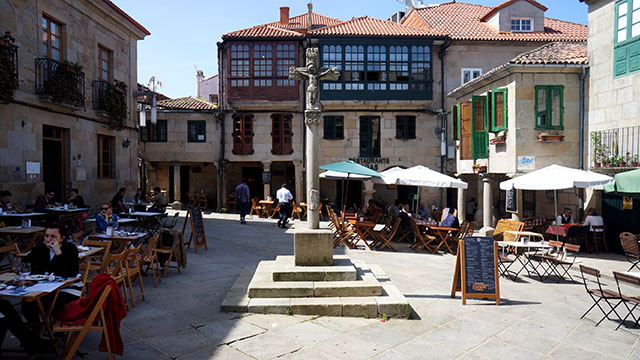 Today is your last day along the coast and quite a short walking day so you can make the most of the seaside. Stop to try the famous oysters in the fishing village of Arcade. Your final point is the city of Pontevedra, with its pretty historic centre. You will have time to explore the old town with its many Romanesque churches and quaint granite squares. Today, the Camino trail continues downhill, passing the village of Casanova and the delightful village of Leboreiro. You will finish your day in the lively market town of Melide (454m), where you should try octopus, Galicia's most classic dish.
Meals included: Breakfast
Luxury Accommodations: Parador Pontevedra (Pontevedra)
Day 5: Hike Pontevedra to Caldas de Reis (21km) (BD)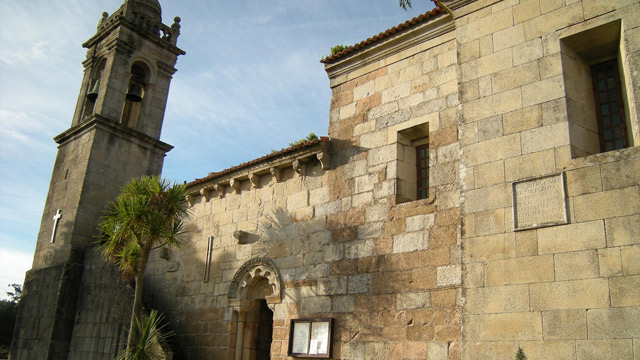 Leaving Pontevedra, today, the Camino will take you through chestnut groves and pine and eucalyptus woods. In the village of Ponte Cabras you will see the rectory of Santa Maria de Alba. At Lombo da Maceira, a statue of Saint James with his walking stick will show you the way. On your way to Caldas de Reis you will pass the hamlet of Tivo with its lovely fountain and public washing bath.
Meals included: Breakfast, Dinner
Mid-Range Accommodations: Torre do Rio Guest House (Caldas de Reis)
Day 6: Hike Calas de Reis to Padron (19km) (BD)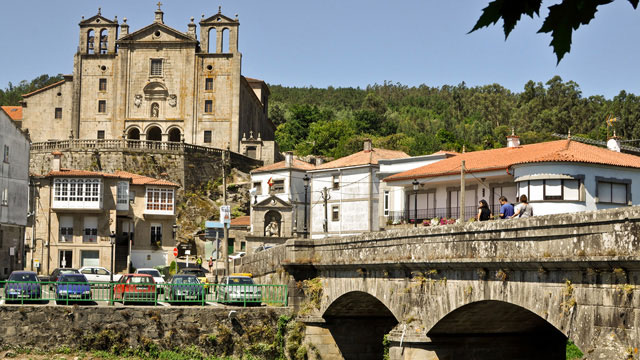 From Caldas de Reis you will cross the river Umia and find the hot springs that have given the town its name since Roman times. The trail once again takes you to forests and gradually climbs to the village of Santa Marina. You will continue on the Camino through pine forests to today's destination: the town of Padron. When the body of Saint James was being brought to Compostela by boat, Padron was said to be the first land it reached.
Meals included: Breakfast, Dinner
Luxury Accommodations: Pazo de Lestrove (Padron)
Day 7: Hike Padron to Santiago (25km) (B)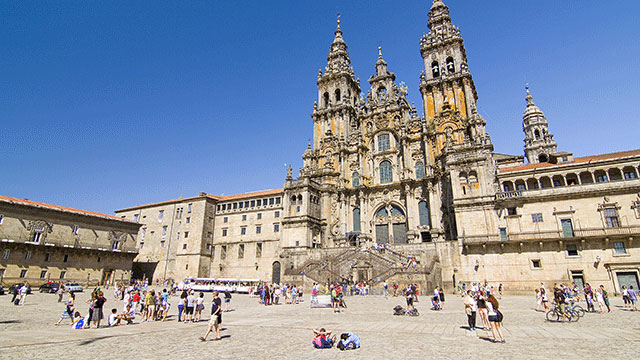 Today you will walk through a number of small villages on your way to the historical sanctuary of A Esclavitude. Nearby on a hilltop sit the ruins of a fort known as Castro Lupario. As you make your way towards Agro dos Monteiros you will be able to see the spires of the cathedral in Compostela. You will pass the ruins of the castle of A Rocha Vella, as you approach Santiago de Compostela.

Take time to explore this gem of a city, small and vibrant. Its UNESCO listed old town will enchant you. In Santiago de Compostela you will find not only pilgrims but also locals and students, socializing and enjoying a few bites and glasses of wine in the many bars, restaurants and cozy cafes.
There are 2 Pilgrim Masses at the Cathedral -- 12:00pm and 7:00pm. The Mass at noon is very crowded, but the one at 7pm is very quiet.
No backpacks or bags are allowed in the Cathedral. Leave them at your hotel, or there is a backpack storage area next to the Cathedral.
Meals included: Breakfast
Luxury Accommodations: Parador Reyes Catolicos (Santiago)
Day 8: Depart Santiago (B)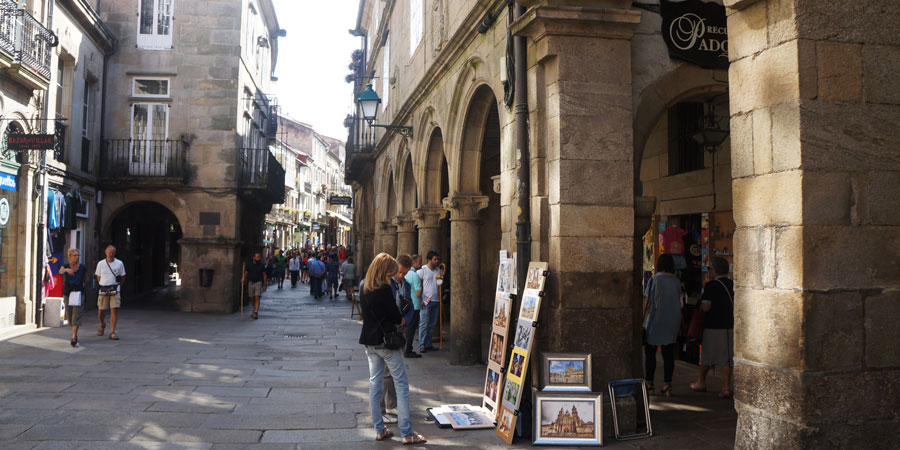 Use your remaining time to explore the beautiful old town in Santiago de Compostela, a UNESCO heritage site since 1985 and home to one of the oldest universities in Spain.

The transfer to the Santiago Airport is on your own, or we can arrange it for you. Let us know if you want to extend your trip in Santiago. Consider adding a day tour to Finisterre Day or Rias Baixas Day!
Meals included: Breakfast
Pricing
8-Day Camino de Santiago (Portuguese Coastal Route) Luxury
from $1495 USD

*** Contact Us for other itinerary and lodging options! ***
NOTE: Prices are per person in U.S. dollars based on double/triple occupancy. All quotations are based on the current rates of park fees, VAT, other government taxes, and current exchange rates. Should any of these be increased or a new tax introduced, these increases will be added on even if your trip has already been paid for.
INCLUDES:

All accommodations per itinerary
All meals per itinerary (B=Breakfast, L=Lunch, D=Dinner)
All tours and entrance fees per itinerary (unless listed as excluded)
All transportation and transfers per itinerary

Continental breakfast every morning at your hotel (7 breakfasts), 3-course dinner for 3 nights at your hotel
4-5 star accommodations, double occupancy (depends on availability)
Transfer between Camino route and accommodations (when necessary)
Luggage transfer (1 bag per person 20kg/44lb max)
Maps and descriptions of route

EXCLUDES:

International and domestic flights
Meals not listed
Beverages and alcohol
Tips for guides, drivers, hotel staff
Optional tours
Single room supplement
Personal expenses (visas, airport taxes, Internet, etc.)

Lunches ($10/lunch)
Single room supplement (triple rooms not available)
Extra hotel nights in Santiago
Add Finisterre Day tour for $60/person
Add Rias Baixas Day tour for $65/person
Santiago Airport transfer ($45/car)
Santiago to Baiona transfer ($180/car)
Vigo Airport to Baiona transfer ($90/car)
Private guide (minimum 6 people)