8-Day Camino de Santiago (French Way) Luxury
Experience the Camino with a little bit of luxury! On this hike, you stay in the very nicest 4-star hotels along the route. This is an amazingly special experience!
This Camino route takes you to the last stage of the French Way, the famous Camino Frances, walking 111kms in a week. This stage from Sarria to Santiago, Spain is the most popular among pilgrims and perfectly captures the essence of the Camino de Santiago.
Meet fellow pilgrims, discover local traditions and get your pilgrim passport stamped as you walk through woodlands, farmland and rustic hamlets. Once in Santiago, get your "Compostela" certificate and explore the magic of the Old Town, a UNESCO World Heritage Site.
This will be a self-guided hike. It can be customized (itinerary and accommodations), and we can arrange a private guide for you. The hike can be stretched to 9 days.
All treks include luggage transfer, so you just carry a day pack with the things you need for the day.
NOTE: The accommodations listed are sample accommodations. Exact lodging will depend on availability. Most of the luxury accommodations are off the Camino route and require a vehicle transfer from the route to the hotel and back (included).
ACCOMMODATIONS:
Full Itinerary
DETAILED ITINERARY >>
ITINERARY IN BRIEF >>
Day 1: 8-DAY CAMINO DE SANTIAGO (FRENCH WAY) / Arrive Santiago, transfer to Sarria (D)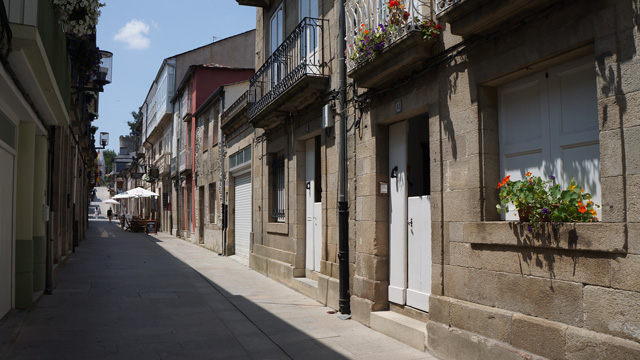 Today, you will arrive in Sarria, the starting point for the trek. For a self-guided trek, you can take a bus to Sarria, or we can arrange a private transfer.
For group treks, you will arrive today at Santiago airport where you and your group will be picked up and brought to your accommodation in Sarria. You will have some time to settle in, before having dinner at the hotel this evening. During dinner you will get the opportunity to meet your guide and fellow members of your group. Either before or after dinner you should get a little time to discover the town of Sarria. The group transfer time 5pm.

Sarria is the most popular starting point of the Camino de Santiago with thousands starting their journey here every year. In the town center where you will find churches, chapels, monasteries and seven pilgrim hospitals. The main street, Rua Maior, has a nice atmosphere, where you can relax while enjoying a drink or bite in one of the nice cafes around. Visit the Igrexa de Santa Marina with its evocative pilgrim mural, the castle fortress and the Magdalena Monastery.
Meals included: Dinner
Mid-Range Accommodations: Alfonso IX (Sarria)
Day 2: Hike from Sarria to Portomarin (22km) (B)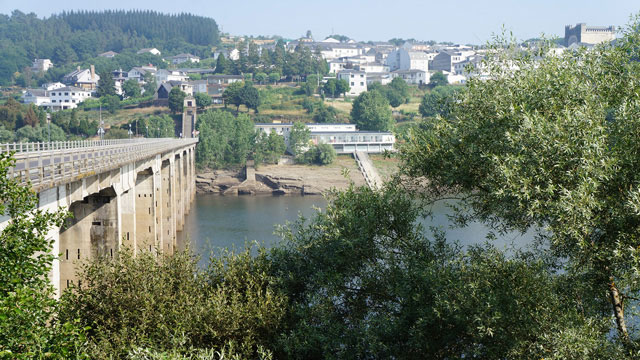 After breakfast this morning, you will leave Sarria and make your way to the lovely Portomarin. You can expect a calm walk through pretty villages and peaceful hamlets under the shade of oak trees and along quiet country roads. Along the way, you will spot many Galician traditional "horreos" (granaries). Visit the beautiful Romanesque church in the village of Barbadelo. Once you arrive in Portomarin you and your group will enjoy dinner together after which you can rest for the evening.
Meals included: Breakfast
Mid-Range Accommodations: Hotel Ferramenteiro (Portomarin)
Day 3: Hike Portomarin to Palas de Rei (24km) (BD)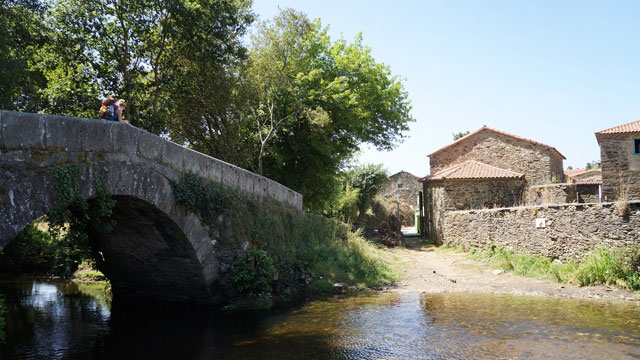 After breakfast this morning you will begin your second walking day, from the lovely village of Portomarin. Today the Camino will cross the river Mino (Galicia's longest river) and rise uphill steadily towards the Serra de Ligonde. You will pass nice hamlets such as Gonzar and Ventas de Naron. Stop to visit the Romanesque Church of Santa Marin­a in Castromaior and the Romanesque church in Eirexe, with its portal featuring a sculpture of Daniel with animals, as well as Pilgrim Santiago.
Tonight you will finish up your walk in the town of Palas de Rei. Relax and have a glass of wine after dinner in the company of some of your fellow pilgrims.
Meals included: Breakfast, Dinner
Mid-Range Accommodations: A Parada das Bestas (Palas de Rei)
Day 4: Hike Palas de Rei to Melide (14km) (BD)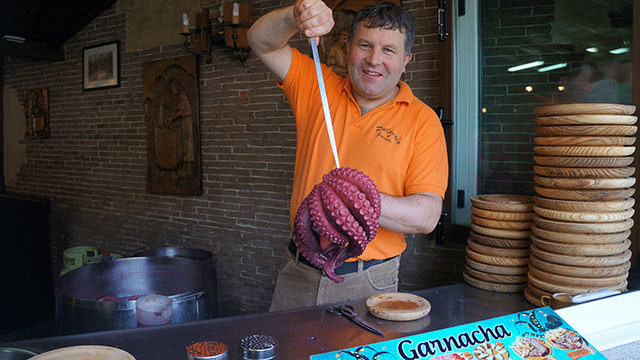 This morning after your breakfast, your group will continue on the Camino. Today, the Camino trail continues downhill, passing the village of Casanova and the delightful village of Leboreiro. You will finish your day in the lively market town of Melide (454m), where you should try octopus, Galicia's most classic dish.
Meals included: Breakfast, Dinner
Mid-Range Accommodations: Pazo de Sedor (Melide)
Day 5: Hike Melide to Arzua (14km) (BD)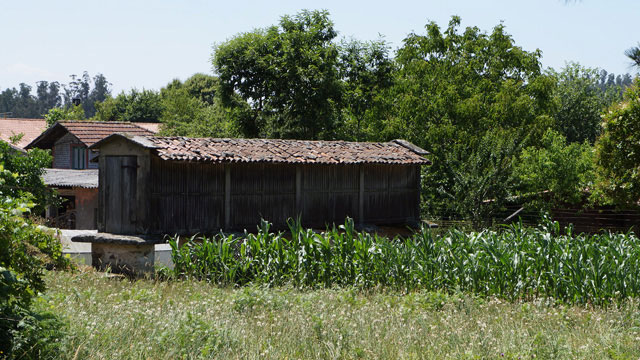 Once again after a great breakfast, you will say goodbye to the lively market town of Melide and continue along your journey to Santiago de Compostela. Today the Camino crosses several streams, sleepy villages and follows a mixed forest track and road trail bringing you to the village of Boente and the church of Santiago. Next is the pretty medieval hamlet of Ribadiso and finally the town of Arzua (389m), famous for its local cheese. In Arzua, you should visit the churches of Santa Maria and A Magdalena.
Meals included: Breakfast, Dinner
Mid-Range Accommodations: Casa Brandariz (Arzua)
Day 6: Hike Arzua to Amenal (23km) (BD)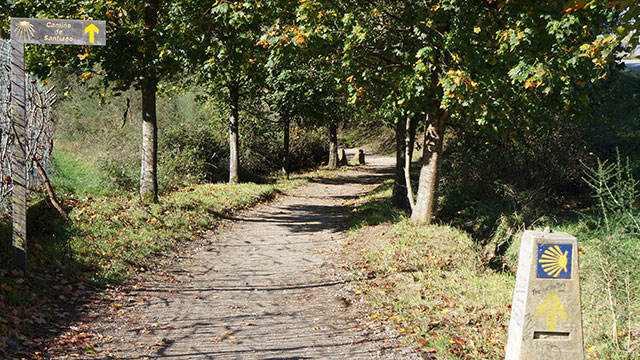 Today's Camino after breakfast will take your group through pretty woods, sleepy villages and across streams for most of the day. The chapel of Santa Irene, with its unique statue of Santiago, is worth a visit. En-route, don't miss the lovely hamlet of Rua (310m). The rest of the route to Amenal is along a mix of good and calm country roads and forest tracks.
Meals included: Breakfast, Dinner
Mid-Range Accommodations: O Muino de Pena (Arenal)
Day 7: Hike Amenal to Santiago (14km) (B)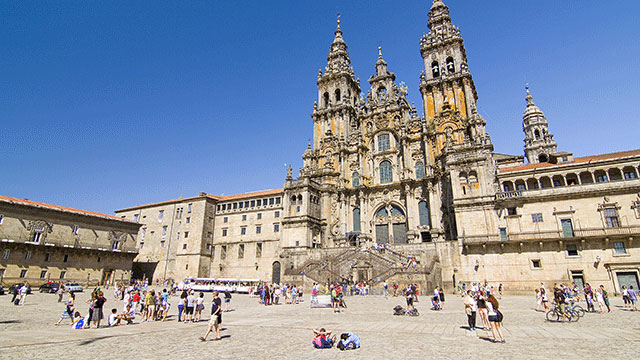 After breakfast in Amenal this morning, your next point of interest is Lavacolla on the outskirts of Santiago, where pilgrims used long ago wash themselves in the river in preparation for their arrival in Santiago de Compostela. Rows of tall eucalyptus trees line your journey to Monte do Gozo ("Mount of Joy" 368m) and it is from here that will catch your first glimpse of the spires of the cathedral in Santiago. When you arrive in the city (264m, population 80,000), explore this UNESCO World Heritage Site's architecture and delight in the wonderful atmosphere of this spiritual and cultural city.
With only 16km to walk today, you should be in Santiago in time for the pilgrim mass (12pm). You will stay tonight in a hotel in the town center which will be an ideal base to explore the city. Congratulations you have made it to Santiago. Dinner is included in the group tour.
Meals included: Breakfast
Luxury Accommodations: Parador Reyes Catolicos (Santiago)
Day 8: Depart Santiago (B)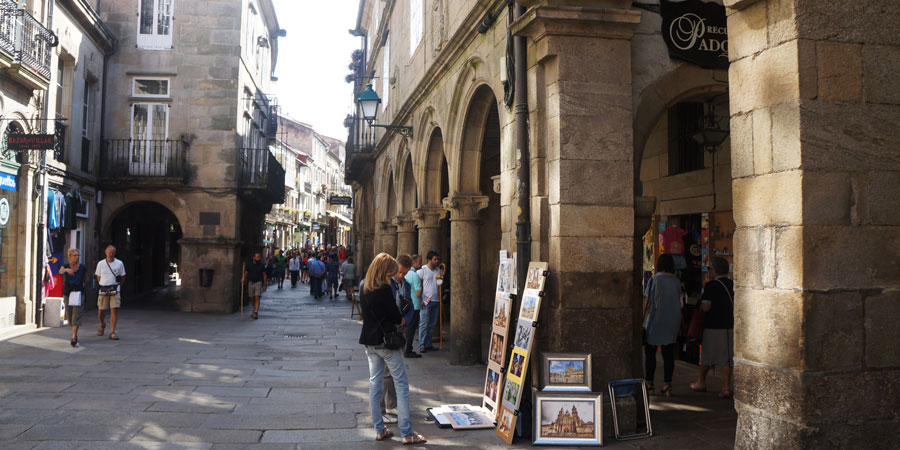 Use your remaining time to explore the beautiful old town in Santiago de Compostela, a UNESCO heritage site since 1985 and home to one of the oldest universities in Spain.
For a group trek, the return group transfer to the Santiago Airport is at 2:00pm, but you can also take an airport shuttle bus to taxi on your own if that time does not work for you.
For a self-guided trek, we can arrange a private transfer back to the Santiago Airport, or you can arrange an airport shuttle bus or taxi on your own.
You can extend your trip in Santiago. Consider adding a day tour to Finisterre Day or Rias Baixas Day!
Meals included: Breakfast
Pricing
8-Day Camino de Santiago (French Way) Luxury

Prices are Per Person and Valid for Trips through December 31, 2022
| | |
| --- | --- |
| # People in Group: | 2 |
| 8-Day Camino de Santiago (French Route) Luxury: | $1395 |
Prices are Per Person and Valid for Trips January 1, 2023 through December 31, 2023
| | |
| --- | --- |
| # People in Group: | 2+ |
| 8-Day Camino de Santiago (French Route) Luxury: | $1495 |
*** Contact Us for other itinerary and lodging options! ***
NOTE: Prices are per person in U.S. dollars based on double/triple occupancy. All quotations are based on the current rates of park fees, VAT, other government taxes, and current exchange rates. Should any of these be increased or a new tax introduced, these increases will be added on even if your trip has already been paid for.
INCLUDES:

All accommodations per itinerary
All meals per itinerary (B=Breakfast, L=Lunch, D=Dinner)
All tours and entrance fees per itinerary (unless listed as excluded)
All transportation and transfers per itinerary

Continental breakfast every morning at your hotel, 3-course dinner every night at your hotel except first 2 nights and last night (7 breakfasts, 4 dinners)
4-5 star accommodations, double occupancy (depends on availability)
Transfer between Camino route and accommodations (when necessary)
Luggage transfer (1 bag per person 20kg/44lb max)
Maps and descriptions of route

EXCLUDES:

International and domestic flights
Meals not listed
Beverages and alcohol
Tips for guides, drivers, hotel staff
Optional tours
Single room supplement
Personal expenses (visas, airport taxes, Internet, etc.)

Lunches ($10/lunch)
Extra hotel nights in Santiago
Add Finisterre Day tour for $60/person
Add Rias Baixas Day tour for $65/person
Santiago Airport transfer ($45/car)
Santiago to Sarria transfer ($180/car)
Private guide (minimum 6 people)