8-Day Dolomites Three Valleys Hiking Traverse
Tinted in weathered shades of rose, yellow and gray, the fairytale spires and dramatic rock walls of the Dolomites rise in elegantly chiseled shapes of fantastic form, looking every inch like a landscape devised by the gods. And if this isn't exactly heaven, well, it's about as close as you can get.
Each day you'll hike up to ridges and passes for spellbinding views of huge peaks and pinnacles, seemingly architecturally inspired, and then descend to lush green valleys where wildflowers bloom in pastoral meadows and storybook villages hug the valley floor. At day's end you'll relax in hotels that are deluxe oases of comfort, where you'll absorb the region's fascinating culture and cuisine - a unique blend of Italy and the South Tyrol.
Long known as a paradise for rock climbers, the Dolomites are a great destination for hikers, too. You'll see the best of this stunning mountain Valhalla, including the majestic Sella massif and the striking, often-photographed pillars of Tre Cime di Lavaredo, arguably the most well-known landmark in the Dolomites. On the trail, you'll only need to carry a light daypack with the daily essentials (camera, water bottle, and jacket). But the best part? You can do as much (or as little) hiking as you please! We'll provide details of varied, moderate hikes with strenuous options, but you get to customize your own experience as you go!
Available early June through end of September.
Accommodations are just examples -- actual accommodation will depend on availability. Rifugios are shared dormitories unless requested and available.
It is easiest to access the starting point from Innsbruck, and then depart to Venice.
2022 Group Departures:
June 26-July 3
July 24-30
September 18-25
October 2-9
Full Itinerary
DETAILED ITINERARY >>
ITINERARY IN BRIEF >>
Day 1: 8-DAY DOLOMITES HIKING TRAVERSE / Arrive in Ortesei / Val Gardena (D)
Arrive in Val Gardena (1,563m / 5,128') on your own and check into your hotel (private transfer available on request). Set among the mountains of Sassolungo, Puez, and the Sella Massif, Val Gardena is best known for skiing and rock climbing, as well as woodcarving, which has flourished here since the 17th century. Home to three cultures - Italian, Austrian, and the native Ladin, most signage in Val Gardena is written in the three languages - Italian, German, and Ladin! Depending on when you arrive, you may have time for a hike or to explore one of the three villages of Val Gardena - San Cristina, Ortisei, or Selva Gardena.
If you are doing this trip as a self-guided adventure, you will meet with a local representative who will provide a trip briefing and orientation, as well as maps, and everything necessary for your self-guided adventure, typically around 6-7pm. Guided treks have their briefing tomorrow.
Meals included: Dinner
Mid-Range Accommodations: Hotel Sureghes (Ortisei/Val Gardena)
Day 2: Hike around Sassolungo and Sassopiatto (BD)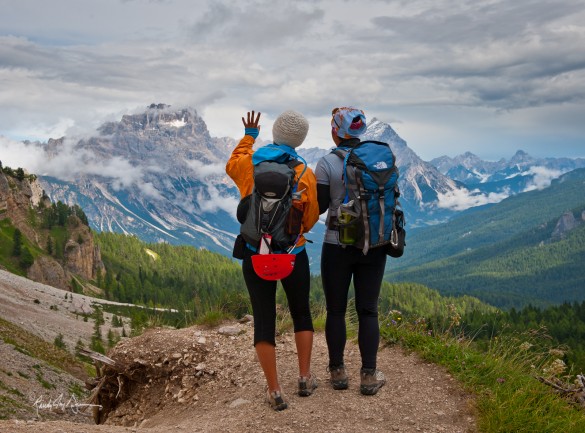 Today you will start the trip with a beautiful hike, circumnavigating the twin formation Sassolungo-Sassopiatto.
Take a private transfer to the Sella Pass (2,180m / 7,152'), and hike on the famous Friedrich-August-Weg, beneath the magnificent Sassolungo (3,181m / 10,437') and Sassopiatto (2,958m / 9,704') mountains. Following ancient shepherd routes, spectacular views take you to Rifugio Sassopiatto (2,300 / 7,546'), and around the western side of the Sassolungo, eventually leading to Rifugio Comici (2,153m / 7,063'). This loop hike continues through an unearthly landscape of tumbled boulders - Città dei Sassi (City of Stones), before returning to Rifugio Passo Sella. Private Transfer back to your hotel.
(6-7 hours hiking, 18km / 11 miles, 650m / 2,135' ascent and descent).
Meals included: Breakfast, Dinner
Mid-Range Accommodations: Hotel Sureghes (Ortisei/Val Gardena)
Day 3: Hike from Selva to Corvara in Alta Badia (BD)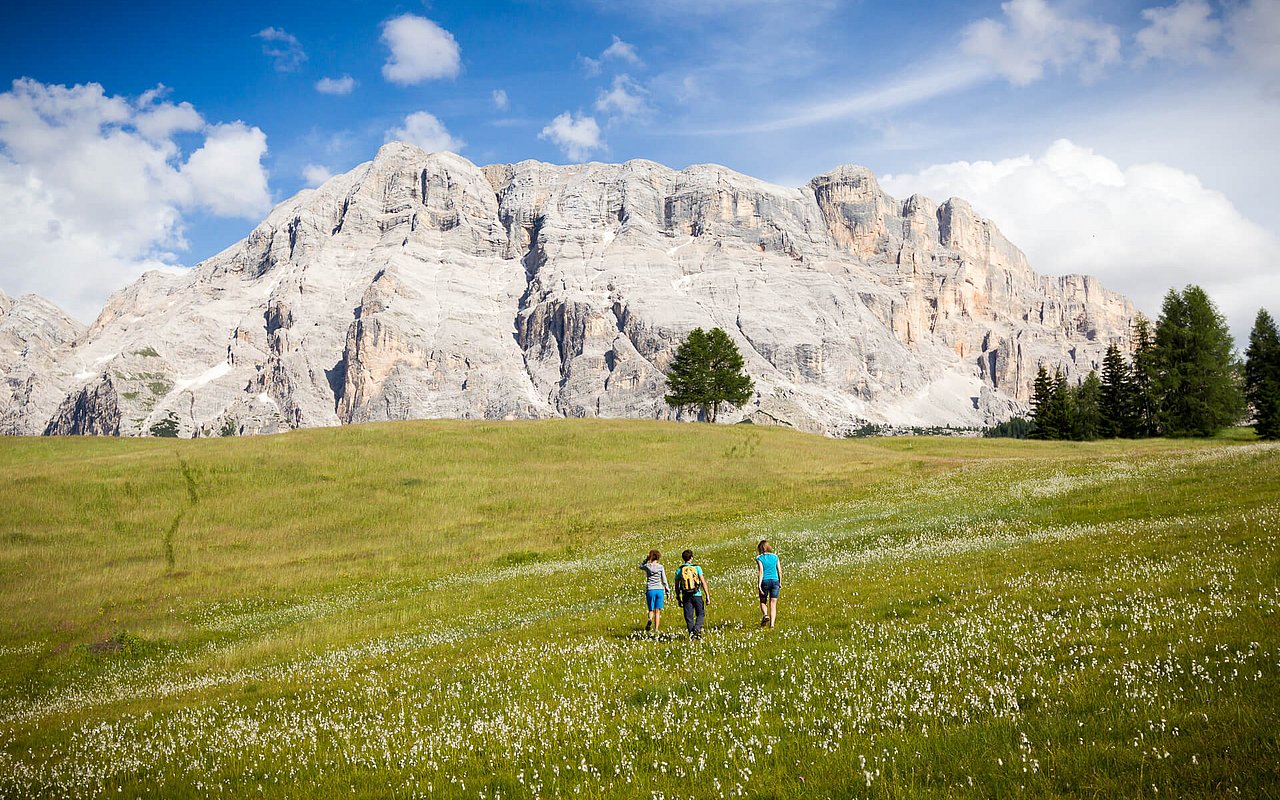 In the morning take the Dantercepies cablecar (not included if self-guided) to Passo Gardena (2,120m / 6,955'), then hike up to the Passo Cir (2,470m / 8,100') and follow a wider trail on undulating terrain that leads to the Forcella Ciampai Pass (2,365m / 7,760') and up to the Rifugio Puez (2,475m / 8,120') where you can stop for lunch.
A longer option allows a one-hour ridge hike from the Passo Cir to the Sass Ciampac (2,673m / 8,770').
A final three-hour hike downhill on an easy and panoramic trail brings you to the town of Colfosco and then to Corvara (1,560m / 5,120'), located in the Alta Badia (the South Tyrol) in the heart of the Dolomites.
(5-6 hours hiking 15km / 9 miles, 780m / 2,560' ascent, 1,355m / 4,450' descent).
Meals included: Breakfast, Dinner
Mid-Range Accommodations: Hotel Steinrosl (San Cassiano/Alta Badia)
Day 4: Hike to Santa Croce Sanctuary (BD)
Today you will hike to the Santa Croce Sanctuary at the base of the Sasso della Croce mountain (Sass Dla Crusc for the Ladin-Speaking population). Take a private transfer or public bus to Pedraces (1,324m / 4,344') and take the local chair lift to the first station (1,840m / 6,037'). The trail ascends gradually through lovely conifer wood and flowery meadows. It takes less than an hour to reach the simple but extraordinarily photogenic church and sanctuary of Ospizio Santa Croce (2,045m / 6,710'). Begin to descend on a trail skirting the realms of the Fanes-Sennes-Braies Nature Park, sticking fairly closely to the base of the mountain. Hike dowhill to the town of La Villa and tackle the last 4 kilometers (2.5 miles) along the river to Corvara. Option to take a bus or taxi from La Villa to Corvara.
(With hike to Corvara 5-6 hours hiking 11 km / 6,5 miles, 350m / 1150' ascent, 670m / 2,198' descent. Shorter hike to the bus stop in La Villa 3-4 hours hiking, 8km/4,8 miles, 250m/820' ascent, 650m/2,135' descent).
Meals included: Breakfast, Dinner
Mid-Range Accommodations: Hotel Steinrosl (San Cassiano/Alta Badia)
Day 5: Hike from Capanna Alpina to Fanes-Sennes-Braies Natural Park (BD)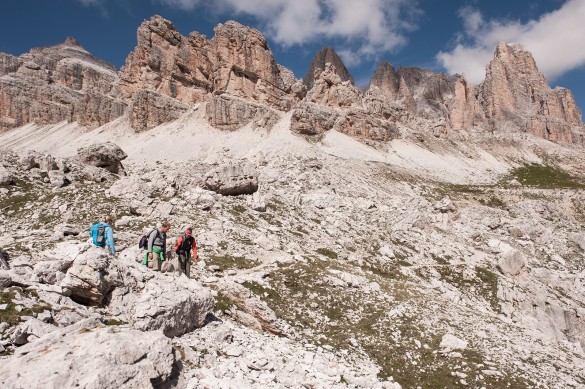 After breakfast, hike or take a public bus towards Armentarola. Reach Capanna Alpina (1,726m / 5,663'), a restaurant built just at the edge of the Fanes-Sennes-Braies Natural Park, in an incredible setting; from here begin your hike with a steep ascent of 1 hour. After arriving at Col de Locia (2,069m / 6,788'), you will enter in a fairy tale valley, midst of the mountains, with green pastures. Hike numerous ups and downs for about 3 hours, pass by a cozy mountain hut, Malga Gran Fanes, a cheery converted farm offering light meals and basic accommodation, and reach a cozy rifugio (2,060m / 6,759'), your home for tonight.
(~4 hours hiking 8km / 4.9 miles, 564m / 1,850' ascent, 229m/ 751' descent.)
Meals included: Breakfast, Dinner
Mid-Range Accommodations: Rifugio Fanes
Day 6: Hike from Fanes-Sennes-Braies Natural Park to Cortina d'Ampezzo (B)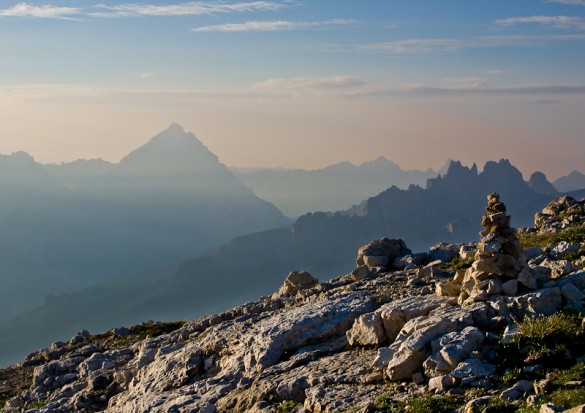 Depart from your rifugio this morning retracing yesterday's steps, hiking south on gentle curves out of a steep valley (or on steeper shortcuts) to Passo di Limo (2,172m / 7,126'). Past an old military building and wooden cross, you reach Malga Fanes Grande (2,104m / 6,903'). From here start descending towards the town of Cortina d'Ampezzo. The Fanes Valley is a wide amphitheater with woods of spruce and Arolla pines. Pass by the mass of Monte Vallon Bianco with its fascinating white rock folds and waves. Reach Lago di Fanes and the Fanes Waterfalls, a 70m / 230' drop, a record for the Dolomites (possible side trip). From Fiames take the public bus to Cortina, or continue hiking to Cortina.
(To Fiames ~5 hours hiking, 13km / 7.8 miles, 190m / 625' ascent, 955m / 3,135' descent. To Cortina 18.5km / 11.1 miles, 250m / 820' ascent, 1090m / 3,575' descent.)
Meals included: Breakfast
Mid-Range Accommodations: Hotel Beppe Sello (Cortina)
Day 7: Hike around the Tre Cime di Lavaredo (B)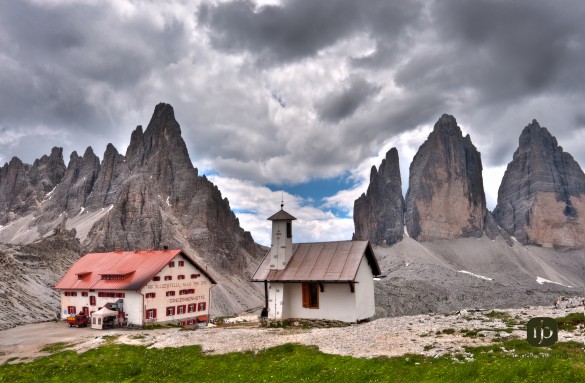 Today you'll take a scenic drive by private taxi up to Rifugio Auronzo (2,331m / 7,650') by transfer, then hike around the Tre Cime di Lavaredo and Monte Paterno, one of the most scenic mountain landscapes in the Dolomites. Along the way you'll admire the spectacular Cadini mountain group on the south, with its rock spires and strangely formed needles. Take a private transfer back to Cortina.
The remainder of the afternoon is free to wander and explore Cortina's busy streets lined with restaurants and cafes, antique shops, art galleries, and boutiques.
(6 hours hiking 12.8km / 8 miles, 610m / 2,000' ascent, 549m / 1,800'descent.)
Meals included: Breakfast
Mid-Range Accommodations: Hotel Beppe Sello (Cortina)
Day 8: Depart Cortina (B)
After breakfast, departure on your own (private transfers available). Consider spending an extra day for a via ferrata.
Meals included: Breakfast
Pricing
8-Day Dolomites Three Valleys Hiking Traverse

Prices are Per Person and Valid for Trips through October 15, 2022
| | | |
| --- | --- | --- |
| # People in Group: | 2-3 | 4+ |
| Group Set Departure: | $3295 | $3295 |
| Guided: | $4795 | $3495 |
| Self-Guided: | $2095 | $1895 |
*** Contact Us for other itinerary and lodging options! ***
NOTE: Prices are per person in U.S. dollars based on double/triple occupancy. All quotations are based on the current rates of park fees, VAT, other government taxes, and current exchange rates. Should any of these be increased or a new tax introduced, these increases will be added on even if your trip has already been paid for.
INCLUDES:

All accommodations per itinerary
All meals per itinerary (B=Breakfast, L=Lunch, D=Dinner)
All tours and entrance fees per itinerary (unless listed as excluded)
All transportation and transfers per itinerary

GUIDED:

Trip briefing
Logistics and map of the area
2 night accommodation in 3-star hotel in Selva di Val Gardena
2 night accommodation in 3-star hotel in Alta Badia
1 night accommodation in charming rifugio (shared dormitory)
2 night accommodation in 3-star B&B in Cortina d'Ampezzo
Luggage transfer from Val Gardena to Val Badia and to Cortina (not to rifugio)

Local English speaking professional hiking guide

EXCLUDES:

International and domestic flights
Meals not listed
Beverages and alcohol
Tips for guides, drivers, hotel staff
Optional tours
Single room supplement
Personal expenses (visas, airport taxes, Internet, etc.)

High season supplement -- July 20th to August 31st: 5% surcharge
Luggage Transfer to Rifugio (available at extra cost)
Private room in Rifugio ($40/person/night double/triple occupancy)
Single room in Cortina ($75/person/night)
Local bus, cable car, and chairlift transfers
Airport transfers available on request
Upgraded accommodations