Serengeti – Central & Ndutu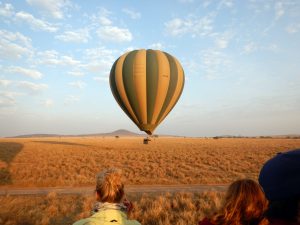 Add an exciting hot air balloon ride over the Serengeti to your safari!
$625/person (includes park fees)
Your trip starts at sunrise for a 1-hour flight (weather permitting) to view the animals and migration from up high and down low as you float across the savannah. Upon landing, you are met with champagne and gourmet breakfast in the bush. You will return to your hotel with a game drive en route.
The balloons operate in the Ndutu area December 20 – March 31, and Northern Serengeti July 1 – October 31.
Launch is typically at 6:30am, and you return to camp by 9:30am to continue your safari activities. The minimum age is 7 years old. Passengers must be reasonably mobile, fit to fly and prepared for an adventure. Weight restrictions also apply.
This is truly a once-in-a-lifetime experience!
See Hot Air Balloon Safari Photos >>
Departure Schedule
Central Serengeti (Seronera): Operates year round with 4 balloons of 16 people each
Serengeti South (Ndutu): Operates December 20 – March 31 with 1 balloon of 16 people
Western Corridor: Operates June 1 – September 30 with 2 balloons of 12 people
RUAHA NATIONAL PARK: Operating in Ruaha starting June 15, 2018!
More Information
---
Serengeti – North / Kogatende
You can fly in the northern Serengeti area in a 12 or 16 passenger balloon.
http://www.madahotels.com/index.php/adventures-aloft/adventures-aloft-togoro-serengeti
Tarangire
The latest balloon experience is operating in Tarangire with one 8-passenger balloon and one 6-passenger balloon at each site.
In Tarangire, they close for April and May. Kids of all ages are welcome as long ast they can stand quietly for 1 hour.
http://www.madahotels.com/index.php/adventures-aloft/adventures-aloft-tarangire