4-Day Highlights of Easter Island
As one of the world's most isolated inhabited islands, Easter Island is truly a treasure in the middle of the Pacific Ocean, located 3,500 km (2,180 mi) west of Chile with a land area of 164 sq km (63 sq mi).

On this tour you will learn about the peoples and rulers of this remote island and visit important cultural sites. You will see Rapa Nui's famous Moai, the enormous monolithic sculptures representing human beings. You will also be enchanted by the island's volcanoes and beaches.
Recommended hotel: Hotel O'tai - Standard Mid-Range

The hotel offer superior rooms with all the modern comforts (including air conditioning and free Wi-Fi internet) a peaceful location close to the main attractions of Hanga Roa, and a pool surrounded by a garden full of tropical flowers and plants.
Recommended hotel: Explora - Luxury

Certainly the most luxurious and nicest place to stay on Rapa Nui, Explora offers all-inclusive programs. Combine a stay with Explora at their lodges in Torres del Paine and in the Atacama desert.
Full Itinerary
DETAILED ITINERARY >>
ITINERARY IN BRIEF >>
Day 1: Arrive Easter Island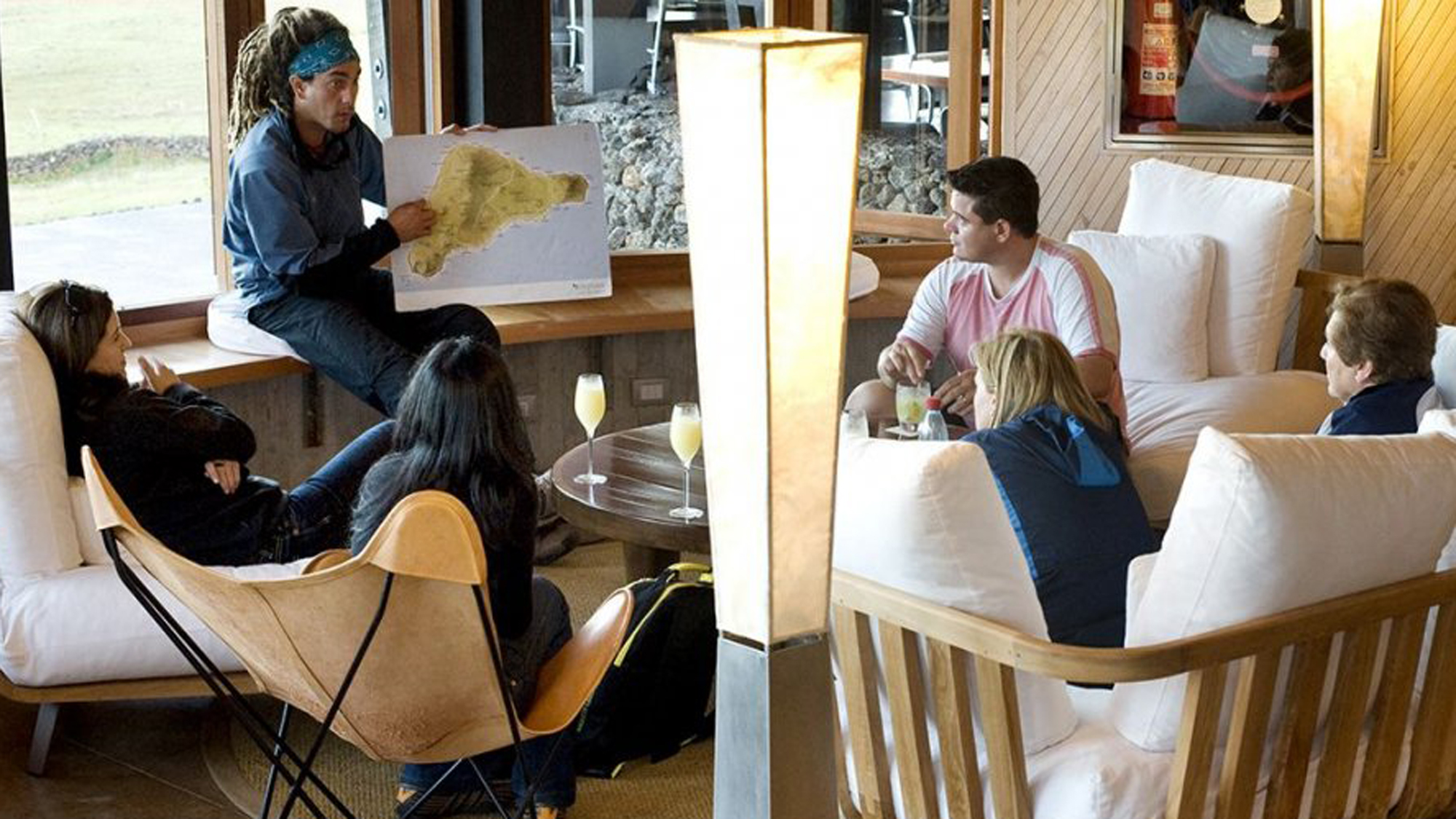 After the flight from Santiago to Easter Island, we are met at the airport by our friendly local guide and taken to the main town and capital of Easter Island, Hanga Roa, where almost 90% of Easter Island's inhabitants (the Rapa Nui) live.
We check into our hotel and our guide tells us about the upcoming itinerary. Then we enjoy a good night rest, ready for tomorrow's adventure.
Meals included: n/a
Mid-Range Accommodations: Hotel O'tai
Luxury Accommodations: Hotel Vai Moana
Elite Accommodations: Explora Rapa Nui (Easter Island)
Day 2: Tour of Easter Island -- Ahu Tangariki, Ahu Te Pito Te Kura, Anakena Beach (B)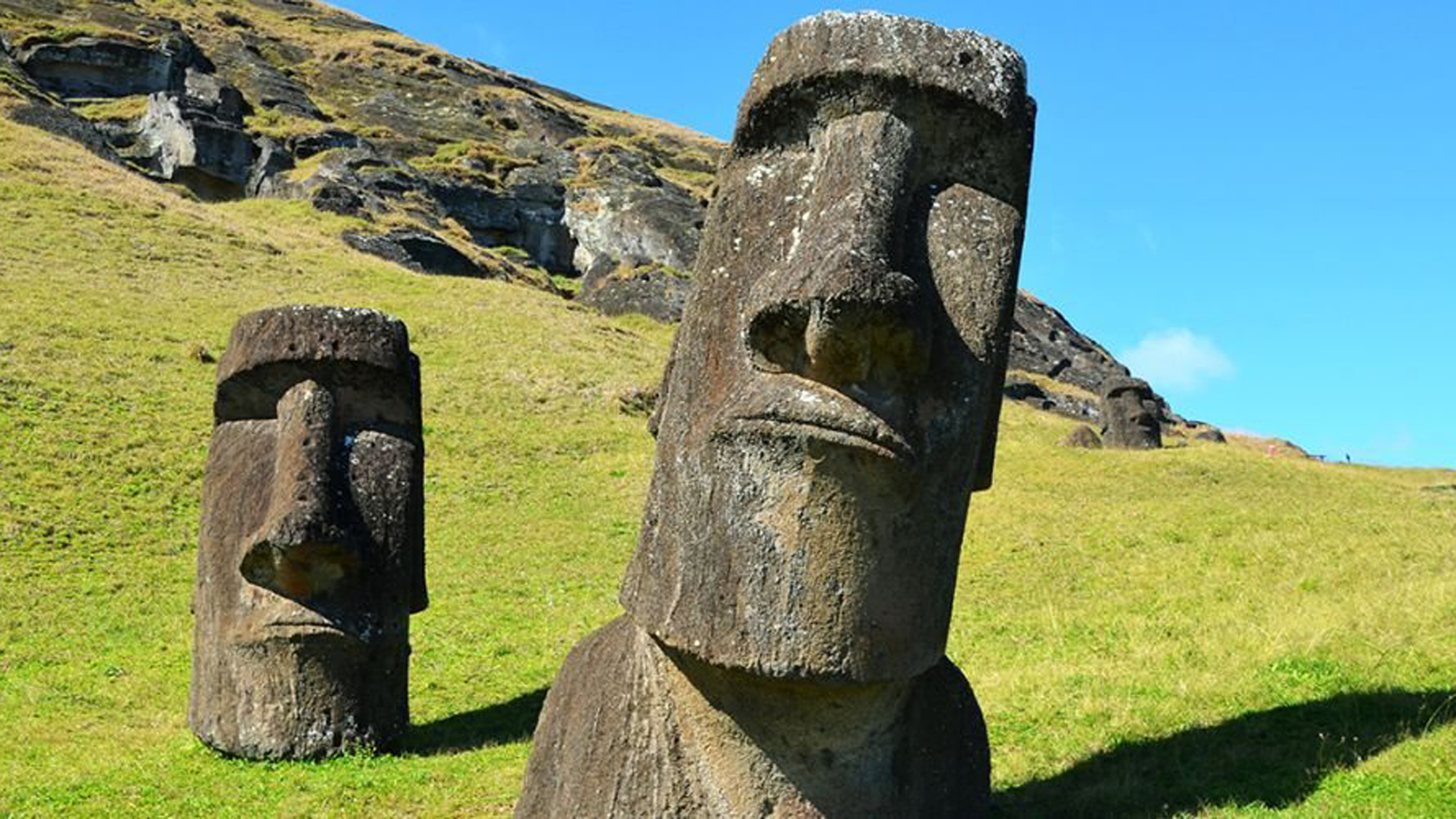 After enjoying a hearty breakfast, we drive along a coastal road to Hanga Te'e stopping at the ancient temple of Vahiu and visiting Ahu Akahanga and Ahu Tongariki (both alter sites - Ahu means sacred place and refers to the rectangular stone platform on which the Moai statues were erected). These sites were recently restored following damage caused by the tidal wave from the Great Chilean Earthquake in 1960 which washed the statues meters away from their original settings.
Afterwards, we continue to Ahu Te Pito Te Kura, an incredible perfectly round stone used for ceremonial purposes. If we put a compass on the stone it would start spinning crazily and finally show a wrong direction! We continue our exploration at Ahu Nau Nau and Rano Raraku, the border of which is ringed with Moais leading towards the quarry inside the crater rim. Here the Moai were cut from Volcanic tuff and some 150 unfinished figures were mysteriously left there.
We finally head down to Anakena Beach, the legendary landing place of Hota Matua (founder of the island) before journeying back to our hotel in Hanga Roa.
Meals included: Breakfast
Mid-Range Accommodations: Hotel O'tai
Luxury Accommodations: Hotel Vai Moana
Elite Accommodations: Explora Rapa Nui (Easter Island)
Day 3: Tour of Easter Island -- 1) Rano Kao Volcano and Orongo OR 2) Akivi, Vinapu, Puna Pau, Vinapu (B)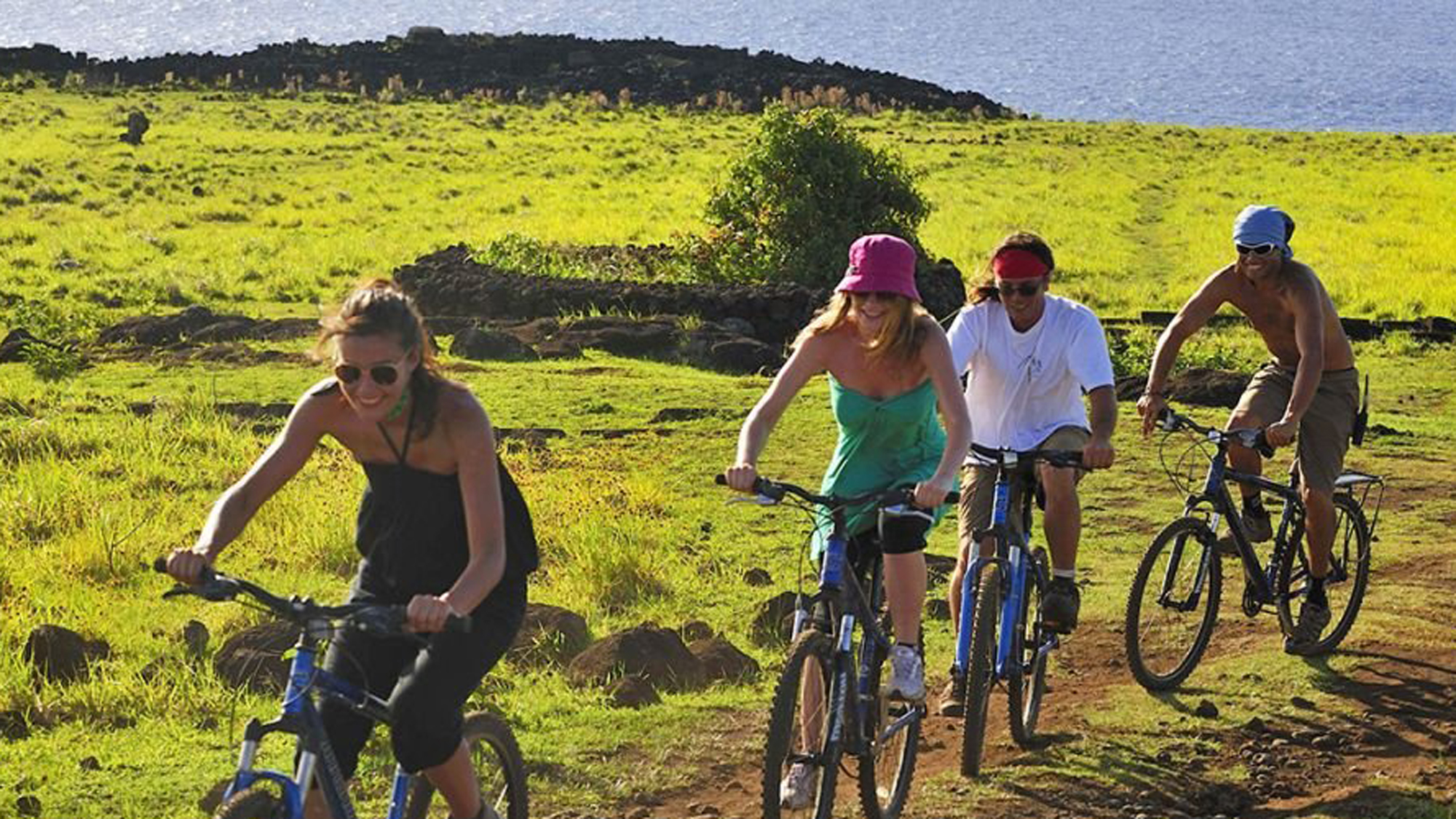 OPTION #1
After breakfast we start driving towards Rano Kao volcano, the biggest on the island, whose enormous crater is now a freshwater lake with floating green fields of totora reeds. This site offers an exceptional view of three craggy islands where the bizarre "bird-man" ritual took place. Nearby, we find the ruined village of Orongo where almost 50 stone buildings, the "bird-man" petroglyphs and Ahu Tahai ceremonial center are located. Afterwards, we drive back to our hotel.
After lunch, you will have a free afternoon. A possible suggestion for your afternoon would be visiting the archaeological site Tahai with its 3 restored Ahus and Moais. and then watching the spectacular sight of the sun setting behind the Moai.
OPTION #2
We start the day by visiting Ahu Akivi. Unlike other Rapa Nui ceremonial sites, Akivi is not located on the coast and the moai are facing the ocean rather than with their backs to it - very enigmatic for researchers. According to the legend, these 7 Moai statues represent the first explorers who arrived on Easter Island, including supreme chief and king Hotu Matu'a. We then visit Hanga Poukura, an unrestored Ahu (stone platform) located on the island's southern coast. Finally, we head to the Puna Pau quarry, the place where the Moai hats were made.
The afternoon is free for spending time at your leisure. Options include a boat trip or a snorkeling tour (extra cost)
Meals included: Breakfast
Mid-Range Accommodations: Hotel O'tai
Luxury Accommodations: Hotel Vai Moana
Elite Accommodations: Explora Rapa Nui (Easter Island)
Day 4: Depart Easter Island (B)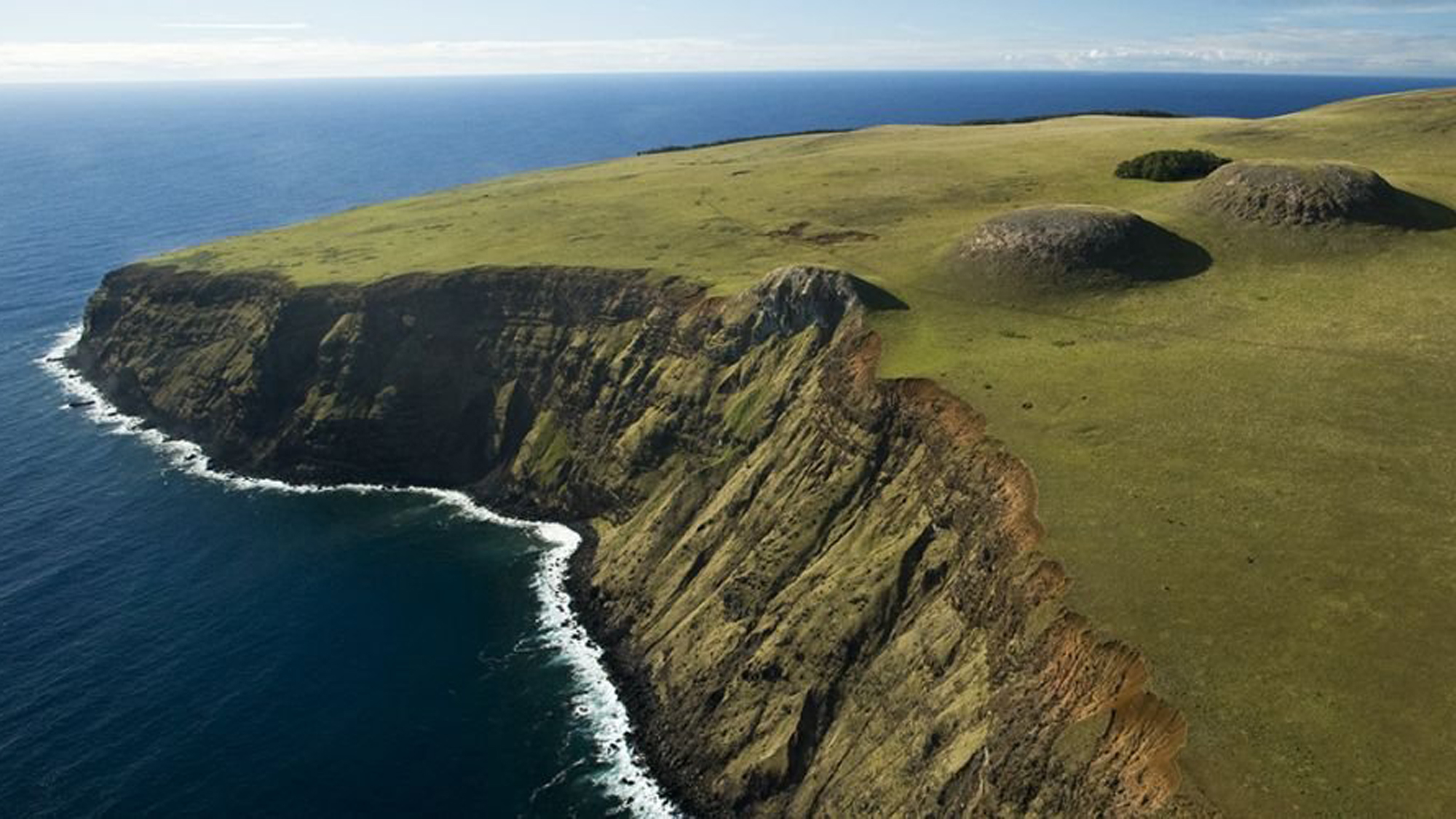 After a morning spent packing, relaxing and soaking up final views, we are driven back to the airport in time for the flight back to Santiago...Adios Isla de Pascua!
Meals included: Breakfast
Pricing
4-Day Highlights of Easter Island
from $795 USD

*** Contact Us for other itinerary and lodging options! ***
NOTE: Prices are per person in U.S. dollars based on double/triple occupancy. All quotations are based on the current rates of park fees, VAT, other government taxes, and current exchange rates. Should any of these be increased or a new tax introduced, these increases will be added on even if your trip has already been paid for.
INCLUDES:

All accommodations per itinerary
All meals per itinerary (B=Breakfast, L=Lunch, D=Dinner)
All tours and entrance fees per itinerary (unless listed as excluded)
All transportation and transfers per itinerary

Explora Includes soft drinks and local alcolholic drinks, pool and hot tub.

EXCLUDES:

International and domestic flights
Meals not listed
Beverages and alcohol
Tips for guides, drivers, hotel staff
Optional tours
Single room supplement
Personal expenses (visas, airport taxes, Internet, etc.)

Airfare to Mataveri Airport